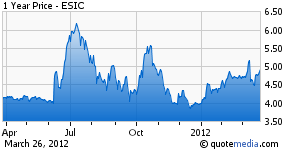 EasyLink Services (NASDAQ:ESIC) reported its earnings for the quarter ending January 31 recently and investors had mixed reactions. Top line numbers sagged a bit; management explained that some low margin business was lost but that margins were improving and the bottom line was solid. The market has been looking for top line growth here and the last quarter was the first opportunity to assess year over year numbers reflecting the enormous acquisition ESIC made in late 2010.
The message seems to be that top line growth is obtainable and will emerge in the next quarter and certainly by late this year. As an old Brooklyn Dodger fan, I am very familiar with "Wait til Next Year" but, of course, it came to fruition in 1955 (I stayed home "sick" from Junior High School and watched the seventh game). I guess the big question is whether ESIC can find its Johnny Podres.
ESIC is a tricky company to analyze and I have tried to develop some tools which enable me to approximate private market value. ESIC ha very large depreciation and amortization deductions each quarter and, thus, GAAP earnings are not very meaningful. I have tried to get a handle on cash flow available to shareholders (or owners) by using a Sequential Balance Sheet Method. Essentially, I analyze the balance sheet over time to isolate the accumulation of cash and determine just how much cash is coming out of the spigot each quarter. Depreciation and amortization are much greater than Capex; as a result, cash flow generally exceeds income by a wide margin.
We now have a full year to work with and so I can compare January 31, 2011 balance sheet numbers with the numbers for January 31, 2010. Making this comparison, it appears that net debt has been reduced by some $31 million. However, ESIC received some $4 million from the sale of stock (probably under option awards) and, thus, the company's cash generated for owners should be reduced to $27 million.
The company is on the way to paying off its debt and will probably have that done in 2 years (management is a bit more optimistic but we will be conservative). When the debt is paid off, the interest expense incurred during the last year (some $6.3 million) will disappear. In addition, some $1.3 million was spent during the last year on merger and integration expenses and two years from now, that should not be necessary. As a result, two years from now the company should be debt free and should be throwing off some $35 million a year in owner available cash. It could pay a 50 cent dividend and still have over $17 million available for buy backs or tack on acquisitions. It would not be overly aggressive to estimate that the company could trade at $10 a share (a market cap of $350 million assuming modest growth in share count) producing a dividend yield of 5% under these circumstances. This would produce a very nice gain from Friday's closing price of $4.79.
Of course, a lot can go wrong. The company must find its Johnny Podres and "next quarter" must come with top line growth soon. But it doesn't have to be much growth to achieve the above target. This is a stock which is likely to be misunderstood because of the ultra high depreciation and amortization and it may need the help of a generous dividend to reassure investors that cash is coming out the spigot at a nice clip. But no "rocket science" is required to engineer this company into a cash flow machine for investors and no heroic assumptions about growth or new products are necessary to rev up the engine. It is getting harder and harder to find bargains in this market. ESIC is still an attractive one.
Disclosure: I am long ESIC.