By Mike McDermott
Last week was an excellent test for the overall bull market. While data out of China pointed to decelerating growth, U.S. equities held up surprisingly well. High oil continues to be a challenge, but except for a few key sectors like Airlines, the broad economy still seems to be humming along.
Small cap growth stocks are particularly strong with the iShares Russell 2000 Index (NYSEARCA:IWM) trading near the top of its recent range, and posting a strong bullish close on Friday. Nathan O. has a conditional buy set up for our Global Trend Capture service – and a move higher this week is likely to trigger a new long position.
The action sets up an interesting juncture for markets as the dynamics in China are important in terms of global growth, and yet the majority of sectors simply shrugged off the news and continued higher. Even the iShares Emerging Market Index (NYSEARCA:EEM) found support at the 50 EMA and reversed higher on Friday.
With the overall market holding up well, we have been able to add bullish positions to the roster – while tightening risk points on existing trades as they move into profitable territory. But at the same time, high oil prices and weakening China dynamics have led to breakdowns in a few key areas – allowing us to set up offsetting short positions.
A balanced trading book is important at this juncture, because the slowdown in China, coupled with a still uncertain picture in Europe, could cause markets to deteriorate quickly. Major sentiment shifts can be sparked by unexpected catalysts and if institutional managers find a reason to reduce their risk exposure, the short side of the book is situated to capture gains as managers bail out.
Heading into a new week, we've got our eye on the technology sector (semiconductors look particularly strong), industries linked directly to Chinese weakness, and a few oil-related sectors. We have a fairly wide roster of existing positions and pending trades (long and short) as we continue to adjust to the shifting dynamics.
Below are a few of the trades we are particularly interested in for the week ahead:
Base Metal Miners
As China's economy goes, so goes demand for the base metals.
For base metal miners, tack on the additional cost pressure from higher oil prices and you have a very difficult environment for turning a profit.
This dynamic isn't lost on institutional asset allocators who have been pulling capital out of the key base metal miners for some time now. Quickly scroll through the charts of the following major mining companies:
All three have fallen below the 50-day averages and are dealing with major overhead resistance. Recent short-term rallies or drift up patterns have set up excellent short opportunities for continuation trades.
With the entire group basically confirming the bearish price action, we have been able to build horizontal exposure – increasing our odds of a major profit as confidence in China's growth evaporates.
(Click to enlarge)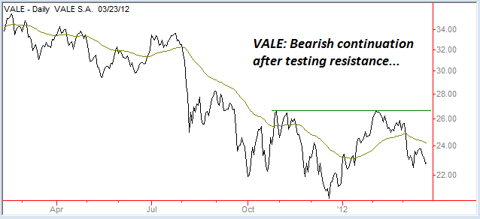 Aussie Aussie Aussie!
The Australian dollar is directly linked to China's fortunes because of the tremendous amount of natural resources exported to China. Strong growth in China is good for the Aussie… And of course slowing growth raises some concerns.
It's no surprise that the Aussie has turned south as China's growth has been called into question. But what is really exciting is the magnitude of this potential move if the Aussie dollar continues to roll.
After completing a double top in February, the AUDUSD pair has traded sharply lower – but still has plenty of room to run before hitting a support level near 0.9600. If you pull up a longer-term weekly chart, you can see another support area near 0.8060, followed by the 2008 low near 0.6000.
While we're not necessarily predicting carnage for the Aussie, our short trade is particularly attractive because we can enter a short position with a very narrow risk envelope, and plenty of room for profits.
Currency markets can be a great place for longer-term trend patterns, and if the Aussie falls and then consolidates a few times along the way, we should be able to pyramid into a much larger position (with ever-tightening risk points) along the way.
Of course there is no guarantee that the trade will be successful (we're not all that into making predictions), but the setup in terms of reward to risk could lead to one of our most best overall trades this year.
(Click charts to expand)
(Click to enlarge)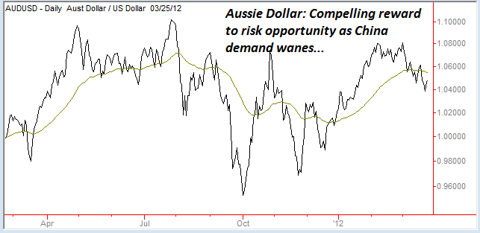 Weekly Fail: BATS IPO…
This past week's "fail" award goes to Bats Global Markets Inc. (BATS:BATS) – an electronic stock exchange that essentially dropped a live hand grenade on the very day of their initial public offering.
Talk about embarrassing, the exchange not only halted trading on its own (new) stock, it also caused the NYSE to halt trading on a number of other major stocks including Apple Corp. (NASDAQ:AAPL).
According to weekend reports, BATS is expected to retract the IPO and refund investor's money – in what has to be a nightmare logistical issue, costing the firm and the underwriters hundreds of thousands (if not millions).
The BATS flop could end up being a good thing for competing exchanges. The NYSE and NASDAQ are both publicly traded, and have been setting up bullish patterns over the past few months. We have been building positions in clearing and execution companies as the industry has seen capital inflows and some attractive breakouts.
NYSE Euronext (NYSE:NYX) recently broke out of a six month base and then took three weeks to consolidate the gain. This is a great pattern for a continuation trade – made better by the relative strength for the whole group. If BATS failure causes more mutual funds and other institutional investors to clear more through the major exchanges (versus ECN's), NYX and NDAQ will likely see strong growth this year.
(Click to enlarge)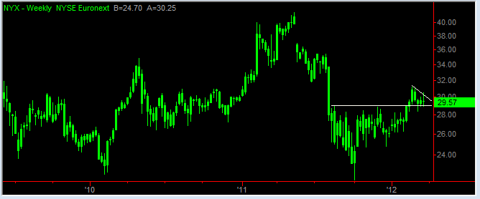 With markets still close to multi-year highs, we're being very careful with adding bearish exposure. Counterbalancing our bullish risk is helpful in managing the overall risk to capital, but the big money is still made in the big swings. For that reason, it is important to remember that we're still in a predominantly bullish environment.
Disclosure: As active traders, authors may have positions long or short in any securities mentioned. Full disclaimer can be found here