Town Sports International (Nasdaq:CLUB) is one of the two leading owners and operators of fitness clubs in the Northeast and Mid-Atlantic regions of the United States and the third largest fitness club operator in the United States, in each case as measured by number of clubs. CLUB operates under the brand names of New York Sports Clubs, Boston Sports Clubs, Washington Sports Clubs and Philadelphia Sports Clubs. In addition, it operates three clubs in Switzerland.
The company operates approximately 149 clubs, including 99 fitness clubs in the New York metropolitan market, 21 fitness clubs in the Boston market, 19 fitness clubs in the Washington, D.C. market, 7 fitness clubs in the Philadelphia market, and 3 fitness clubs in Switzerland. It serves approximately 472,000 members in the United States and six thousand in Switzerland. The company's long-term goal is to have 350 clubs, growing at 12 to 15 locations a year.
CLUB Investor Highlights
Second quarter 2007 total revenue increased 9.4% to $119.8 million versus $109.5 million in second quarter of 2006.
Second quarter 2007 operating income increased 20.8% to $16.4 million versus $13.6 million in second quarter of 2006.

Second quarter 2007 earnings per share were $0.24 compared to a loss per share of $0.13 in second quarter of 2006.

Has opened six clubs in 2007 and an additional nine clubs are under construction and planned to open during the remainder of the year.

Comparable club revenue increased 5.7% during Q2 2007.

Total revenue for the six months ended June 30, 2007 grew 10.1% to $235.2 million from $213.5 million in the same period in 2006.

Net income in the six months ended June 30, 2007 was $2.6 million compared to a net loss of $2.8 million in the same period in 2006.

The Company expects total revenue for 2007 to be in the range of $475.0 million to $480.0 million, representing 10% to 11% growth over 2006.

Expect net income to be between $13.7 million and $14.7 million for 2007, when compared with 2006 net income of $4.6 million.

The Company expects earnings per share ("EPS") of between $0.51 and $0.55 per share for the year.
Recent News and Press Releases
Strategy
CLUB's goal is to be the most recognized health club network in each of the four major metropolitan regions it serves. The strategy of clustering clubs provides significant benefits to members and allows the company to achieve strategic operating advantages. In each of its markets, they have developed clusters by initially opening or acquiring clubs located in the more central urban markets of the region and then branching out from these urban centers to suburbs and neighboring communities.
Over its 32-year history, Town Sports has developed and refined club formats that allow it to cost-effectively construct and efficiently operate fitness clubs. The formats are flexible enough to adapt to the difficult real estate environments in its markets. They are designed to accommodate fitness-only and multi-recreational clubs ranging in size from 15,000 to 55,000 square feet. The average size of a club is approximately 24,000 square feet. Clubs typically have an open fitness area to accommodate cardiovascular and strength-training equipment, as well as special purpose rooms for group fitness classes and other exercise programs.
CLUB 1-yr chart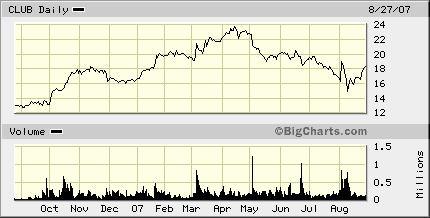 Disclosure: none