I've recently been reading the book "Barbarians at the Gate," by Bryan Burrough and John Helyar, which chronicles the behind-the-scenes shenanigans of the RJR-Nabisco takeover by Kohlberg Kravis Roberts in the late 1980s. While going through it, I came across this quote that Warren Buffett said to then-Salomon Chairman John Gutfreund about the nature the business model of tobacco companies, "I'll tell you why I like tobacco. The product costs a penny to make. Sell it for a dollar. It's addictive. And there's fantastic brand loyalty." For a lot of dividend growth investors, companies like Philip Morris (NYSE:PM), Altria (NYSE:MO), and Lorillard (NYSE:LO) would likely make up sizable portions of their portfolio if not for the combination of uncertainty over government regulation and ethical concerns.
This is largely because tobacco companies tend to display these desirable traits in a potential investment:
High margins of profitability
Very low ongoing expenses and reinvestment requirements
Profit strength resistant to recessions
Fantastically Strong Brand Loyalty
Growth of Earnings and Dividends Every Year
Large amounts of extra cash on hand to make share repurchases, strategic acquisitions, etc.
Which brings me to a company that meets all of these requirements: Brown-Forman (NYSE:BF.B).
Brown-Forman is a distilled spirits and wine company headquartered in Louisville, Kentucky, that owns a diversified portfolio of alcoholic brands that you can find at your local bar, including: Jack Daniel's, Southern Comfort, Finlandia, Canadian Mist, and Korbel. Here's a snapshot of what the line-up of products looks like: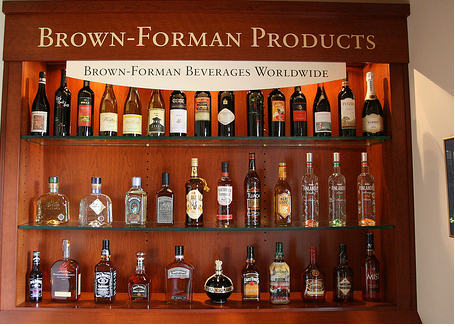 This is one of the few companies that seems to share most of the same characteristics that make tobacco stocks appealing, without the risk of extreme government intervention and the significant ethical concerns that tend to deter investment in Big Tobacco.
Let's take it step-by-step.
In terms of high margin of profitability, Brown-Forman currently enjoys an operating margin of 32.5% and a 19.8% net profit margin.
This company only has $760 in total debt, and its ongoing capital expenditures are only around $0.35 per share (the company earns $4 per share) annually.
This company has grown profits every year dating back to 2001. Remember the financial crisis? Well, Brown-Forman grew its earnings from $2.87 in 2008 to $3.09 in 2009 to $3.57 in 2010. Even though the share price fell, the earnings continued to grow, which is exactly the kind of business I want to own during recessionary times.
Brand loyalty is always a subjective topic to comment on, but I consider the brand strength of Jack Daniel's and Southern Comfort to be roughly approximate to the appeal of Camel, Kool and Marlboro cigarettes.
Over the past decade, dividends have manged to grow 9.5% annually while earnings too have grown by about 10% each year. If the company pays out $1.42 in dividends this year relative to $4.00 in expected earnings, the firm will sport a low payout ratio of 35.5%. I've included a chart to demonstrate the growth in Brown-Forman's dividend over the past decade: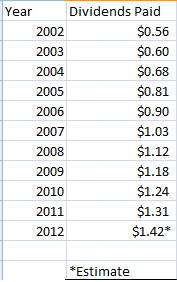 Because the firm only has to devote 35.5% of earnings to dividends, and because the firm sports a moderately low debt level, the company has great flexibility to use its excess cash to: make strategic acquisitions to bolster its line-up of wine and spirits, strengthen the balance sheet, and make stock buybacks. Since 2008, Brown Forman has reduced its share count from 150 million to 141 million, which is a share count reduction of a little more than 6%. **Note: Brown-Forman management has limited its buyback program because they felt that the shares are overvalued, and this is precisely the kind of discretionary stewardship that I would like to see in a management team.**
And like Tim Tebow, this company brings its own set of intangibles to the table. For instance, take a look at this annual report. Isn't that the coolest, most straightforward thing you've ever seen? It's like a coloring book version of the Berkshire Hathaway (NYSE:BRK.B) Letter to Shareholders. You can just tell that the management really cares about the company (and that makes sense, since the firm is largely family controlled). The combination of: strong brands, diligent management, growing earnings, growing dividends, low debt, and high profitability make this a firm that gets top billing on my "Watch List."
The bad news is that the shares appear to be a bit overvalued at the moment. Brown-Forman's historical P/E ratio is 17, and right now, the firm trades at $81.69 relative to $3.96 in earnings, for a P/E ratio of 20.61. Additionally, the firm currently offers a low 1.71% dividend yield, which discourages investment as well (the spread between the dividend yield of tobacco stocks and Brown-Forman is probably the strongest advantage tobacco stocks have going for them relative to Brown-Forman). If your focus is on the high current income that tobacco firms like Altria provide, then Brown-Forman is not going to be an adequate substitute. It retains far more of its earnings than do the tobacco companies, and the hope is that this earnings retention rewards long-term investors as management makes diligent decisions. My plan would be to buy at $67.32, so that I could get in at the historical P/E norm (which seems fair, since the company grew earnings by 10% over the period it traded at a P/E ratio of 17, and earnings are expected to grow at 8.5% from here over the medium-term), and then reap the fruits of long-term ownership from there. For what it's worth, the shares have fluctuated by about 30% or so in each of the past several years, so it's not unreasonable to think that patient investors will be rewarded for waiting on this one.
Disclosure: I have no positions in any stocks mentioned, and no plans to initiate any positions within the next 72 hours.