Thursday, March 29 is going to be a big day for Research In Motion (RIMM), as they report earnings for the 4th quarter and fiscal year 2012. Any time a public company reports earnings, it is a significant event for investors and stakeholders. But on Thursday at 5pm ET, the information that RIMM presents will likely be scrutinized like never before. Over the past year, RIMM's downward direction has been about as evident as the recent rise of one of its competitors, Apple (NASDAQ:AAPL). But since last time RIMM reported earnings on December 15, a lot has happened to give investors pause for consideration.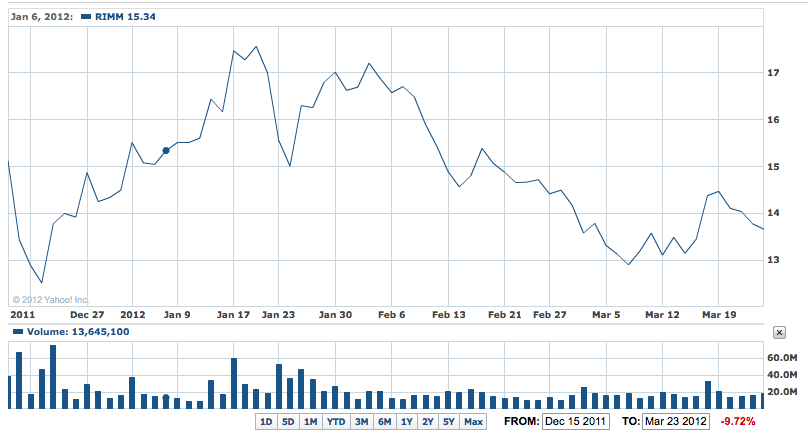 RIMM bottomed out at $12.46 in mid-December after earnings, and has since rallied somewhat into the high teens, and has been hovering in the mid to low teens of late. It the midst of large-scale hemorrhaging in mainstream markets, RIMM has been rebuilding its product line and OS. Moreover, it made major managerial changes and brought its tablet offering, the PlayBook, belatedly into relative competence with software upgrades. The past few months have presented mixed signals for investors. Most North American statistics from Comscore, Gartner, and analysts have signaled declines, even in Europe. However at the same time, RIMM has been developing its non-North American markets, with about 60% of revenues coming from outside of the U.S., U.K., and Canada last quarter. Having no solid direction, its stock price has been subject to high volatility, sometimes making large moves based on unfounded rumors. Short interest has subsided some, although only 2 out of 42 analysts recommends RIMM as a "buy". But at the same time 30 out of the 42 analysts recommend to "hold", and 11 suggest a "sell".
So why is Thursday so important? Investors need more information, more than perhaps at any time in the last ten years. There has not been much lucidity for RIMM of late, at least not as much as in the past year, and Thursday will likely provide enough information to move the stock price significantly one way or the other. Investors who have been "on the fence" will likely have enough information to make a move after Thursday. In addition to financial results, RIMM will also likely provide further insight into in-process product developments that its future prospects are largely leveraged upon, and perhaps elaborate on variables such as geographical revenue breakdowns that have thus far been minimally reported on. Of late, even savoir-faire investors would admit that, with the amount of mixed messages from RIMM, both fundamental and other, the picture has been a little foggy relative to the last few quarters. Thursday will hopefully provide enough information for unresolved investors to piece together a clear enough picture to finish weighing their options (no pun intended), and take action. Trading volume has been low over the past two months, but will likely gain momentum as the announcements grow near.
Disclosure: I am short (RIMM).