Shares of LinkedIn Corp (NYSE:LNKD) have rallied 58% over the past 3 months. This rally presents a good entry point for traders who do not believe the LNKD bull story to get short.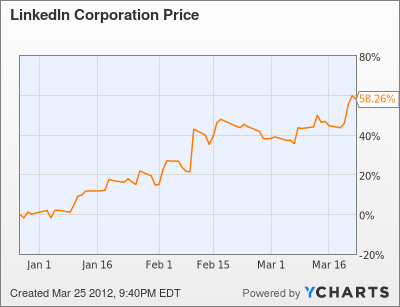 The bearish case against LNKD is centered on the valuation. LNKD trades at 843 times past earnings and 91 times forward earnings. Recently, SA contributor Stephen Samuel wrote a piece outlining the negatives for LNKD. Another potential negative for LNKD is the growth of Facebook (NASDAQ:FB) app BranchOut.
The bullish case for LNKD revolves around growth potential. Recently, SA contributor Bachar Samawi wrote a piece outlining the positives for LNKD.
I believe that it is too early to tell if LNKD will deliver for the bulls or the bears. However, the rally in the shares has priced in a far greater chance of the bullish thesis playing out than the bearish thesis. For this reason, I believe buying LEAPS in the form of puts is a prudent strategy. Buying LEAPS on LNKD instead of shorting LNKD stock limits the amount of risk taken while allowing for significant upside if the bearish thesis plays out.
Strikes & Prices
January 2014 Puts
Strike, Asking Price
100: $27.90

95: $25.30

90: $22.70
While these premiums are expensive, these puts will be major beneficiaries if LNKD shares move lower in the coming years. If the bearish thesis plays out, LNKD is likely to trade at new lows below the current all time low of $55.98. However, if the bullish thesis plays out, the puts will simply expire worthless. This limits the risk taken to the amount paid for the puts. As mentioned before, the puts are expensive but they do limit risk. In contrast, shorting the stock outright could lead to unlimited losses.
Disclosure: I have no positions in any stocks mentioned, and no plans to initiate any positions within the next 72 hours.