Last week has been a sluggish one for the investors. Stocks started the week with modest gains, but ended the week mostly in the negative territory. The disappointing Chinese manufacturing data was followed by similar news from France and Germany. Among the sectors, conglomerates were the worst performers, followed by basic material companies, and industrials. Only service and technology stocks provided slightly positive returns.
Amidst this investment atmosphere, several stocks are still trading close to their 52-week highs. Bank of America (NYSE:BAC), JP Morgan Chase (NYSE:JPM), Lowe's Companies (NYSE:LOW), Arena Pharmaceuticals (NASDAQ:ARNA), and Activision (NASDAQ:ATVI) made it to new highs in pretty short periods. The bullish investor sentiment has pushed these stocks to significantly overbought levels.
A stock is usually considered overbought when the relative strength index reaches above 70. That does not mean that these stocks are expensive stocks. I would rather consider them as momentum stocks, supported by short-term catalysts. Nevertheless, overbought stocks signal a red flag for contrarian investors. The following is a brief analysis of these stocks in the overbought territory. Let's see, what is driving these stocks, and whether they are still worth to consider after making significant gains recently.
Bank of America - Hold
Bank of America is among the most widely followed stocks in the market. Since reaching its dip of $5, the stock returned almost 100%. That is an incredible market cap gain of $50 billion in the last 4 months.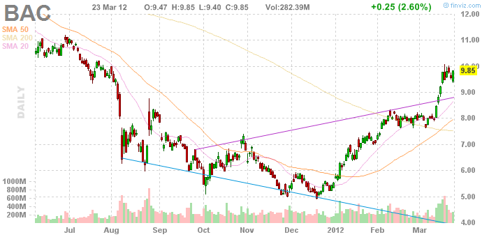 After showing such a huge performance, the stock started signs of slow down. Its weekly return of 0.5% barely made it to the positive territory. Bank of America is one of the largest employers in the U.S. There are almost 300,000 thousand employees working for the company. It is obviously too big to fail. Bank of America was among my top contrarian picks for this year. The stock looked like a great deal after the S&P downgrade. However, during these times, it was trading at the bottom of its valuation range. I am not sure, whether it can keep its momentum for a longer period. At that the time, the forward P/E ratio of 5.13 was a huge discount to the market. Currently, the company trades at a forward P/E ratio of 9.21. Therefore, it might be time to realize some of the recent profits.
JP Morgan Chase - Hold
JP Morgan is another financial stock on the move. Since reaching its dip of $28, the stock returned almost 65%. JP Morgan is a nifty dividend payer. Based on latest dividend announcement, the current yield is 2.66%.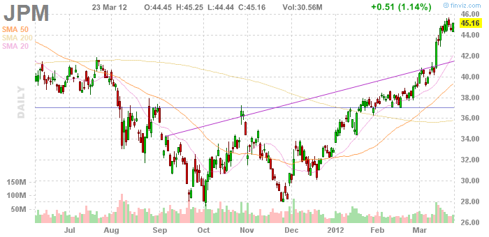 The company was also among my contrarian picks. A couple of months ago, it looked like a great deal. However, after making such returns, it made into the overbought territory. The stock is currently trading at a double-digit trailing P/E ratio of 10.1. While that sounds like a good deal compared to the broad market valuations, financials rarely trade at double-digit P/E ratios. Therefore, I also rate JP Morgan as a hold for the moment. Current price looks like a risky entry level.
Lowe's Companies - Hold
Lowe's is another company that is on positive momentum. After testing $18 level several times during the last year, the stock found itself a strong support at this level. It returned a whopping 65% in the last 6 months.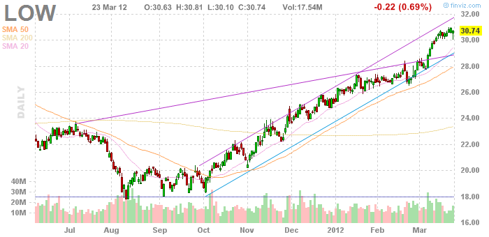 Established in 1946, Mooresville, North Carolina-headquartered Lowe's is one of the largest home improvement retailers in North America. The company operates 1725 stores in the U.S., Canada, and Mexico.
Lowe's has a 4-star rating from Morningstar. The company pays a quarterly dividend of 14 cents per share, which translates into a yield of 1.8%. Analysts estimate about 15% annual earnings growth from the company. If their estimates, hold Lowe's could be an outperformer for the long-run. However, given the negative earnings growth in the past 5 years, 15% earnings growth might be a strong assumption.
Arena Pharmaceuticals - Invest at Your Own Risk
Arena is one of the most actively traded small caps in the market. The stock is highly volatile, it moves up and down in incredibly short periods. After returning 37% in the last week alone, it is in extremely overbought territory.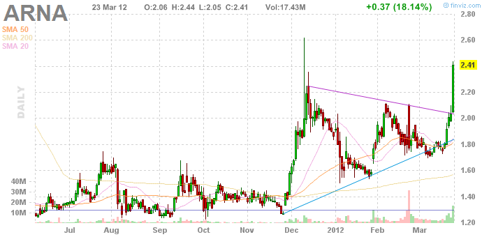 Arena is a biotechnology company involved in the discovery, testing, and commercialization of oral drugs. One of the company's expertise areas is the weight-loss segment. Recently FDA voted to recommend the obesity-treatment drug Qnexa, which was developed by Vivus (NASDAQ:VVUS). The decision was enough to generate a buzz in other pharmaceuticals in the business, including Arena, and Orex Pharmaceuticals (NASDAQ:OREX). Arena is expecting a decision by FDA on its own obesity drug, Lorcaserin/Lorqess. According to Michael Murphy, if this drug finds itself on the shelves, it could generate revenue of more than $1 billion by 2015. While, I am not that optimistic, obesity is a serious problem for almost every neighborhood in the U.S. An FDA approval can easily push the stock to double-digit prices, but a caution should be exercised. Therefore, my take is to invest at your own risk.
Activision - Buy
Activision Blizzard is one of my favorite companies. Their products range from online role playing games to mobile interactive entertainment services. The company is best known for its personal computer games, which are played by millions of game-lovers worldwide.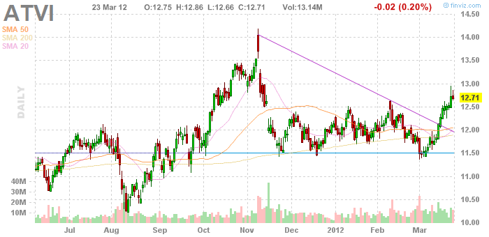 Activision has a market cap of $14.27 billion. It was able to generate a net income of $1.07 billion from revenues of $4.76 billion. At a trailing P/E ratio of 13.81, and forward P/E ratio of 11.99, it looks like a good deal. Based on a conservative EPS growth estimate of 13.6%, my fair value range for the company is $16.40 - $25.66. At the current valuation, the stock is deeply undervalued by at least 30%. Therefore, I rate it as a buy.
Disclosure: I have no positions in any stocks mentioned, and no plans to initiate any positions within the next 72 hours.