The first part of this series focused on Sears Holdings and the reasons to avoid/short it. Next up is Chipotle Mexican Grill (NYSE:CMG). Let's get the obvious out of the way: CMG's business is not in shambles like Sears' is, but the stock appears overvalued. The story is much better, but there are at least 5 glaring reasons to be careful with CMG at these levels.
Insider Selling: While we continuously acknowledge that insider selling is not as negative a sign as insider buying is positive, individual investors might do well to ask "Wait, why should I buy at these levels if the people who run the business are exiting." CMG insiders have been selling their stock almost daily the last few days. Mr. Jack Hartung, Chief Financial Officer of CMG, has been the most active seller recently. And just for the record, not even a singe insider bought in the last 6 months.
Stock Valuation: CMG's PE of 61 is hands down the highest among well-known restaurant stocks. Dividend paying stocks like McDonald's (NYSE:MCD), Yum Brands (NYSE:YUM), and Darden Restaurants (NYSE:DRI) operate in the same industry and their valuations are more in line with their growth and dividends. In an earlier article, we noted YUM is overvalued, but CMG's valuation makes that pale in comparison. We fully acknowledge Chipotle is expected to grow faster than its peers, but a PE ratio thrice the expected growth rate makes the stock extremely overvalued. The PEG ratio is almost 2.5, another indication of overvaluation.
Also, people who follow CMG closely already know each store is valued at $11 million based on the current stock price. That is insane to say the least.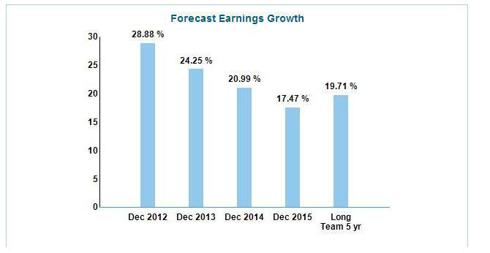 Click to enlarge
Analyst Targets: CMG has failed to beat analyst estimates 2 out of the last 4 quarters, as shown below. This can be a reflection of things to come and that the estimates are perhaps overly optimistic. Acknowledging that analyst price targets need to be taken with a pinch of salt, the average price target is $390, which is below the current market price. Remember, companies with very high earnings expectations need to slip just a little bit to be thrown into the dumps, and Chipotle has shown some weakness already.

Click to enlarge
Competition: This applies to all the players in this industry, but barriers to entry aren't much in this play space. Taco Bell of YUM is trying out its own Chipotle-like menu in 75 stores across the country. The main reason why Taco Bell might be able to succeed here is its larger presence, having more than 5000 locations to CMG's 1500. If Taco Bell captures a decent market share, CMG's expansion to those new locations will not be as fast as expected.
Growth: Yes, the same growth that is supposed to justify the high valuation. CMG reported just about 11% same-store sales growth in 2011 Q4, and common sense says restaurants open first in locations that are very profitable and more convenient to operate. So, if the existing "A" stores are growing at this dismal rate (in comparison to expectations), what can we expect from the new ones to be opened in other "B" locations across the country?
International expansion is often cited as another reason for the high valuation, but truth is, CMG is still in its early stages in those markets. Restaurants have to adapt themselves to local tastes as well, something not many companies have done successfully. On a side note, the management was subdued about international operations in the last earnings call linked above, and during our research for this article, we could not find anything written about the financial results/metrics specific to those international locations.
Conclusion: So, there you have the 5 reasons why we believe CMG is overvalued at the moment. The company might end up being an international juggernaut as well, but there is little to nothing to suggest the shares are worth the $400 price tag it holds right now. So the verdict is to avoid the stock altogether now. You may short it only if you believe you have nerves of steel and plenty of liquidity. But remember the number one rule of shorting "The market can stay irrational longer than you can remain solvent."
Disclosure: I am long (DRI).