Recently McDonald's (NYSE:MCD) price momentum has faltered. The announcement that Jim Skinner is to retire and will be replaced by Don Thompson may be part of the problem. While the rest of the market is in a rally we can see by this graph provided by Barchart that the stock isn't enjoying the favor of the market and is in fact trading below its 100 day moving average: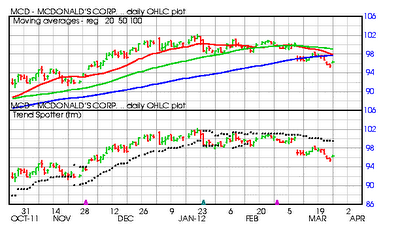 When I compare McDonald's price momentum to the Value Line Index, we can see just how far the stock is lagging the rest of the market. The market is up 17% in the last 6 months, but MCD is up only 6%: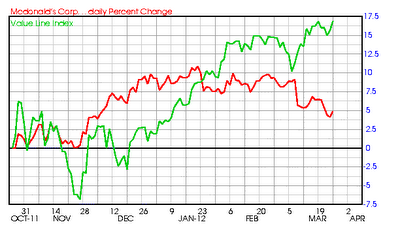 McDonald's Corporation, together with its subsidiaries, franchises and operates McDonald's restaurants primarily in the United States, Europe, the Asia Pacific, the Middle East, and Africa. The company's restaurants offer hamburgers and cheeseburgers, Big Mac, Quarter Pounder with cheese, Filet-O-Fish, chicken sandwiches, chicken McNuggets, chicken selects, snack wraps, french fries, salads, shakes, desserts, sundaes, soft serve cones, pies, cookies, soft drinks, coffee, and other beverages, as well as full or limited breakfast menu. As of December 31, 2011, it operated 33,510 restaurants in 119 countries, including 27,075 franchised restaurants and 6,435 company operated restaurants. The company was founded in 1940 and is based in Oak Brook, Illinois.
Factors to Consider
Barchart technical indicators:
Short term technical weakness signals can be a entry signal for a stock with solid long term fundamentals
64% Barchart technical sell signal
Trend Spotter sell signal
Below its 20, 50 and 100 day moving averages
Although down the stock is only 5.73% off its 1 year high
Relative Strength Index is 38.44%
Barchart computes a technical support level at 94.73
Recently traded at 96.30 which is below its 50 day moving average of 99.09
Fundamental factors:
Wall Street brokerages have had this stock on their conservative long term income list for some time
22 firms have assigned 29 analysts to follow the numbers
Analysts project revenue will increase by 5.30% this year and another 5.80% next year
Earnings are estimated to increase by 8.50% this year, an additional 10.30% next year and continue to increase by an annual rate of 9.87% for the next 5 years
These consensus estimates resulted in 6 strong buy, 13 buy, 10 hold and no under perform or sell recommendations to their clients
Analysts also project an annual total return in the 7% - 9% range over the next 5 years
The P/E ratio is 18.14 compared to the market P/E of 15.60
The 2.92% dividend rate is about 50% of projected earnings and compares favorably to the market's dividend rate of 2.20%
In the past the company's revenue and earnings growth numbers have never been a surprise so these estimates seem pretty solid
The company enjoys an A++ financial strength rating
Even with the change in management no new major initiatives seem to be on the horizon and the company will continue to refurbish 2,400 older locations and open around 1,300 new ones
General investor interest:
The stock has been on the watch lists of many individual investors with 5,797 readers of Motley Fool expressing an opinion on the stock
95% of the general readers who voted think the stock will beat the market
97% of the voting All Stars who have more experience agree
Fool notes that about 97% of articles about the stock have been positive
Some positive comments were expressed by Charles Payne, Goldman Sachs, RBC Capital Markets, Deutsche Securities and Credit Suiss
In the end, the market has the final word, so I always compare a stock's price action to its competitors and find that, although McDonald's is up 6% in the last 6 months, Starbucks (NASDAQ:SBUX) was up 29%, Yum! Brands (NYSE:YUM) was also up 29% and Darden (NYSE:DRI) was up 12%.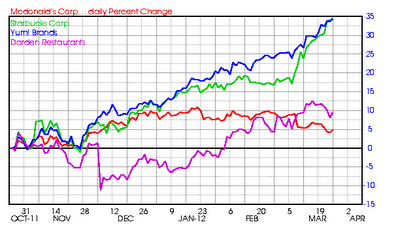 Summary: With solid growth in revenue and earnings conservative, income investors should continue to hold this issue and count on an annual 7% - 9% total return. If you don't already own it, this recent price dip might be a buying opportunity - or continue to monitor the 14 day turtle channel for an even better entry point. Because McDonald's is so huge, aggressive growth investors looking for double-digit capital gains should look at other issues, maybe even those in the chart above.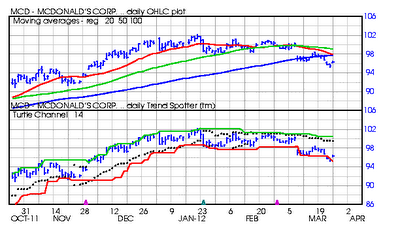 Disclosure: I am long SBUX.