MIPS Technologies (NASDAQ:MIPS) made a tack in the analog direction by acquiring privately-held Chipidea Microelectronica S.A (Portugal), creating an analog-digital IP powerhouse with a number two ranking behind ARM in the IP business. The combined entity becomes the second largest semiconductor IP company and the number one analog IP company worldwide, based on Gartner's recent 2006 rankings.
Chipidea's revenue has grown with a CAGR of 38% between 2000 and 2006. For the trailing four quarters, with the last quarter ending June 30, the revenue recorded was $32.8 million. Its most recent sequential quarterly growth was believed to be about 22% with roughly $10 million sales in the latest quarter.
This significant acquisition by MIPS creates opportunities and design-in leverage for the company because most of today's SoCs require an analog and mixed-signal component in their SoC designs. MIPS adds considerable analog design talent (300+ employees) and design center locations (Portugal, France, Belgium, Poland, China, Norway, and Macau). The combined company will have revenues of about $110 million. Its nearest IP competitor is now #3 Synopsys with about $91 million revenues but seen growing at a slower rate than MIPS.
The worldwide semiconductor IP market grew 24% to $1.8 billion in 2006, according to market research firm Gartner. The analog and mixed-signal IP market represents the fastest growing segment in the semiconductor IP market.
Under the terms of the transaction, MIPS Technologies will pay $147 million in cash, with an additional performance-based milestone payment of 610,687 shares of MIPS Technologies' common stock in 2009. At today's closing, MIPS Technologies will make an initial payment of approximately $120 million from its current cash reserves with the balance released from escrow within two years subject to an indemnification holdback and deferred payments for the Chipidea co-founders remaining with the company. MIPS generated about $24 million in cash last year and its reluctance to go with other types of financing, such as taking on debt, will keep the firm in a more liquid position. Founded 10 years, Portugal-based Chipidea started out as an analog design-house and later expanded its capabilities to offer IP in RF, analog and mixed-signal technologies. Within the last five years, the company has grown its customer base from 20 to more than 150 -- including 13 of the world's top 15 semiconductor companies. Chipidea ranks either first or second in design IP for A/D and D/A converters, wireless interfaces, and connectivity solutions, including USB. In the future, Chipidea will address HDMI and other emerging high speed interface standards. The analog IP house was founded by Jose Franca, president and CEO, and team of engineers. Franca is a professor for the Electrical and Computer Engineering department at Instituto Superior Técnico [IST] in Lisbon, Portugal [IST]. He also founded the university's Integrated Circuits and Systems Group in 1987 and the IST Centre of Microsystems in 1994. Chipidea was the first Portuguese company devoted to the design of advanced mixed-signal integrated circuit products.
Following the transaction, MIPS intends to integrate the two companies and businesses. Chipidea will become a newly-formed business group within MIPS Technologies, with its complete product portfolio continuing to be sold under the Chipidea brand. Jose Franca will assume the role of president and GM for the new business group and has been appointed a member of the board of directors for MIPS Technologies.
Going forward, we believe Chipidea will focus its strategy on bringing more standardized IP to the marketplace, such as its current USB IP, where the same core is used across many markets. Its future effort in HDMI I/O IP will fit into that effort. One of Chipidea's technical advantages in analog IP market is that it was able to develop an efficient methodology to port its various IP blocks to different process quickly.
In 2005, Chipidea embarked on an effort to establish a fabless business, perhaps to gain more leverage from its technical know. The fabless strategy was abandoned in early 2007 because it did not go according to plan and Chipidea's operating margins suffered. The future of Chipidea's growth will be IP-based products with supporting design services. Its royalty revenue which has grown in the recent two years is believed to be running about 10-15% of total sales and is expected to be more significant in the future. We believe the company will be about regain operating margins of about 20% in several quarters.
Overall, the MIPS-Chipidea deal is a fairly low risk merger, in our view, and will result in relative straightforward integration of the two companies. Both companies have similarly conservative management style cultures and share about 2/3 of their customers. The two companies have complementary product lines which will create sales synergies and minimize cost cutting issues, although we expect that some overhead functions will be consolidated, including sales and some corporate functions. The technical side of the business is likely to remain intact and will be run as separate businesses.
Because of the synergies and the faster growth rate of the analog IP business, we believe that MIPS will be able to attain a faster growth track. Analog also tends to diversify and stabilize the a chip company's business.
MIPS 1-yr chart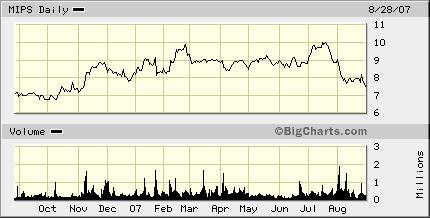 Disclosure: none