We recently set out to evaluate Bank of America's (NYSE:BAC) upside from current levels and found reason to believe its recent rally could have legs. We encourage you to read our analysis: How High Can Bank of America Go?
Yet, even in a case of strong conviction, we recognize that the market can turn against us at any time. Hard lessons have given us a rule to live by: No trade, no matter how convicted in its merits we may be, is worth undue risk in a portfolio.
As a result, we often look to develop a buffer around our high beta stocks - those that possess a strong indication of risk. Any number of holding types can qualify as a buffer, from cash to low beta stocks, from precious metals to derivatives. We recently wrote a piece on low-beta stocks that perform during market downturns and encourage you to read it and consider the beta of your portfolio.
Bank of America, based on Yahoo! Finance data, has an extremely high beta of 2.52. If you've held over the span of its rally, you might own a newly overweight position or have recent gains to preserve. Given BofA's high beta, any market downturn could spell significant sudden price reversal. For some early-season defensive preening - and rather than selling down your position - we recommend pairing your BAC trade in relatively equal parts with a counter-balancing asset. Our recommendation is gold, or SPDR Gold Trust (NYSEARCA:GLD).
The Paulson Hedge
We call pairing a high-beta financial stock with gold the "The Paulson Hedge" because it mirrors a strategy seen in John Paulson's portfolio in 2011 - that is, a barbell-style weighting in which GLD helps neutralize the outsized risk associated with an overweight holding of financials (Paulson also owned many gold miners in 2011). Granted, Paulson had abysmal returns last year on account of the financial sector turning sour, but his gold bullion did its job insofar as it showed strong outperformance against a backdrop of underperforming banks.
The title is a bit of a misnomer because the strategy isn't really a hedge. Relative to the market, gold is less a counter-correlated asset than an uncorrelated one. Nonetheless, the chart below comparing the price action of Bank of America and SPDR Gold Trust over the previous two years is telling in how illustratively GLD and BAC display diametrically counteractive tendencies:
(Click to enlarge)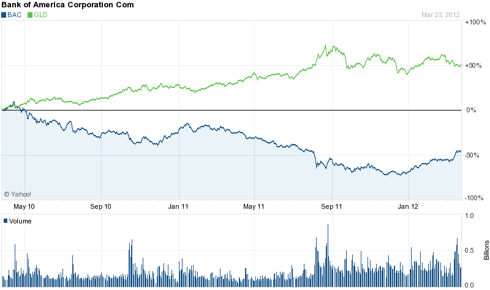 Click to enlarge
While the price trends appears to move somewhat inversely, Macroaxis calculates the 1-year correlation between Bank of America and GLD at -0.08, which indicates a negative correlation but one of statistically insignificant strength.
Whether paired with Bank of America, Morgan Stanley (NYSE:MS), Citigroup (NYSE:C), Huntington Bancshares (NASDAQ:HBAN), or Puerto Rican regional bank Popular, Inc (NASDAQ:BPOP), GLD as a soft means of protecting your bank investment in our view is a practical defensive strategy and one that is readily accessible to all investors. Gold has served to neutralize financial risk in portfolios for decades, so it is not surprising that it is particularly well-suited for this role. But gold also carries defensive properties independently which can improve the holistic metrics of a portfolio. Assuming the price of gold is merely range-bound, the recent pullback in metals may present an opportunity to diversify with GLD at an attractive price.