Shares of the Velocity Shares Daily 2x VIX Short-Term ETN (NASDAQ:TVIX) have plunged nearly 60% over the past 3 trading sessions for two reasons. Firstly, there were specific issues with the TVIX ETN itself. Secondly, the VIX itself has been under pressure as the stock market has rallied. The 60% decline in the TVIX sent shock waves through the ETF/ETN trading world as it was unexpected.
Investors have started asking which ETN could be next to suffer the same fate as TVIX. I outlined the case for why the iPath Dow Jones-UBS Natural Gas Total Return Sub-Index (NYSEARCA:GAZ) could be next. GAZ has dropped more than 16% since Friday. One ETN I do not believe to be at risk to suffer a tremendous loss like TVIX over 3 days is the iPath S&P 500 Short-Term Futures ETN (NYSEARCA:VXX).
Little Premium To NAV
As of Friday, the NAV for VXX was $17.05. VXX closed Friday at $17.29, slightly above NAV. On Monday, the VIX fell 3.78% and VXX fell 9.43% to close as $15.66. VXX was likely responding the the drop in VIX futures which was greater than the drop in spot VIX. However, VXX is not trading at much of a premium to NAV. Prior to its fall, TVIX had been trading at nearly a 50% premium to NAV. VXX does not face the risk of a sudden drop in premium as the fund is trading close to NAV.
No Leverage
Another reason why the drop in TVIX was so great is the fact that TVIX is a leveraged ETN. This means that TVIX is more exposed to moves in the VIX itself. Over the past 3 days, the VIX itself has fallen $2 to $14.50 from $16.50. The decline in the VIX added to the already painful losses for TVIX holders. VXX is not leveraged, thus losses due to moves in the VIX futures were not as punitive for holders of VXX.
VIX Plunge Unlikely
For VXX to drop by 60% it would mean that the VIX would need to drop by something close to 60%. That means spot VIX would need to trade below $10, a level that the VIX has never traded.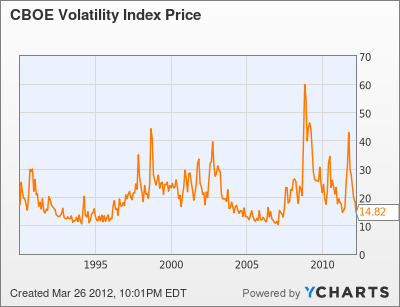 Conclusion
I am not saying that VXX is a good buy. Actually, due to the contango, I believe VXX will lose most of its value over the long-term. However, I do not believe a decline of 60% in 3 trading sessions is coming for VXX. In the end, VXX will probably decline by much more than 60%. Options traders are betting that this will happen by the end of 2012. Holders of VXX should look to sell into any rally, but holders do not need to fear a repeat of the 3 day 60% decline experienced by TVIX holders.
Disclosure: I have no positions in any stocks mentioned, and no plans to initiate any positions within the next 72 hours.