AT&T (T) is a world-wide telecommunications provider. The company's Wireless segment offers wireless voice and data communication services. The company's Advertising Solutions segment publishes yellow and white pages directories; and sells directory advertising and Internet-based advertising and local search. In addition, the company provides customer information services.
AT&T has consistently been moving up since its low of $20 in the summer of 2009. Since that time, it has risen by a stepping pattern where it moves up, then consolidates by moving sideways or slightly down, and then moves up again before it consolidates. It has moved up an average of 2 points from its previous high before it stops, and we are close to that point again.
In terms of Investing Intelligence, I do not like what I see in AT&T's investment ratios. If I give them a dollar, what can I expect that return on the dollar to be? How well does the company generate money with the assets it has? When it reinvests a dollar back into the business, how much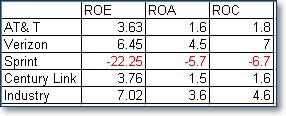 money does it make? These are key investment questions I ask that deal with the investment ratios. In each ratio, the company has fallen behind the industry average.
Return on Equity- AT&T (3.63) Industry Ave (7.02)
Return on Assets- AT&T (1.60) Industry Ave (3.60)
Return on Capital- AT&T (1.80) Industry Ave (4.60)
When I compare AT&T to its three main competitors, it appears to come in second when it comes to investor intelligence. Verizon (VZ) came out far ahead of the four.
Apart from a history of slowly increasing dividends, we do not see an opportunity for AT&T to be a good long-term investment right now. Possibly the company would be worth revisiting toward the end of the year, but right now we do not think it is the best stock for long-term investing.
Click chart to enlarge: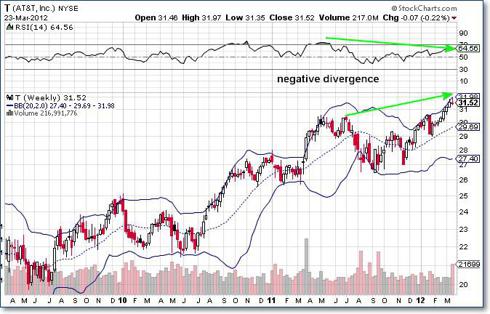 That does not mean an opportunity does exist to make money with the stock. We believe that AT&T will experience a consolidation period soon. If this happens, we are expecting it to pull back between (2.5-3.0) points. This is what it has done in the past. We would like to take advantage of that move with a Bear Put Spread options play.
The Options Play
Buy an October 2012 '31' put option (priced at $1.81)

Sell an October 2012 '30' put option (priced at $1.31)

Net Debit to Start: $0.50

Maximum Profit: $0.50
Reasoning behind the Trade
When the stock consolidates, we are well within the trade zone we are expecting it to move in.

The long term RSI is signaling weakness in the present move up with a negative divergence.

The move down could take 3 months. Buying in October gives us plenty of time decay protection.