On March 14, I wrote an article about why I thought Potash had room to run to the upside. At the time Potash (NYSE:POT) was trading in the mid $42 range. Only nine trading days later, it closed at $46.95 on Monday, March 26th. This represents about a 10% increase, depending on when or if investors got in that day. I am just writing to quickly highlight why I think it has even more room from here.
Most people disagreed a few weeks ago about the direction of Potash, and the rest of the fertilizer sector. Now it seems as though many are bullish, especially on Potash. When you take a look at the options pit, Potash has been doing a lot of volume, mainly on the call side. The $45 and $47.5 strike calls are the most active, which makes sense considering how close the stock currently trades to them. I highly doubt that these are a hedge for any shorts in the name, but rather an outright bullish play on the stock. It may also show that the 45/47.5 spread is becoming more and more popular amongst traders.
Technically speaking, Potash is beginning to look really prime for an upside move. Several days ago, when Potash roared 8% it burst through its 50-day simple moving average. After that it sold off a bit, and found substantial support right on the 50-day sma. The next bit of resistance would be the 150-day sma, or $46.60. After the failed attempt at this price resistance recently, it has cleared and closed above it today. If it can hold above this zone, $49, or the 200-day sma will be next. Below is a 6-month chart showing these three simple moving averages.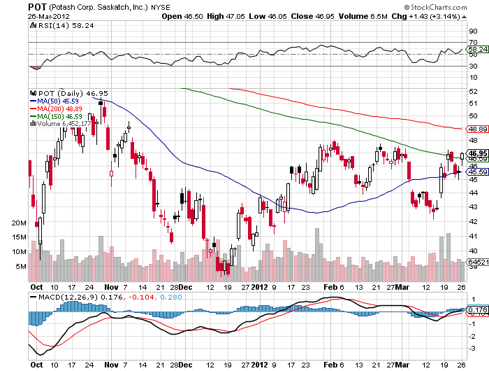 Click to enlarge
Above: Potash 6-month Chart (click to enlarge)
With an RSI (relative strength index) of just 58, Potash is certainly not overbought. I think upside still exists, especially after clearing two important simple moving averages. In the last year, Potash has been severely oversold and is due for a comeback. It's true that if the S&P begins to turn red and decline, it may take Potash and the rest of the fertilizers down with it. However, it seems as though the negative view of the industry is clearing, and bullish sentiment is building. It's not the end of the run, in fact, it is just the beginning, in my opinion. I am trading this move by using weekly out-the-money calls and monthly vertical bull spreads.
Disclosure: I am long POT.