Mining equipment company Joy Global Inc. reported disappointing earnings for the quarter ending on June 27th, as profits slid 61% and fell short of analysts' targets. The company's net income was $73 million ($0.67/share), vs. $188.6 million ($1.55/share) last year. Analyst expected $0.70 per share. Earnings were boosted last year by an accounting gain of nearly $0.91/share. Revenue increased 4% from $598.7 million to $621.8 million, also short of analyst estimates of $662.4 million in sales. CEO Mike Sutherlin commented on the company's outlook: "Overall market conditions continue to be positive, especially in our international markets." He expected high growth countries, like India and China, to keep demand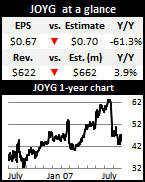 for commodities elevated as they continued to industrialize and modernize. However, acknowledged weak demand for coal, noting "the weakness in the U.S. coal market has continued for longer than we anticipated and we will continue to position ourselves so we are not dependent on the timing of its recovery." Joy Global traded lower in pre-market trading, down 5.8% to $42.38.
Sources: Press Release, MarketWatch, AP
Commentary: Joy Global: Mining Equipment Giant Headed For Better Days - Barron's • Russell 1,000 Stocks With Highest, Lowest Betas
Stocks/ETFs to watch: JOYG. Competitors: BUCY, CAT. ETFs: EMG
Seeking Alpha's news briefs are combined into a pre-market summary called Wall Street Breakfast. Get Wall Street Breakfast by email -- it's free and takes only seconds to sign up.