Abbott Laboratories (ABT) is the largest company in the nutritional products market and the second largest company in the worldwide market for diagnostic products. The company sells everything from pharmaceuticals to medical devices to nutritional products, allowing it to have a wide customer base that can withstand volatility. Its Pharmaceutical Sector is by far its largest brining in 56.6% of the company's entire revenue.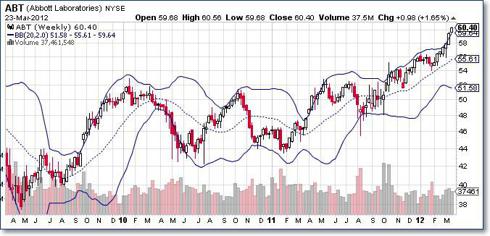 When the company does split off this year, investors are going to have a choice between two solid companies, but much different from each other.
Abbott will retain the medical device division. It manufactures blood analyzers and other devices for glucose readings for diabetics. Abbot also has its own nutrition line, produces PediaSure for children and Ensure for nutritional supplements for adults.
The new pharmaceutical company-AbbVie, will start out owning several of Abbott's highly successful drugs Humira, Kaletra, Tricor, and Trilipix account for $11 billion in annual revenue. Humira is by far the most successful of the four drugs brining in $8 billion alone.
This is going to work out great for shareholders and that is why we see a run on the stock now. It may take a breather but we believe it will still continue up before it splits toward the end of the year. When the company does split, shareholders each receive shares in both companies. The two new stocks basically trade at whatever price the market assigns to them. Usually, it will add up to the price that the single stock was trading at before. Shareholders of the old stock will receive shares in the new stock, too.
This will be nice for the investor. The pharmaceutical company will be focused on growing here in the states and are projected at a modest rate of (3-4%) a year. Abbott-with its medical devices will focus globally and much of its faster growth rate will take place in the emerging markets where medical device industry is expanding at 20% a year.
This will be a nice combination for investors. A slow growth-mature company with good dividends and a good growth company with smaller dividends. AbbVie will be the income producer for long term investors. Abbott will be the growth stock.
If you haven't bought Abbott stock yet, either get in now or wait for a pullback since they have risen a lot lately.