For some weeks now, I have been looking for a good point of entry to Given Imaging Ltd. (GIVN), since I feel that 2008 could be the year in which the company regains the honor it had in its first years as a public company when it was a dream stock, reaching a high of $45 three years ago.
Instead of investing directly in Given Imaging, I am opting instead for holding company Elron Electronic Industries Ltd. (ELRN), which has, among other things, a 23% stake in the company.
As a rule, I don't like investing in holding companies, but after meeting on Sunday with Elron CEO Doron Birger, and CFO Rinat Remler, I decided to add this particular one to my portfolio.
On top of the exposure to Elron's other companies, both public and private, as well as the high cash level, I am also getting a potential mega upside from a number of medical device platforms developed by private companies that Elron has invested in, which could be massive in the future. Each one has the potential to replicate the Given Imaging dream in terms of market cap, but failure by one or even all of them, will not pulverize the stock, since they are still privately held, and have negligible valuations.
Most notable of all these companies is BrainsGate Ltd., of which Elron owns 23%. Like Given Imaging, BrainsGate was also one of the approximately 50 countries that in January this year were awarded the Technology Pioneer Award 2007 at the World Economic Forum in Davos, Switzerland. It has developed a miniature electrode which, when implanted in the mouth, can transmit pulses, increasing cerebral blood flow.
The special electrode, which is already undergoing clinical trials, can be used to provide effective treatment within 24 hours to patients who have suffered an ischemic stroke - patients whose current treatment consists largely of blood diluents, and whose time window for treatment after the event is no more than a few hours. In addition, it could also be used in future as a comprehensive platform for drug delivery to the brain, a field that is critical in the treatment of diseases such as Alzheimer's, a disease that large companies have focused on without success to date.
At the close of trading on Friday, Elron had a market cap of $372 million, of which $235 million represents the value of the shares of the public companies it has invested in. It currently has $74 million in cash, so anyone investing in Elron will also be investing in its large portfolio of privately held companies at the nonsensical value of $63 million, some of which could be the next Given Imaging. Another of Elron's hidden assets is its 50.1% holding in Rafael's civil development arm Rafael Development Corporation Ltd., which produced Given Imaging, among others.
ELRN 1-yr chart: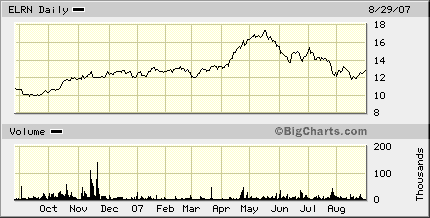 Published originally by Globes [online], Israel business news - www.globes.co.il © Copyright of Globes Publisher Itonut (1983) Ltd. 2006. Republished on Seeking Alpha with full permission.