The impact of new rules on foreign ownership of mines in Indonesia on Freeport McMoRan Copper & Gold Inc. (NYSE:FCX) is unclear.
Several weeks ago, the Southeast Asian nation's mining and energy ministry reportedly posted a new regulation on its website that limits the foreign ownership of new mines in the country to 49%. The law would allow foreign companies to develop new mines, but require them to sell at least 51% of the ownership to Indonesians after ten years of operation.
The regulation was created by a decree issued by Indonesian President Susilo Bambang Yudhoyono on February 21, but not made public until a few weeks ago. The new rule appears to be a means of putting pressure on mining companies which are negotiating royalty agreements with the Indonesian government. Freeport McMoRan is one of the companies currently negotiating a new royalty deal with the Indonesian government.
May or May Not Affect Grasberg
The new rule will apparently not interfere with Freeport's gigantic Grasberg Mine in Papua (the Indonesian half of New Guinea) because it is an existing operation. The rule explicitly exempts existing mining operations and seems to target new developments.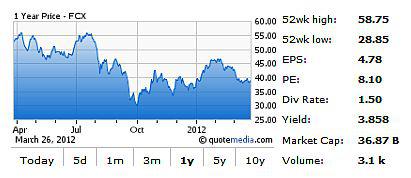 The law could actually help Freeport McMoRan by keeping competitors from developing new mines in Papua New Guinea. Since it is unclear whether this rule affects the expansion of existing mines, FreePort could simply expand existing operations in New Guinea. This could help give the company a virtual monopoly on copper and gold mining in the world's largest Islamic nation.
It is unlikely that the Indonesian government would seriously interfere with the Grasberg operation. The Indonesian government owns 9.36% of PT Indocopper Investama, the Freeport subsidiary that owns and operates Grasberg. The Grasberg mine is also reportedly the largest taxpayer in Indonesia. There is little chance the government would cut off its principal source of revenue.
To make matters more complicated, the deputy mining and energy minister of Indonesia told the press that the new regulation does not specifically target Freeport McMoRan. Instead, it is supposed to be aimed at all foreign mining companies. To add to the confusion, no English language material mentioning the regulation could be found on the ministry's website. That means the government could be changing its mind, or the regulation could be a political gesture.
Freeport McMoRan has an agreement to conduct exploration activities in a 500,000 acre area adjacent to the Grasberg Mine called Block B. It is unclear whether the new regulation would affect the company's activities in Block B. Since it is an existing operation, it could be exempt from the rules. It could also be considered a new mine which may be affected by the rules. Grasberg is believed to contain the world's largest gold reserves and second largest copper reserves.
It should also be noted here that PT Indocopper Investama is technically an Indonesian company, even though it is a wholly-owned subsidiary of Freeport McMoRan. That means it could actually be exempt from the regulation. The regulation could be designed to please Indonesian nationalists and Islamists who are angry at foreign exploitation.
Some observers in Indonesia think that the real goal of the rule is to put lucrative gold and copper mining under the control of local companies. The Indonesian government has plans to ban the export of unprocessed raw metals by 2014. That action would appear to be an attempt to bolster the nation's smelting industry.
This regulation could benefit Freeport McMoRan, because it owns 25% of PT Smelting, which operates a copper smelter and refinery in Gresik, Indonesia. The company could easily get around the regulation by shifting its smelting to PT. It could also benefit by smelting and refining competitors' ore production there. Gresik is located on Java, Indonesia's most populous island.
Labor Unrest at Grasberg
The new regulation is not the only thing that brings Freeport McMoRan's future in Indonesia into question. Reuters reports that there has recently been serious labor unrest at Grasberg. The mine was shut down for three months due to a strike last year.
Work stopped again at Grasberg several weeks ago because of a dispute with the miner's union. The miners returned to work on Friday, but on Monday, March 5th, union spokesman Virgo Solossa told Reuters that Indocopper Investama must settle wage disputes with workers by April 12th if it wants avoid more work stoppages. The dispute centers on allegations that the company is refusing to pay workers who were slow to return after the strike.
The labor troubles could actually be more of a threat to Freeport McMoRan's Indonesian operations than the new regulations. It reportedly plans to start underground mining operations at Grasberg by 2016. Underground mining is more labor intensive than open pit mining, and definitely more vulnerable to strikes.
Even though it is still heavily invested in Grasberg, Freeport McMoRan is looking beyond Indonesia. The company is developing one of the world's largest copper concessions at Tenke Fungurumein, the Democratic Republic of the Congo in Africa. If the political climate in Indonesia makes further mining there difficult or impossible, this could prove to be a wise move.
It should be noted that the Congo has historically been one of the world's most unstable nations. The nation has been plagued by constant civil war since it became independent from Belgium in the 1950s. Developing a mine there poses risks that are potentially greater than in Indonesia.
There is a potential bright side to the political developments in Indonesia for Freeport McMoRan and other minerals stock investors. Limits on new mining and export of minerals in that nation could limit the supply of copper and other metals and drive up their prices. This could increase Freeport McMoRan's profits by increasing the value of its existing operations.
Democracy and Mining's Uncertain Future
The recent events in Indonesia should remind investors how vulnerable mining stocks are to politics. Companies like Freeport McMoRan are highly dependent on the good will and support of governments that may not have its best interests in mind. The growth of democracy in nations like Indonesia also threatens the position of companies like Freeport McMoRan.
Popular opinion in such nations is strongly against large American- and European-owned companies. Such sentiment plays straight into the hands of local politicians and businessmen that want a larger cut of the mining profits. They can use the threat of nationalization or forced divestment to squeeze more concessions and bribe money out of the mining companies.
It should be noted here that Freeport McMoRan does have some leverage over the Indonesian government. It can simply threaten to move all of its development efforts from Grasberg to Tenke Fungurume. It is hard to imagine the Indonesian government passing up on $15 billion in new development. The loss of jobs at Grasberg would also lead to more labor unrest, which the Indonesian government does not want.
With its Indonesian subsidiary and local smelting operation, Freeport McMoRan seems to be in a good position to profit from the changing political climate in that nation. Whether that will be enough to placate public opinion in the island republic is unknown.
How the Competitors Stack Up
At least two of Freeport McMoRan's competitors seem to be in a position to weather such unrest fairly easily. These include BHP Billiton (NYSE:BHP) which has major copper mining operations located in Chile and Australia. Australia is the world's most stable country with no history of civil war or political unrest. Chile is a democracy and historically one of South America's most stable countries. Billiton's Escondia mine is the world's largest copper producer. Billiton does have one major operation, Antamina in Peru, which has a long history of guerrilla warfare and political unrest.
Newmont Mining (NYSE:NEM) has one facility at Batu Haijau Indonesia, but it has concentrated its investments in Australia. Its newest mine in the region is located at Boddington, in West Australia, which has produced 2.4 billion pounds of copper since production commenced in 2009. Newmont's Batu Haijau Mine is located in Indonesia, but it is on the island of Sumbawa, not in Papua, so it could be immune from the kind of unrest that is afflicting Grasberg.
One company that could be more vulnerable to unrest is Southern Copper (NYSE:SCCO), which operates mines in Peru and Mexico. Mexico is fairly stable politically, but it has been hit hard by drug violence in recent years. The drug operations have ignored the mining industry in Mexico thus far, but that could change. Southern Copper could face real problems if criminals start targeting its Mexican operations. Since Southern is owned by Grupo Mexico, it faces little danger of being forced to divest itself of its Mexican holdings.
A danger facing Southern is that Peru could follow Indonesia's lead and implement rules to limit foreign investment. Given the strong Anti-Americanism in South America and the rise of populist left wing leaders such as Venezuelan president Hugo Chavez in the region, that is a definite possibility.
Freeport McMoRan's heavy investment in an unstable country such as Indonesia paid off handsomely in the past. Unfortunately, the reliance on one country, especially a very unstable one such as Indonesia, could come back to haunt it in the future.
Disclosure: I have no positions in any stocks mentioned, and no plans to initiate any positions within the next 72 hours.