I have to give credit where credit is due - ISTA Pharmaceuticals (ISTA) management stuck to its guns, remained patient, and ultimately got a much better deal for shareholders. With a solid deal in hand from Bausch & Lomb, ISTA management has given shareholders a pretty happy ending.
A Little Bit Of History Repeated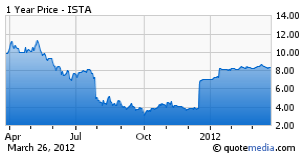 ISTA Pharmaceuticals has given shareholders a rollercoaster ride over the past couple of years. Shares rocketed up from mid-2010 to early 2011, only to erode again on fears of generic competition for Bromday. When Remura failed its clinical trials for treating dry eye (around August of 2011), the stock lost about half of its value and stayed in the dumps for most of the year as institutional investors fled a story with few near-term catalysts.
An unsolicited, unwelcome bid from Valeant (NYSE:VRX) reawakened investors to the inherent value of the company. Starting off at $6.50 a share in cash, Valeant ultimately added a buck to the bid, but ISTA's board and management team was unimpressed and seemed to be actively seeking a better bid. Valeant ultimately accepted that ISTA wasn't going to play ball, pulled its bid, and went on to other deals (including Eyetech).
Bausch & Lomb Steps Up
Happily for investors, the departure of Valeant didn't really hurt the stock, even though management's presentation of its strategic plan and its most recent earnings were not all that inspiring. If nothing else, investors at least seemed more confident that the Bromday twin-pack was going to accelerate sales and there was some evidence to that effect.
It's all moot now, though, as well-known eye care company Bausch & Lomb (which is privately-held) has reached a friendly agreement to acquire ISTA Pharmaceuticals for $9.10 in cash. With a deal value a little over $500 million, Bausch & Lomb is paying about 2.7x expected 2012 sales and about 3.2x trailing sales. Moreover, this take-out price is more than double the level that the stock was trading at during its 2011 doldrums.
This is a logical deal for Bausch & Lomb in every respect. Bromday badly needs a little extra marketing muscle behind it, and the ability to make Remua a success in the OTC market against Alcon (owned by Novartis (NYSE:NVS)) and Allergan (NYSE:AGN) is going to rest in large part on marketing support. What's more, while Bepreve has not been a great success against Alcon's Patanol or B&L's Alrex, the product performance attributes argue that it should be a better seller.
It's also very much worth mentioning that Bausch & Lomb already manufactures all of ISTA's products.
The End Of The Story (?)
I don't think there's any particular reason that ISTA shareholders should hold out for a better deal. ISTA's board supports this deal and though it looks to be about 10% below my estimate of fair value ($10.25), I don't really see how a rival bidder could justify a substantially higher bid. I do believe that Valeant has moved on and would be very surprised if a company like Novartis or Johnson & Johnson (NYSE:JNJ) tried to top Bausch & Lomb with a hostile bid.
All in all, then, this is a fair bid for a company that was perhaps longer on potential, but definitely shorter on demonstrated ability to execute. Pre-market indications suggest the stock will open at $9.05 and at that price it's probably prudent for ISTA shareholders to just take their cash and move on.
Disclosure: I am long ISTA, but may sell within the next 72 hours due to the announced buyout agreement.