A share of Hewlett-Packard (NYSE:HPQ) used to go for a bit more than $50. Now, HP's well on its way to being worth only a $20 bill, making my forecast look better and better.
It's a horrible case of "investor deflation", a sad wallet lightening, an economic malady: Investor billfolds holding Nokia (NYSE:NOK), RIMM (RIMM), and HP shares used to be worth $40, $100, and $50, now look a whole lot lighter at $5, $13, and $23. These unfortunate wallets hold Washingtons, Lincolns, Hamiltons, and Jacksons rather than Grants and Franklins. What seemed impossible a year or two ago is looking unavoidable now: These three "gems" may be soon be $5, $10, and $20 stocks.
All the way down, pundits trumpeted how cheap the three were.
Not me. I've been warning investors away from the terrible tech wreck trio for 2 years, instead pushing Apple (AAPL), the company that obliterated them. The shrinking billfold could have been avoided.
Two years ago, I suggested Apple over Nokia and reiterated that in eleven more articles. I counseled buying Apple over HP and RIMM repeatedly in eighteen articles.
Following my advice, your wallet would have been stuffed with $500+ Apple notes rather than the tech wreck of Nokia, RIMM, and HP. (Too bad there are no longer any $500 bills. Perhaps the Bureau of Engraving should bring them back and put Steve Jobs face on them.)
So where are we with HP now that it has become even more "cheap"?
Let's look at how badly HP allocated resources.
Exhibit 1: HP underinvested in itself for years: Capital expenditures were slighted. Look at how much greater depreciation and amortization has been compared to capex.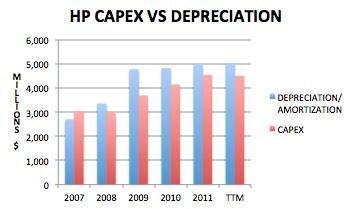 Exhibit 2: R&D actually has been dropping since 2007 as HP lost sight of innovation. HP used to spend far more: It spent over 5.9% of its sales revenue on R&D in 2002 but this year only 2.6%.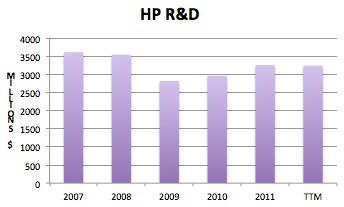 Exhibit 3: Instead, HP went on a $43 billion shopping spree in acquisitions since 2006, all the while ignoring capex and research & development (graph doesn't include 2006).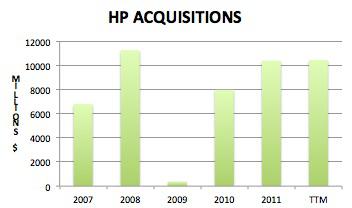 The bottom line: HP has dug itself a hole of underinvestment, starving its R&D and capex budgets. This isn't going to be fixed in a quarter or two. Too much precious time wasted over the years. Its competitors aren't going to spot it a few years to catch up. HP, like its ne'er-do-well compeers RIMM and Nokia, still looks like a sell.
Disclosure: I am long AAPL.
Disclaimer: The opinions in this document are for informational and educational purposes only and should not be construed as a recommendation to buy or sell the stocks mentioned. Past performance of the companies discussed may not continue and the companies may not achieve the earnings growth as predicted. The information in this document is believed to be accurate, but under no circumstances should a person act upon the information contained within. We do not recommend that anyone act upon any investment information without first consulting an investment advisor as to the suitability of such investments for his specific situation.