I recently published two research-based articles on high-yield, low-payout stocks outperforming the overall market. One interesting idea from this research came from Robert Ibbotson, a Yale finance professor. He found that illiquid stocks tended to outperform more liquid stocks (Source: Jackass Investing by Michael Dever). He offered three explanations for this:
Investors prefer liquid stocks to illiquid stocks; therefore they pay a premium for liquidity, making those stocks overpriced.
As the supply of capital grows, all stocks become more liquid, but the least liquid stocks receive the greatest relative benefit.
More popular stocks attract more interest and attention, which results in less chance to score outsized future price gains.
Illiquidity was defined in relative terms as the average trading volume for a stock divided by its outstanding shares. Therefore, it does not just mean small-cap stocks with low floats. I modified this definition by multiplying by 365 to create an annual turnover percentage, which I felt would be easier to understand and compare. This article applies the concept to Consumer Staples stocks with consistent dividend growth.
Screening Process
I started with the CCC list of stocks (about 500) and added columns containing the average daily volume and shares outstanding. The annual turnover percentage was calculated as:
Turnover % = (Avg_Vol / Shares_Outstanding) * 365
I proceeded to sort the list from lowest to highest, and then took approximately the top half by setting a cutoff value of 200%. I'm most curious about the stocks with lower percentages, but didn't want to be too exclusive. I then screened out stocks with payout ratios above 60%. Next, I focused on stocks from the Consumer Staples sector that had double-digit projected earnings and dividend growth rates (DGRs). This process yielded the following stocks, in order based on Annual Turnover. I included PepsiCo (NYSE:PEP) for comparison, though its DGR is under 10%. It is worth noting that for this sector, most stocks had over 100% turnover; the three with turnover less than 85% had very low yields of 1.0% to 1.7% with single-digit DGRs.
Name
(Yrs of consistent div growth)

Ticker

Yield*

Annual Turnover

Payout Ratio*

Est Earnings Growth

1-YR DGR

3-YR DGR

Walgreen Company (36)

(WAG)

2.7%

98%

30%

10.9%

28.0%

24.5%

Hormel Foods Corp (46)

(NYSE:HRL)

2.1%

113%

36%

7.1%

21.4%

11.3%

Colgate-Palmolive Co. (48)

(NYSE:CL)

2.6%

177%

47%

9.5%

11.8%

13.3%

Casey's General Stores (12)

(NASDAQ:CASY)

1.1%

194%

20%

13.6%

40.7%

26.7%

Costco Wholesale (8)

(NASDAQ:COST)

1.1%

199%

29%

13.5%

16.4%

14.0%

PepsiCo Inc (40)

(PEP)

3.2%

168%

53%

8.6%

7.0%

7.5%
Data with * from Yahoo Finance as of March 23, 2012. Other data from March CCC list.
The Stocks
Walgreen Company (WAG) operates a chain of drugstores in the U.S., selling prescription and non-prescription drugs and general merchandise. It also offers medical services through its Take Care Clinics, which treat patients, provide prescriptions and administer immunizations. WAG had a huge run-up in the 1990s, and is the only stock in this group to have negative 1-, 5-, and 10-year returns. However, with a yield near 3%, a low payout ratio, and a 20%+ DGRs, the stock may be desirable to income-oriented investors. WAG had the lowest turnover out of this group. WAG has the lowest PE of this group.
Hormel Foods (HRL) produces and markets a variety of meat and food products to retail and foodservice customers worldwide. HRL's long-term chart shows a steadily rising stock price, and dividends have been increased annually for 46 years. While the dividend is a modest 2.1%, HRL has a low payout ratio, and its most recent dividend increase was nearly double its 3-YR DGR. HRL also has a low beta of 0.35, a low debt-to-equity ratio, operating cash flows readily cover the dividend, and it has been making some stock repurchases.
Colgate-Palmolive (CL) manufactures and markets consumer products worldwide, including oral and personal care products, soaps, and cleaners. Major brands include: SpeedStick, Colgate, Murphys, Irish Spring, and Palmolive. CL has generally outperformed the S&P 500 (NYSEARCA:SPY) with less volatility, sporting a very low beta of 0.28. Its payout ratio is still below 50%, and CL continues to increase its dividend by over 10% annually. Cash flows readily cover the dividend and the firm expects to grow earnings close to 10%, allowing for continued dividend increases.
Casey's General Stores (CASY) operate convenience stores in 11 Midwestern states under the names of Casey's General Stores, HandiMart, and Just Diesel. CASY has outperformed the S&P over the last decade, returning 310%, and 40% in the last year alone. While its dividend is very low at 1.1%, so too is its payout ratio at 20%. CASY fits the low-yield, low-payout category that historically has outperformed most other yield-payout categories. Its DGRs are outstanding, and there is plenty of room to continue above average DGR increases. The firm made adjustments to its capital structure in 2011, issuing $500M in debt and buying back the same amount in stock.
Costco Wholesale (COST) operates 592 membership warehouses in 9 countries, primarily in the U.S., which sell a wide selection of branded and private-label products. Like CASY, COST falls into the low-yield, low-payout category, though its DGRs are not as impressive. WAG offers the same payout with a higher yield and higher growth rates, however, COST's earnings growth is close to its DGR, making it more sustainable. COST's operating cash flow easily covers its dividend, and the firm has been repurchasing stock and reducing debt.
PepsiCo (PEP) was included for comparison, and for those interested in a higher-yielding stock. It meets the lower turnover and lower payout criteria, but its DGR, while sustainable, is below 10%. Over the long-term, PEP has been an outstanding performer, but price growth has been flat the last 5 years. Dividends continued to rise though, and the stock is a strong core holding with its low beta of 0.34. PEP's operating cash flow covers the dividend, and the firm has repurchased over $7B in stock in the last two years.
Low-Yield, Low-Payout
As observed in the table above, these CCC stocks have a medium or low yield, based on the cutoffs that I established in my previous payout-yield article, and most fall into the low payout category (<33%). Each firm has a record of consistently raising dividends, with all but PEP delivering 10% or higher DGR over the 1-YR and 3-YR periods. With the low payout ratios, there is continued room for growth. Historically low-yield, low-payout stocks tend to perform very well over the long run. These stocks have all delivered total returns that beat the S&P over the last 3-, 5-, and 10-year periods, except for WAG, which suffered large declines in 2008, 2010, and 2011.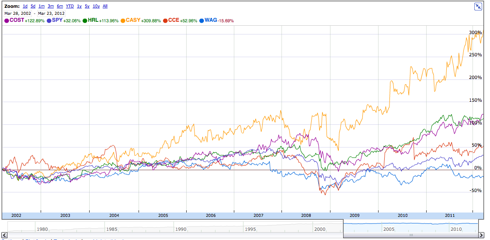 What I Like
I currently only own Kimberly-Clark (NYSE:KMB) in the consumer staples sector, after recently selling Procter & Gamble (NYSE:PG) as I felt it was getting overvalued. To an extent, the whole group seems overvalued, with PE ratios pushing 20. This screen provides me with some new ideas. Of this group, I am most interested in learning more about CASY, given its strong total return performance, low payout ratio, and high DGR. I would need to do more research into WAG to understand why the stock has been hit so many times in recent years. Its current valuation and dividend look appealing provided it has straightened out its issues. I would probably be more inclined to choose PEP for a core holding, but I'd like a yield of at least 3.5%, given the lower DGR.
For a quick pick list of Consumer Discretionary stocks using the illiquidity screening process, click here.
Disclosure: I am long (KMB).