"Failure is good. It's fertilizer. Everything I've learned about coaching, I've learned from making mistakes."
- Rick Pitino
Part 6 (see part 1 and part 2 and part 3 and part 4 and part 5)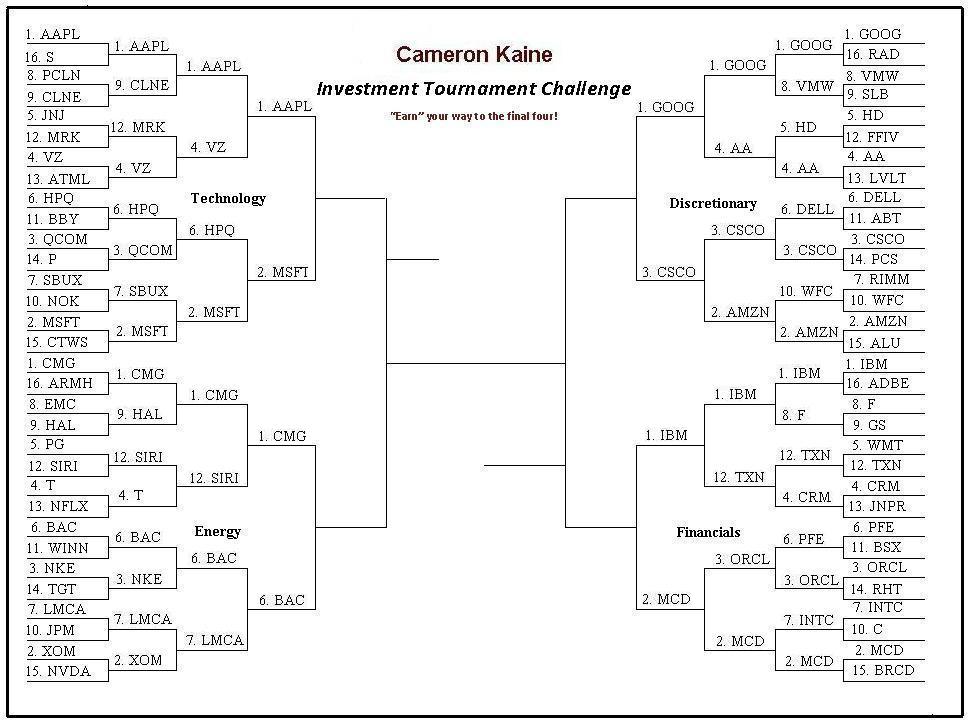 Well ladies and gentlemen, here we are now in the Elite 8. And if you have been following along with me throughout the entire tournament one thing that you and I both can agree on is that each of the teams that have made it to this quarterfinals round have been 8 of the most dominant teams since the opening tip of 2012. Each of the teams that are left has yielded an average of 25 percent increase in their performance for their fans than where they ended last year - with Bank of America (BAC) leading the way with an increase year to date of 77 percent.
The matchups
The team has come out of nowhere to overcome Wall Street doubters and dominate its first three opponents by unleashing what it calls its "interest-free" offense and "high ATM charges" defense to overpower Liberty Media (LMCA) by 22 points. It is interesting to wonder who Warren Buffett was rooting for in this matchup since he has made considerable investments in both firms. I'll make certain to ask him the next time I see him.
Remarkably, for Bank of America, nobody thought it would even make it to the tournament considering the disappointing year that it had in 2011. I think about just how remarkable its performance has been so far on the year and it intrigues me to think that several months ago, the market was questioning if the bank would be able to survive. Admittedly, I was one of those skeptics that looked at it strictly from a technical perspective because its fundamentals were in such disarray, but I was wrong. It surprised Wall Street with better than expected fourth quarter earnings - to the extent of a profit of $2 billion for its fourth quarter 2011. This came after having posted a $1.2 billion loss during the same period a year ago.
Its full year earnings arrived at $1.45 billion compared to a prior loss of $2.24 billion in 2010. During the quarter, revenue rose 11% to $25.1 billion with earnings coming in-line with analyst estimates at $0.15 per share. As someone who has been extremely critical of the team during critical parts of last year, I have to extend a great amount of credit for this performance so far in this tournament. But things won't be getting any easier for BofA as it will now face one of the teams that has sizzled fans since long before the tournament started in #1 seed Chipotle (CMG). For Bank of America, as the #6 seed, the question is, will its ATM fees and interest rates defense be high enough to keep Chipotle from popping up on every street corner en route to its first Final Four since its inception? These questions will certainly be answered and as they say ladies and gentlemen, that's why we play the games.
Chipotle exerted little energy in what appeared to be an overpowering matchup against satellite radio darling Sirius XM (SIRI) - the game was not even close. But it was not because the company was unprepared. It just simply faced a team that was just better. Sirius XM fans deserve a lot of credit for the support of their team - one that I can only compare to the Virginia Tech teams of college football in that they travel extremely well to any venue where their teams play to lend their support. In return, the team always plays just well enough to make it to the top 10 rankings, but never plays well enough when it matters to secure a national championship - essentially, always the bridesmaid, but never the bride. But will this soon change?
Microsoft vs. Hewlett-Packard
The other interesting matchup was software giant Microsoft (NASDAQ:MSFT) facing off against Hewlett-Packard (NYSE:HPQ) - one where although Microsoft came out the victor, the outcome was much closer than people expected. For Hewlett-Packard, as great as turnaround story the team appears to be, it is clear that it still has some work to do to shore up its offense. The team seems determined on doing exactly that by having recently merged both its printing and PC divisions together. This comes as the team is engaged in its long standing effort to reduce costs while improving its ability to produce more market appealing products. Hewlett-Packard is betting that the result of this merger will bring more synergies to various areas of its operation - these include its procurement procedures, supply chain as well as its assembly line processes, just to name a few. The only question is will it work and if so, to what extent?
For Microsoft, as great as a performance it demonstrated during the game, I continue to think that its biggest impact is going to arrive with the company's cloud strategy - something that I think already sets it apart from other names such as Oracle (NASDAQ:ORCL) and IBM. Its cloud initiative has been ongoing as several of its most popular titles are becoming available on a subscription basis instead of the typical software box. Investors have to also get excited about its soon to be release of Windows 8 - an event that I have recently stated will add $8 to its share price.
From an investment standpoint, at $32 and trading at a P/E of 11, value investors with 12-24 month investment horizons should consider giving the company a long look at current levels and expect that Windows 8 and Azure to bring in some significant gains. But it doesn't get any easier as the company will face perennial power Apple (NASDAQ:AAPL) in the next round to see who goes to the final four - should definitely be an interesting matchup.
Disclosure: I am long AAPL, MSFT, ORCL, HPQ.
Additional disclosure: I am short SIRI