According to the Dish Network 2011 10K, there are approximately 99 million households in the US that subscribe to cable or satellite television. Cable television companies supply 58% of the market; Satellite accounts for 34%; and Telecom companies represent the remaining 8%. In the first category, Comcast (CMCSA) and Time Warner (TWC) customers account for 29% and 12% of subscribers, respectively. Within Satellite, 20% and 14% of households subscribe to Direct TV (DTV) and Dish Network (DISH). Therefore, four companies account for 75% of subscribers.
While Cable and Satellite companies sometimes directly compete with each other, the concentrated nature of the industry and the high profitability of its constituent companies indicate that the competition is low. In many regions, a single cable company is the only option due to various rules, regulations, and economies of scale. As a result, companies within the industry can make excellent investments if purchased at a reasonable price and assuming that there are no material shifts to their market power. Recently, internet-based companies such as Apple (NASDAQ:AAPL) and Netflix (NASDAQ:NFLX) have threatened the turf of the established players. The impact of this threat is yet to be established.
Comcast
Comcast is the largest subscription television provider in the US. This division accounted for two-thirds of revenue and 83% of operating profit in 2011. In its most recent 10k, Comcast reports that the government regulates the rates of approximately 20% of its subscribers since there is no effective competition. Two additional facts highlight the pricing power:
Average monthly revenue per video customer was $137 in 2011;
This figure increased 7.87% and 8.55% year-over-year in 2011 and 2010 due to increases in price.
The ability to increase prices translates into high Earnings Growth and Earnings Consistency scores in the Chaikin Power Gauge (see my rating methodology). 53% of its digital video customers subscribed to either the advanced HDTV or DVR services. These services are very high margin, but are subject to some cyclicality, since individuals may turn to basic cable services when times get tough.
In addition, Comcast owns 51% of NBC, which includes Universal Pictures and Universal Studios theme park. It also own the Wells Fargo Center and the Flyers in Philadelphia. Lastly, Comcast returned over 4% of its market capitalization to shareholders in dividends and share repurchases in 2011.
Recently, many metrics suggest Comcast may be attractive at current prices including: Relative Strength, Chaikin Money Flow, Short Interest, Insider Activity, and Price Strength vs. Industry ranks. Of course, Comcast's ability to create and control content through NBCUniversal, is very attractive.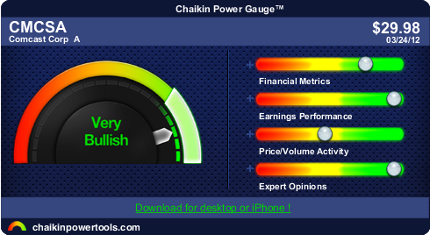 Direct TV
Direct TV's total revenues grew 7.9% from 2010 to 2011. 80% of 2011 revenues come from the US and 20% from Latin America. However, Latin American revenues grew 41.7% year-over-year from 2010 to 2011 and management expects LA to grow 20% in 2012; whereas it expects the US will grow in the mid-single digits. Similarly, while US operating profit increased 12.5% yoy, Latin America rose 47%. Therefore, the Latin American portion of Direct TV is likely to become increasingly important in the future.
Direct TV prides itself on excellent customer service and a high level of innovation. $93.27 average revenue per customer in the US, however, is significantly less than cable. It has over 2000 patents and 900 trademarks. DTV has purchased $12.3 billion worth of its own shares over the last three years at a discount to the share price today. This represents 37.8% of its current market cap and shows management is committed to returning cash to shareholders. In February 2012, the board approved up to $6 billion of additional repurchases.
Direct TV scores well on the Earnings Performance component of the Chaikin Power Gauge. Specifically, its earnings are consistent and forward P/E is low.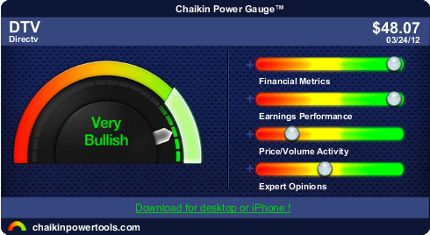 Dish Networks
Dish Networks is the self-proclaimed value player in the cable industry. Its average monthly revenue per subscriber of $76.73 confirms this. In addition, past problems such as theft of its services and customer service problems have also driven down its stock price. Not surprisingly, its forward P/E ratio is only 10.76. The Chaikin Financial Metrics indicate Dish may be attractive based on value factors.
In particular, Dish has a low Debt/Equity ratio and a high Business Value score, which suggest that the company is able to throw off lots of cash flow without resorting to debt financing. Dish also has an unusual ownership structure and relationship with its vendors. This may have also pushed down its valuation.
Charles Ergen, his wife, and a friend, started the company in 1980. Ergen is still Chairman and controls approximately 92% of the voting shares through either direct ownership or trusts established for his family. In 2008, Dish spun-off EchoStar Corp into a separate publicly traded company. Ergen controls 92.5% of voting shares in EchoStar either directly or through trusts. In addition, EchoStar designs and develops all of the Dish set-top boxes and provides digital broadcast operations. Therefore, a potential conflict of interest exists.
Conversely, this ownership structure enables Dish to take decisive actions. For example, Dish has aggressively purchased companies and assets to become a mobile phone service provider, similar to AT&T (NYSE:T) and Verizon (NYSE:VZ). In 2008, the company paid $712 million to acquire wireless licenses and in 2011 acquired DBSD North America and the assets of TerreStar for $1.4 and $1.375 billion, respectively. These acquisitions in combination with various FCC approvals would enable Dish to provide wireless video, voice, and broadband.
This strategy has recently paid off as the FCC announced recently that they planned a rule-rewriting that would rid the barriers to Dish's proposed fast speed data network.
According to the Chaikin Power Gauge, many of these recent developments are being viewed favorably for Dish. The Expert Opinion rating is extremely bullish and driven by positive earnings estimate revisions, solid analyst opinions, and a low short interest ratio. These suggest that Dish may be transitioning its role as the value play in this group.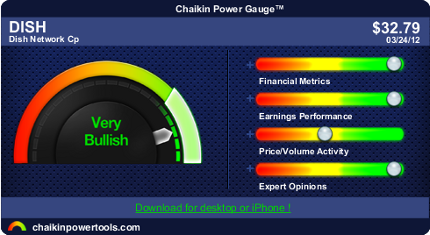 Time Warner Cable
Time Warner Cable operates in several strategic clusters in the US: New York State, the Carolinas, Southern California, and Texas. It offers video, internet, and voice services to both homes and businesses. Average monthly revenue per video customer was $73.18 in 2011. While revenues from residential services only increased 2.7% from 2010 to 2011, business services expanded 32.7%; although, 8.5% of this came from an acquisition. In addition, business services grew 20.9% from 2009 to 2010.
Given the non-cyclical nature of its business, Time Warner scores very well on the earnings consistency and analyst opinion components of the Chaikin Power Gauge.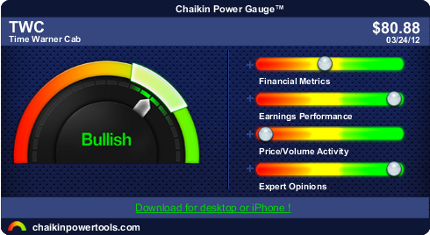 Disclosure: I have no positions in any stocks mentioned, and no plans to initiate any positions within the next 72 hours.