Wall St. Breakfast's Pre-Market Snapshot:
U.S. Futures
As of 9:05 AM ET
S&P 500: -9.00; 1,456.50
NASDAQ 100: -7.00; 1,954.00
Dow: -66.00; 13,245.00
International Indexes
Asia
NIKKEI 225: +0.88%; 16,153.82 (+140.99)
HANG SENG: +2.02%; 23,484.54 (+463.94)
SHANGHAI SE COMPOSITE: +1.14%; 5,167.88 (+58.46)
BSE SENSEX 30: +0.86%; 15,121.74 (+128.70)
Europe
FTSE 100: +0.40%; 6,156.70 (+24.50)
CAC 40: +0.58%; 5,552.11 (+32.09)
XETRA-DAX: +0.12%; 7,447.81 (+8.63)
Commodity Futures
(Reuters/Jefferies CRB)
Oil: -0.08%; $73.45 (-$0.06)
Gold: -0.25%; $673.70 (-$1.70)
Natural Gas: -0.32%; $5.56 (-$0.02)
Silver: -0.22%; $11.98 (-$0.027)
U.S. Breaking News
see today's Wall Street Breakfast for earlier news
Freddie Mac Earnings Hit by Mortgage Loss Charge

Freddie Mac, the government-sponsored home-mortgage lender, Thursday posted a 45% drop in Q2 net income, taking a $320 million charge on potential mortgage losses.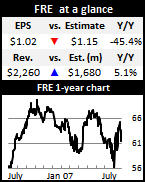 Freddie Mac and rival Fannie Mae don't buy many so-called subprime loans, the market for which has imploded due to waning investor confidence, but they do buy portfolios secured by 'top-rated' subprime loans, which should be least vulnerable to default losses. Many feel the current market turmoil is a positive for the government-backed companies, because investors are more likely to bid up the securities they package out of fear of investing in other, less robust securities. The $320 million loss reflects "credit deterioration on 2006 and 2007 loan originations" due to higher foreclosures and lagging home prices, the company said. "On the credit front we are seeing weakening, but we are well positioned relative to the overall marketplace to weather the ongoing disruptions in the mortgage markets and emerge as an even stronger player," CEO Richard Syron said (see full earnings call transcript later today). Net income was $764 million ($1.02/share) on revenue of $2.26 billion, compared with $1.4 billion ($1.93/share) on revenue of $2.15 billion a year ago. Analysts were expecting EPS $1.15 on revenue of $1.68 billion. Net interest income fell 17% to $973 million. Freddie Mac and Fannie Mae own or guarantee about 40% of the $10.9 trillion residential home loan market. On Aug. 10, their regulator, the Office of Federal Housing Enterprise Oversight (Ofheo), refused to relax restrictions on the size of their loan portfolios, despite pressure from some (full story) who felt increasing their caps might ease a shrinking credit market (full story). Shares are down 4.7% in pre-market trading to $60.80.
Sources: Press release, Wall Street Journal, MarketWatch, Bloomberg
Commentary: Subprime Mortgage Lenders Don't Need Help From Fannie and Freddie -- Bernanke • No Bids In Corporate Bond Market
Stocks/ETFs to watch: FRE. Competitors: FNM
Sears Net Drops 40%, Still Manages To Top EPS Estimates

Sears Holdings Corp., owner of Sears and K-Mart department stores, reported a 40% fall in its Q2 net income in what CEO and President Aylwin B. Lewis called a 'disappointing' quarter.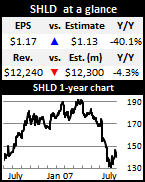 Lewis added: "Our gross margins came under pressure from sales declines and increased promotional activity, and as a result, our net income was significantly below last year and our expectations." By the numbers, net income was $176 million, good for EPS of $1.17, versus net of $294 million a year earlier. (The year earlier period included a one-time $0.14 a share settlement payment to Sears from Visa/MasterCard.) Sales were down 4.3% to $12.24 billion from $12.79 billion a year ago. Consensus analyst estimates were for EPS of $1.13 on revenue of $12.3 billion. Total U.S. same store sales declined 4.1%; 4.3% at Sears department stores and 3.8% at K-Mart. The company saw cash and cash equivalents drop from $4 billion in February to $2.6 billion mainly due to share buybacks, as the balance sheet doesn't show a meaningful appreciation in debt. Sears repurchased 9.6 million shares at a total cost of $1.5 billion during the latest quarter; its board approved the repurchase of an additional $1.5 billion worth of shares during the current quarter. Sears shares hit a high of $193 on April 17 and have since shed 25% to a close of $145.61 Wednesday.
Sources: Press Release, Reuters, AP, MarketWatch
Commentary: Sears Lowers 2Q Guidance For Second Time In a Month • Sears: Let People Know About Land's End • Sears Plunges 10% On Lowered Earnings Outlook
Stocks/ETFs to watch: SHLD. Competitors: WMT, TGT, JCP. ETFs: XRO, PMR, RTH
H&R Block Q1 Loss Widens on Mortgage Woes, Narrows FY Guidance

H&R Block reported a Q1 net loss of $302.6M, or -$0.93/share, more than double last year, as losses from its Option One mortgage arm totaled $192.8M. Excluding Option One and other items, H&R Block lost $0.34/share, better than estimates of a $0.36 loss. Sales rose 11% to $381.2M, but came up short of expectations ($448.4M).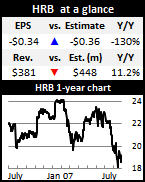 H&R Block said it is trying to renegotiate the sale of Option One to a subsidiary of private equity firm Cerberus. The original agreement (still in effect if a new agreement is not reached) has the transaction slated to close before December 31, but H&R Block said in a press release "... there can be no assurance it will close." H&R Block narrowed its full-year guidance for earnings from continuing operations to $1.30 - $1.45, from $1.25 - $1.45 previously. Analysts had forecast $1.33/share on average. Shares of H&R Block were last down 4.5% in light pre-market trading, after gaining 3.5% to $19.50 on Wednesday.
Sources: Press release, Bloomberg, MarketWatch
Commentary: H&R Block Taps Credit Lines • Housing Bubble and Real Estate Market Tracker • Berkshire Hathaway Releases Latest 13F: Summary of Holdings
Stocks/ETFs to watch: HRB. Competitors: INTU, JTX
Ciena Swings To Profit, Topping Estimates

Networking equipment provider Ciena Corp. reported Thursday morning it had swung to a profit that beat analysts' targets. For the quarter ending July 31st, Ciena reported net income of $28.3 million (29 cents/share), compared to a loss of $4.3 million (5 cents/share) in the year earlier period (last year's results' included an $11 million restructuring charge). Excluding costs from a legal settlement and stock-based compensation, the company earned $40 million (41 cents/share). Analysts were expecting earnings of 31 cents/share. Revenue was up 34% to $205 million from $152 million a year earler, beating analysts' estimates of $203.3 million. "Consistent execution of our network specialist strategy has enabled Ciena to benefit from two significant industry trends: the demand for increasing network capacity and the transition to Ethernet/IP-based network infrastructures," noted Gary Smith, Ciena CEO. Ciena sells equipment to Internet providers, increasing the speed their networks deliver video and audio content. Ciena stock traded up 2% to $39.12 in pre-market activity.
Sources: Press Release, Bloomberg, MSN Money
Commentary: Ciena and The Future of Carrier Ethernet • Goldman Sachs Favors Cisco, Ciena As Telecom Demand Grows
Stocks/ETFs to watch: CIEN. Competitors: ALU, CSCO, NT. ETFs: PXQ.

Tiffany Beats Street; Zale Swings to Surprising Profit

Tiffany & Co. reported Q2 net income fell 10% to $37 million, or $0.26/share, hurt by a $0.17/share charge from the sale of its Little Switzerland business. EPS of $0.45 from continuing operations beat Street estimates of $0.34. Sales increased 19% to $662.6M, also topping estimates ($643.4M). Tiffany recorded robust 17% same-store-sales growth in the U.S. and 7% overseas. Full-year EPS (ex-items) is expected to be $2.64-$2.69 on 14% higher sales to $3.02B. Analysts had forecast $2.13/share on sales of $2.97B, on average. Tiffany said it expects a pre-tax gain of $104M, or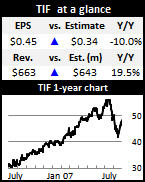 $0.37/share, for the $328M sale of its Tokyo flagship store to Goldman Sachs (full story). Separately, Zale swung to a fiscal Q4 profit of $1.5M, or $0.03/share (breakeven on an adjusted basis) on slightly lower sales to $488M, compared to analyst expectations of -$0.13/share on sales of $483M. Tiffany's earnings call is at 8:30 a.m. and Zale's is at 9:00 a.m. (check later today for earnings call transcripts of Tiffany and Zale).
Sources: Press releases: TIF, ZLC, MarketWatch I, II
Commentary: Tiffany & Co.: Profits Wrapped in a Blue Box • Going Comparative Diamond Shopping: Blue Nile vs. Tiffany • Tiffany's Slump Presents Buy Opportunity
Stocks/ETFs to watch: TIF, ZLC
Seeking Alpha's news briefs are combined into a pre-market summary called Wall Street Breakfast. Get Wall Street Breakfast by email -- it's free and takes only seconds to sign up.
Today's Market
(via Sam Collins, ChangeWave.com)

Recap of Yesterday's Action
Most traders conceded that Tuesday's sell-off was an overreaction to the published Federal Open Market Committee [FOMC] meeting minutes and that yesterday's rebound proved it. But the rebound, even though it included most sectors, had slightly less volume than Tuesday and didn't quite erase all of the losses. Technology led the way, and for that reason the Nasdaq was the only major index to overcome Tuesday's selling by bouncing up 2.5%. The Dow and the S&P 500 are still in a slight deficit. Apple Inc. (NASDAQ:AAPL) was one of the strongest techs, advancing 5.7%, and Hewlett-Packard (NYSE:HPQ) gained 3.3%, with International Business Machines (NYSE:IBM) rising 2.3%. Apple is expected to announce an upgrade to its iPod digital music and video players on Sept. 5 that will include a full-screen video iPod. Energy stocks had a good day paced by a rebound in the price of oil, and the telecom sector did well, too. At the close the, Dow Industrials gained 247 points at 13,289. The S&P 500 was up 31 at 1,464, and the Nasdaq surged by 63 points closing at 2,563. Volume on the NYSE totaled 1.3 billion shares while the Nasdaq traded 1.6 billion; advancers led decliners on both markets. The ratio on the Big Board was 7-to-1 and on the Nasdaq it was 22-to-6. Crude oil (October contract) rose by $1.78 to $73.51 a barrel, and the Amex Energy SPDR (NYSEARCA:XLE) closed at $68.85, up $1.84. The December Gold contract was higher by $1.90 per troy ounce at $675.40, and the Philadelphia Gold/Silver Index [XAU] gained $4.46 closing at $137.66.

What the Markets Are Saying
Yesterday's impressive rebound following the overreaction on Tuesday sets up the major indices' chart patterns for a reversed head-and-shoulders bottom. If this pattern holds, there will be no further need to test the lows. If the S&P 500 could break above the neckline at 1,480, we could see a rather quick move up into the midpoint of the overhead resistance at 1,520 and even to the old highs. As stated yesterday, sentiment supports a bullish outlook and so do the foreign markets as virtually all of the major ones have shown signs of significant reversals. It is again time to be long and to stay long.

Today's Trading Landscape
Today look for earnings from Ciena (NYSE:CIEN)(read above), Credence Systems (CMOS), Sears (NASDAQ:SHLD) (read above), Del Monte Foods (DLM), Dell (NASDAQ:DELL), Esterline Technologies (NYSE:ESL), Freddie Mac (FRE) (read above), Genesco (NYSE:GCO), H&R Block (NYSE:HRB) (read above), LTX Corp. (LTX), Omnivision Tech (NASDAQ:OVTI), Tiffany's (NYSE:TIF) (read above), Zales (NYSE:ZLC) (read above) and others. The following economic numbers will be reported today: initial jobless claims (the consensus expects 320,000), preliminary second-quarter GDP (the consensus expects 4.1%), and the help wanted index (the consensus expects 25). However, many investors will be looking forward to hearing Fed Chairman Ben Bernanke's speech tomorrow, so the markets may be slower today awaiting that event.
Asian Headlines
(via Bloomberg.com)
• Asian Stocks Advance on Profit Outlook, Yen's Decline; Esprit, Sony Rise Asian stocks advanced after Esprit Holdings Ltd. and Cnooc Ltd. (NYSE:CEO) reported profit that beat estimates, reducing concern earnings in the region will be hampered by a slump in the U.S. housing market.

• Japan's Retail Sales Drop on Storms, Declining Stocks, Slumping Sentiment Japan's retail sales fell more than twice as much as economists expected, as a tax increase and a weekend typhoon kept shoppers away from the nation's department stores and car dealerships.

• Minsheng Bank First-Half Profit Rises 66 Percent on Loan Growth, Fees China Minsheng Banking Corp., the nation's first non-state-owned bank, said first-half profit surged 66 percent as it extended more loans and demand for services such as wealth management increased.

• Yen Strengthens Against Euro, Dollar After Hedge Fund Files for Bankruptcy The yen rose, rebounding from the biggest decline against the dollar since January 2005, after a bankruptcy filing by an Australian hedge fund prompted investors to sell higher-yielding assets purchased with loans from Japan.

• Australian, New Zealand Dollars Fall as Fund Failure Deters Carry Trade The Australian and New Zealand dollars fell against the yen, in the biggest fluctuation in currency markets, after an Australian hedge fund filed for bankruptcy protection on subprime mortgage defaults.
European Headlines
(via Bloomberg.com)
• Carrefour to Sell Shares in Real Estate Unit to Fund $6.2 Billion Buyback Carrefour SA, Europe's biggest retailer, plans to sell shares in a real estate unit and dispose of assets to fund a stock buyback worth as much as 4.5 billion euros ($6.2 billion) after pressure from investors.

• Bank of England Says It Made $3.2 Billion Loan of Funds at Emergency Rate The Bank of England, acting as the lender of last resort, extended 1.6 billion pounds ($3.2 billion) at its highest rate, suggesting commercial banks are reluctant to provide credit after the collapse of the U.S. subprime-mortgage market.

• European Retail Sales Grew for First Time in Four Months, PMI Index Shows European retail sales rose for the first time in four months in August after unemployment fell to a record low, the Bloomberg purchasing managers index showed.

• European Benchmark Bond Yield Near Three-Month Low on Hedge Fund Concerns European 10-year bond yields held near a three-month low as an Australian hedge fund filed for bankruptcy protection on losses related to a slump in U.S. home loans, prompting speculation global economic expansion will slow.

• Credit Agricole, Natixis Earnings Exceed Estimates, Driving Shares Higher Credit Agricole SA and Natixis SA, two of France's biggest banks, reported profit that beat estimates, easing concerns over credit market turmoil and sending their shares higher.