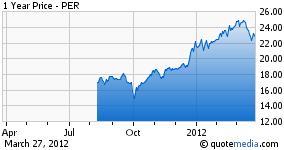 The decline in bond yields over the last few years have sent investors scrambling for yields and oil companies have taken advantage of that by forming trusts on land that they own in order to get cash up front which is then used to help pay for big energy projects. My favorite play among all the oil trusts is Sandridge Permian trust (NYSE:PER).
Sandridge Energy has now formed two trusts SDT and PER with a third on the way. PER was the second one that went public last August.
There are three reasons why I like PER over all the other trusts that are currently trading.
The first reason is because since the majority of wells that the trust owns are still developmental, peak dividends will not occur in over two years. As the dividend increase I expect capital appreciation in the stock to take place as the stock catches up to the dividend.
SD's first trust SDT, trades currently over $30 primarily because dividends are currently much higher than PER, but that dynamic will change soon as those developmental wells turn into producing wells
The trust owns 80% of 509 producing wells and 70% of 888 developmental wells in the Permian basin. Because the majority of the wells are not yet producing peak dividends from the wells will only happen sometime in 2014. Since the company has gone public 178 of these wells have gone into production.
The drilling rate is occurring at a faster clip than expected which is the second reason I like PER. According to the company's pre IPO filings target dividends for last quarter were supposed to be at .49 a share, instead they came in at .55. The faster drilling rate plus the fact that oil has stayed high leads me to believe that the current quarter should also come in well above the target rate of .53. We should get notice of the dividend rate around May 1.
If the dividend rate continues at a 10% above target clip, PER could see dividends of $3 next year above the target of $2.73 .
Finally, the company has virtually no exposure to the current depressed price of natural gas. The company's reserves consist of 96% oil and NGL's and only 4% natural gas. The company has also hedged 80% of production at $101 for the next several years giving it a buffer should oil prices decline.
PER recently dropped from near the $25 level to $22 after it's parent company SD sold 2 million shares. The shares SD holds is indeed an overhand but I believe the company will sell their remaining 14 million shares slowly if at all as PER remains a very attractive asset.
At a 10% discount to this months high I have been buying PER. Its increasing dividends, faster than expected drilling rate,and lack of exposure to natural gas make it a very attractive play at current levels.
Disclosure: I am long PER.