"Federal Reserve Chairman Ben Bernanke reiterated that the Federal Reserve is
closely monitoring markets and is ready to act if necessary
."
MarketWatch
Bernanke also suggests that some "creative thinking" be applied to allow subprime borrowers a chance to refinance. This reads to me like a bailout proposal.
These statements ignite a rally.
Is there really much to say about these last two days? You can't make this stuff up!
I'll just post this chart along with volume data.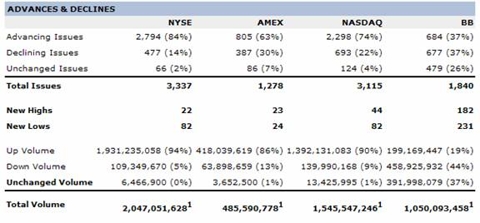 We experience another 90/10 day, this time on the upside, whereas Tuesday was the opposite.
On light volume, the market continues to don its "casino look".
Bernanke speaks on Friday and investors should wait for the bearish/bullish results, if any, before jumping in one way or another. But he definitely tipped-off bulls that the Bernanke Put is in play. Should the Fed not cut interest rates there will be hell to pay.
And, let's not forget some obligatory portfolio window dressing is again at work.
We probably won't post Thursday as we await more chart direction.
Have a great Labor Day holiday!