The Business:
Roadrunner Transportation Systems Inc. (NYSE:RRTS) is an asset-light transportation and logistics service provider who offers a range of solutions, including customized and expedited less-than-truckload (LTL), truckload and logistics (TL), transportation management solutions (TMS), intermodal solutions (transporting a shipment by more than one mode, primarily via rail and truck), and domestic and international air. Being asset-light means that RRTS does not own its transportation equipment but rather it uses its network of independent contractors (ICS) to provide them dedicated freight capacity.
They also use purchased power providers which are over-the-road transportation companies which provide additional freight capacity under non-exclusive contractual agreements. Through the use of ICs and purchased power providers, RRTS requires very little investment in transportation equipment and facilities and therefore enhances its free cash flow and ability to focus on providing quality service rather than on asset utilization.
One of the main factors that can influence the business of all transportation stocks is the cost of fuel, and RRTS is no exception. However, RRTS does its best to pass along the its fuel costs to its customers in order to limit the impact of increasing fuel prices. In their LTL business segment, RRTS passes along the costs of increasing diesel fuel prices to their customers through a fuel surcharge program. While this helps to offset the increased price in fuel, RRTS admits that it is much harder to predict the implications on other non-fuel related expenses in the LTL segment.
As a result, depending on the changes in fuel prices and the impact it could have on other fuel and energy related areas, their LTL operating margins could be negatively impacted. The good news is that within the TL and TMS business segments, operating income is less affected by increasing fuel prices because of the ability to pass the increasing costs directly to the customer.
Roadrunner Transportation Systems' goal is to be the leading asset-light transportation and logisitics service provider in North America through four main ways:
1. Gaining New Customers: As companies realize the cost effectiveness of the a la carte or "one-stop" solutions offered by RRTS, more customers are likely to use them for their transportation services.
2. Increasing Penetration with Existing Customers: There are great opportunities for RRTS to cross sell other freight services to existing customers.
3. Pursue Selective Acquisitions: The transportation and logistics industry consists of many smaller, regional providers who operate in specific shipping lanes and niche services. Therefore, the opportunity is there for RRTS to extend their geographic reach with acquisitions that complement their existing services.
4. Expand Truckload Capacity: By increasing the number of ICs and purchased power providers, RRTS can expand their truckload capacity on shipping lanes that are hit hardest with rising rates due to increased shipping demand.
Financials:
click to enlarge all charts


As you can see in the graphic above, RRTS is having great earnings growth on a quarter over quarter basis and is projected to have EPS growth this year of 41.50%. While 2013 earnings growth is projected to drop to 17.20%, the 5 year EPS growth rate, per Yahoo Finance, is projected at 39.55%. Being conservative, we could use about half the 5 year projected growth rate and calculate a multiple of around 20.
Using a simple Price to Earnings Equation, as discussed on the Fundamental Analysis Page, we can use this multiple and next year's average earnings estimate to calculate a potential price target of 20 * $1.36 = $27.20. This implies a potential upside of 49% from the $18.20 closing price on 3/16/2012. If RRTS can manage to beat analyst EPS estimates or show signs that its 5 year growth rate is on track for 39.55%, then look for even more upside over the coming years.
Technicals: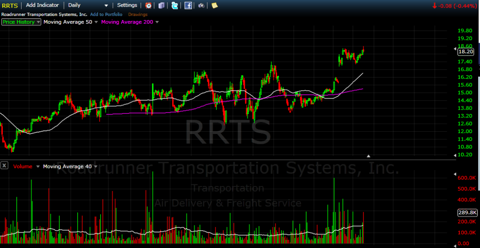 Looking at a daily chart, RRTS has shown signs of institutional accumulation as it has gapped up and broken out on huge volume and held those gains. Right now the stock is sitting right below all-time highs consolidating the recent ~20% run up. One thing to keep in mind is that this is a somewhat thinly traded stock in that, per Google Finance, it only trades on average 150,000 shares a day. The risk here, which is clearly seen on the daily chart is that when this stock pulls back, it tends to happen in a violent manner (5-10% within a week) as there is not as much liquidity or shares being traded. This means you should probably hold a smaller than normal position size to allow yourself to use a wider stop price or area in which you will sell if the trend changes.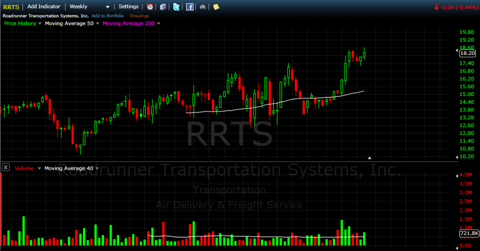 The above chart is a weekly chart (each bar is 1 week of trading) of RRTS. As you can see, this stock is on a great trajectory as it has broken over key resistance levels on big volume and is now consolidating those gains through instead of giving those gains back. Given a little more time, this stock looks to be setting up for a continuation to new highs right as the stock is posting huge earnings and sales growth.
Summary:
Transportation stocks have long been an indicator of how the whole economy is doing. In the case of RRTS, as the economy has improved from 2008-2009 levels, this stock has posted great earnings and sales growth and has positioned the company to continue this trend going forward. Fundamentally and technically, RRTS looks to be a great spot as of 3/16/2012 at $18.20 for further upside. Please remember, always have a risk management strategy for any stock you buy. Three out of four stocks follow the general stock market, and if the economy and stock market roll over, the earnings estimates cited above will most likely all come down making any price targets useless. This is why it is important to have a price or area, such as the 50 day or 200 day moving average, where you can admit you were wrong and cut your losses in order to protect your investment account.
Disclosure: I have no positions in any stocks mentioned, but may initiate a long position in RRTS over the next 72 hours.