Analysts love Apple (NASDAQ:AAPL). They've famously raised price targets again and again.
Under the radar, analysts have also been raising their Apple earnings estimates at a startling clip. Witness the rapid rise in their predictions:
Click to enlarge

Click to enlarge
(Courtesy of Yahoo)
In just 90 days, analysts bumped up estimates for Q2 24%, Q3 17%, FY 2012 26% and FY 2013 56%.
Those raised estimates are dramatic: For instance, the pros believe this year's earnings will come in $9.13 higher than they did only three months ago - $9.13 more in earnings in upward revisions this past 90 days.
That's like squeezing another quarter of earnings into Apple's year. Think of it this way: Analysts in three months time have essentially added a fifth quarter for the Cupertino company.
The enthusiastic increase in estimates for FY 2012 is equivalent to $8.5 billion, matching or beating all of the last year's earnings from Oracle (NASDAQ:ORCL) and Hewlett Packard (NYSE:HPQ). The analyst consensus upward earnings revision for Apple in 90 days equals the combined yearly earnings of Dell (NASDAQ:DELL) and Qualcomm (NASDAQ:QCOM).
The pros are rapidly raising Apple's numbers because they believe in the company's supercharged growth. That's in sharp contrast to their take on other big tech names.
Consider their thoughts on IBM (NYSE:IBM), Qualcomm, Amazon (NASDAQ:AMZN) and Google (NASDAQ:GOOG). They've barely budged their estimates on IBM, raised the numbers on Qualcom by 7%, dropped Amazon by 46%, and decreased Google by 4% in the last 90 days.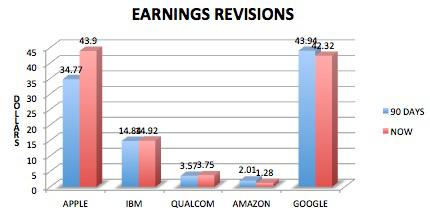 You would think Apple would receive an equivalently supercharged PE to reflect that growth. Not by a long shot.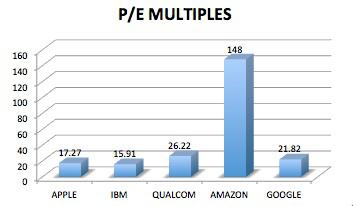 It's nice to have the analysts on board. Still, remember: This is from the group that has underestimated Apple's earnings for 24 out of the last 25 quarters.
What could go wrong? Analysts run up expectations so high even Apple can't jump over the bar. Unlikely, but possible. Nonetheless, Apple remains one of the greatest growth stories in the market and deserves to be bought at these levels.
Apple is still woefully undervalued. Higher prices are required to reflect the company's powerful earnings growth.
Disclosure: I am long AAPL.
Disclaimer: The opinions in this document are for informational and educational purposes only and should not be construed as a recommendation to buy or sell the stocks mentioned. Past performance of the companies discussed may not continue and the companies may not achieve the earnings growth as predicted. The information in this document is believed to be accurate, but under no circumstances should a person act upon the information contained within. We do not recommend that anyone act upon any investment information without first consulting an investment advisor as to the suitability of such investments for his specific situation.