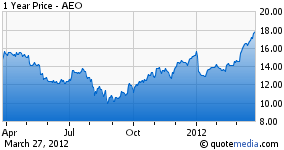 First, I need to disclose that I am currently a shareholder of American Eagle (NYSE:AEO). I started investing back in August of 2011 at around $10 and have enjoyed a nice 60% increase thus far. While I am putting the finishing touches on this article, AEO opened up another 2% this morning. I would also like to disclose that I will not be selling in the near future because of higher dividend payout rumors as we'll get to.
Second, I think it is important to reiterate the idea of permanently holding a security. As Warren Buffett is often quoted, "If you don't feel comfortable owning something for 10 years, then don't own it for 10 minutes." Black swans do occur more often than we would like to believe. How fast we have forgotten the memories of the latest real estate crash. Yes, we still see the realities of the deflated housing prices but how often do you think about the daily 700 point swings in the Dow? Nobody and I mean nobody knows when the next bubble will burst, when the next great war will break out or when the next natural disaster will occur. However, all of us know that any of these events are likely to occur at some point in the future. Knowing this, I believe strongly in only investing in companies that I believe in and understand.
With that said, I want you to know that I have always been a fan of American Eagle. I shamelessly bought their jeans in high school and college and I still have a few old pairs of AE jeans laying around the house. While I never understood why anyone would buy the jeans with the already made holes in them, I can knowingly say that American Eagle does sell likeable clothing.
On to the stock, let's start with a quick balance sheet evaluation. American Eagle, Inc. is currently selling at 4.4x current asset book value (current assets minus total liabilities) and at 2.35x total asset book value (total assets minus total liabilities). While the stock isn't selling at a discount, the valuation is still right in line or better than the competition. For example, Abercrombie & Fitch (NYSE:ANF) has is selling for 2.36x book value. Bebe (NASDAQ:BEBE) is selling for 2.18x book value, Hot Topic (NASDAQ:HOTT) at 2.37x, Guess? (NYSE:GES) at 2.53x and Aeropostale (NYSE:ARO) at 4.17x.
However, it is the current asset book value's of these companies that is interesting to me. Companies tend to legally keep their long term assets value overstated to prop up their balance sheets. As a result, I believe you can get a better read on a company's worth (with respect to apparel) by comparing their current assets minus total liabilities. Looking at the P/B from this view, ANF cost 17.71x which is far less compelling than AEO's 4.4x. The reason Abercrombie looks more expensive is due to nearly half the assets on their balance sheet being made up of property, equipment and other assets. Dissecting the true value of these lines of the balance sheet becomes difficult, especially since commercial real estate hasn't fully recovered from its bottom.
Sticking with AEO, we find that American Eagle has enough cash to cover the short and long term debt obligations making it, for the most part, a debt free company. At the share level, AEO has $6.62 in current assets with 66.8% of that in cash and receivables, 29.4% in inventory and 3.8% in deferred taxes. ANF is somewhat comparable in this respect.
Cash flows from operating activities have suffered 36% and 41% when compared to 2010 and 2009 not surprisingly. I will assume that this is mostly due to the increase in material costs which the market has already known about for a while. And I am happy to report that cotton prices have began to come down. Regardless, cash flows contributed a net $0.27 at the share level. I predict that cash flows will stay the same or improve in the coming years. One thing that is clear to me is that AEO can weather the tough times better than other apparel stores can.
Net income for 2011 came in at $0.78 per share and that is up 7.9% from 2010 but down 3.55% from 2009. This is where things get rough. As I type this article, the PE ratio of American Eagle is 22.64 which is why I cannot recommend buying this stock if you are not already invested. Yes, it may keep increasing but there is downside for sure. However, if you are dead set on owning a retail stock then I would recommend investing in AEO rather than ANF which currently has a PE ratio of 35. One thing is clear, neither of these companies currently have strong enough earnings to maintain their price level. If AEO were selling at a discount, I wouldn't be so concerned with the earnings. At $10 AEO was attractive but it has become more risky as the price went up.
With regards to the dividend, I wouldn't recommend selling the stock if you are already invested as I am. There are other articles out there discussing the hefty amount of cash on AEO's books. American Eagle also has a good history of increasing dividend payouts. One other note, it is too late for the non-shareholders to collect the upcoming quarterly dividend payout. Yet, if you are willing to risk the expensive price with respect to earnings, then AEO also has a history of share buybacks. From 2009 to 2011, the amount of outstanding shares fell nearly 7%. Whether management reduces size of the pie of outstanding shares or continues to pay dividends, I feel confident saying that this management team will continue to reward American Eagle's shareholders.
Disclosure: I am long AEO. I do not have any positions in ANF nor do I intend to initiate any positions in the next three days.