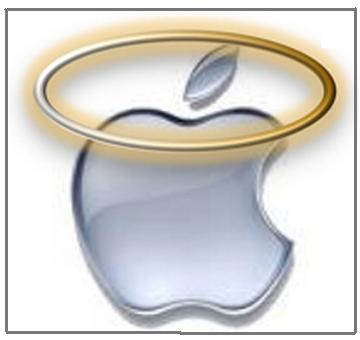 As technology giant Apple (AAPL) seem poised to prolong what I can only describe as an absurdity when I think about how successful it has been with everything it touches, I continue to marvel at the opportunities that its popularity will be bring to the companies within its circle.
The term "Halo effect" is not a novelty when it comes to investing. However, what investors often fail to realize is that there are some events that are greater than others, and what may have been an advantage for one may not necessarily present the same advantages for others.
With the company having reported that it sold 3 million of the new iPad in its first weekend I couldn't help but wonder what an incredible accomplishment this was when you consider that it took the original iPad 80 days to reach that figure. It is precisely this level of success that has caused the stock to have already appreciated by almost 50 percent this year alone, helping it achieve its #1 ranking as the world's most valuable company. But the interesting thing for Apple is that, it has also generated a considerable amount of attention for the companies that it uses to build its products.
Research firm iSuppli said it recently purchased an iPad for the sole purpose of disassembling it to estimate how much it cost to produce a single tablet. During its lab exercise the company found that there weren't many changes from the last iPad, in terms of suppliers. According to recent article:
"It's most of the same characters we saw last time around," analyst Andrew Rassweiler said. Wireless chipmakers Qualcomm and Broadcom both reappeared - Qualcomm supplying a baseband processor chip, Broadcom a Bluetooth and Wi-Fi chip, TriQuint Semiconductor suppling some additional wireless parts. STMicroelectronics once again retained its position supplying the gyroscope. Cirrus Logic supplied an audio codec chip.
The first name that jumped out at me was chip giant Qualcomm as that has been a core holding of mine for quite some time until recently. I have always valued Qualcomm (QCOM) for this reason among several other chips. The reason is that where Apple presents a $600 price tag for each share, some of the other names that make up its product may be a tad more appealing to investors where Apple's high price may not be that appealing. However, iSuppli also mentioned Cirrus Logic (CRUS) as well as TriQuint Semiconductor (TQNT) - two lesser known names with possible significant upside potential over the course of the next 6 - 12
If the name TriQuint does not immediately ring a bell, investors need to understand that it has long been a staple and partner of several Apple products including among the iPad, also various iterations of the iPhone as well. In fact, Apple is TriQuint's biggest customer. Now this can be both a pro and a con - depending on whether you are a glass-half-full or half empty person. In the company's annual report, a recent article, it disclosed that of its approximately $900 million in annual revenue, Apple accounted for 35 percent of that number - which was up 10 percent since 2010. So the question is, is now a good time to consider TriQuint for a long position?
That answer has to be yes. The stock is up 33 percent on the year so far and is still over 50 percent away from its 52 week high. But one of the considerations that investors must factor in is the fact that it sports a P/E of 23 - which is not cheap by most standards. But then again, in its industry where it competes with other chips such as Nvidia (NVDA) and ARM Holding (ARMH), high P/E are often the norm. By contrast, Qualcomm, as much as I love the stock, has a P/E of 25 and is currently trading at its 52 week high.
For Qualcomm, the company has a tremendous business in a fast growing industry. Furthermore, as evident by the results in its latest quarter, it is clear that its management knows exactly what it is doing and should be able to sustain the level of performance. The question for investors is, what is the right entry point for the stock seeing as it keeps reaching new 52-week highs? However, seeing as analysts continue to feel there is at least 26% more room to the upside - this should bring some comfort to investors willing to hold for the long term - 12 to 24 months.
Another name investors might want to consider is chip technology giant ARM Holdings . Because not only has this once unknown company come out of nowhere to take a chunk out of Intel's (INTC) market share, but it has also forged huge deals with Microsoft (MSFT) for use of its chip technology in the upcoming release of Windows 8. Furthermore, it is widely known that PCs are losing share while smart phones and tablets are becoming more ubiquitous in both the consumer and corporate environments. So for ARM, it has the "best of three worlds" as its technology is essential to each Windows, tablets as well as smartphone devices.
Summary
It is easy to get consumed with the popularity of Apple and sometimes investors who wish that they had gotten in sooner are disappointed to watch Apple's shares continue to soar and are left with the feeling that the opportunity has passed them by. But there are other ways to play Apple's popularity - one is with its "halo effect." So why not own a company that produces the technology being used by many smart phone and tablet manufacturers? It's really that simple. In Qualcomm, Nvidia, ARM Holdings, TriQuint and a few others, investors can yet fill their portfolios with Apple - albeit, indirectly.