Pundits on Wall Street are all over the place regarding the likelihood that the Fed will cut rates. The debate is over when and by how much, and the consensus has been moving around almost as wildly as short T-Bill rates. It seems to me that too many analysts aren't seeing the clues as to why the Fed doesn't want to cut rates and that doing so, if not just temporarily to avert a financial crisis, could lead to an overheated economy.
Looking at the recent actions of Bernanke, it appears that he and the rest of the Board want to do anything BUT ease. After all, in the minutes of the August meeting, there was no dissent at all. He has taken the highly unusual step of adjusting the discount rate and then engaging on a campaign to reduce the stigma of banks using it. He talks about taking further action if necessary, which the street takes to mean cutting short-term rates, but I suggest that investors should be careful what they wish for. Bernanke knows that cutting short-term rates could have several deleterious effects, and is thus reluctant to do so. My interpretation is that if the Fed needs to ease, our financial system is much more fragile than we realize. If the lender of last resort has to play its last card (going "all-in" in poker parlance), market participants should realize that it risks losing "the confidence game" as some on CNBC have termed it. Unfortunately, I believe that the confidence game won't work – keep an eye on this one to keep score:
click to enlarge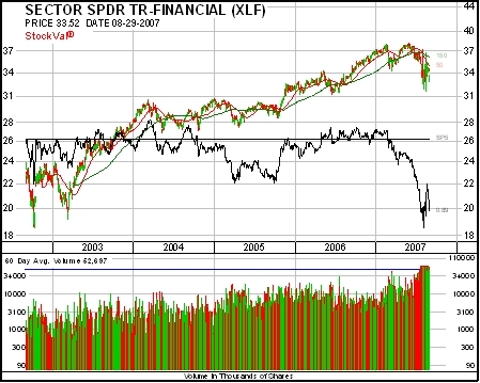 Should the FED Ease?
The current crisis is all about lax lending standards (not just in mortgages, but in all sorts of loans to both individuals and companies) and easy money available to investors. Sure, in the olden days, it made a lot of sense to look at our short-term rates as the clearing cost of capital, but this is a different world where sophisticated (and unsophisticated!) financial institutions have the ability and desire to take on risk by borrowing in yen, for instance. As you can see in the charts below, absent the margin calls running through the financial system, all the information out there suggests that the FED is correct in its policy at this time.
click to enlarge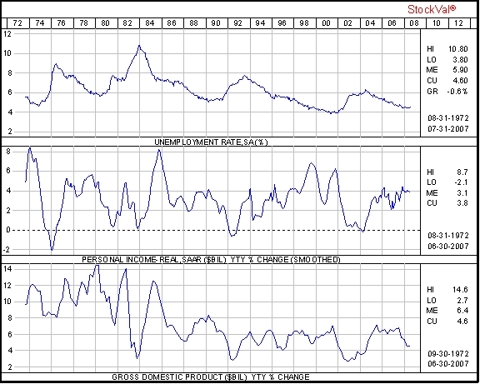 Clearly, unemployment is low, personal income growth is healthy and nominal GDP has slowed but remains high enough to be considered in good shape. In a nutshell, from a top-level, we have a fully employed economy that has slowed down but not showing signs (yet) of moving towards recession. I realize that all of this information is historical and could change, but the FED has to gauge the risks to both the upside and downside. When I look at the state of the consumer, I do expect that it will change, regardless what happens to short-term rates, but it will be a protracted process. I ask the questions: What short-term rate will get consumers to spend more. Will banks, worried about credit losses, even extend lower rates to consumers if the FED cuts? Is there any interest rate that can overcome bad balance sheets among the middle class? Consumer spending is waning, and we sure see it in housing-related spending, autos and recently even in the ubiquitous flat-panel and non-iPhone gadgets. Consumer credit growth has been exceeding the growth in spending. If the FED cuts rates, it will be, in my opinion, that it is expecting that the current financial crisis will push us into a recession. While I actually believe that to be the case, it would appear to be too early for the FED to act, especially since this recession is not likely to be led by an area typically responsive to interest rates.
click to enlarge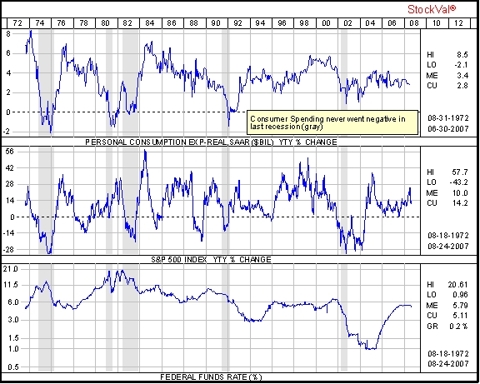 So, my answer to the question of should the FED ease is "not yet". Ultimately, it is likely to be a very negative signal to capital markets regarding its expectations and not be effective given that the real problem resides in the consumer area. In this situation of deteriorating credit, it is unlikely that lenders will pass on lower borrowing costs to borrowers.
If the FED does lower rates, it runs the risk of crushing the dollar, which is already historically weak relative to the Euro. As you can see in the chart above, stocks are up 14% over the past year. Talk about an investor bail-out if they were to ease now! It is not the job of FED to assure a floor on asset returns. I wish that I knew some other policy responses that the FED or our government could implement that would stave off the pay-the-piper scenario that I expect. Unfortunately, time (and some pain for certain borrowers and lenders) is the only thing that is likely to fix this situation. The FED may ease in coming days, but they shouldn't. Inflation isn't the solution.