The gun industry completely avoided the 2008 economic downturn, and gun sales have actually increased in dramatic fashion during the years since 2007.
FBI stats show the number of background checks done on Black Friday three years ago pales in comparison with the number done [on Black Friday 2011] - a 32-percent jump.
While many differing views exist regarding firearms, the momentum behind the gun buying persists.
The National Shooting Sports Foundation said that 920,840 checks were made in January alone, a gain of 17.3% over the same month in 2011. That made it the 20th consecutive month of increases.
Fear sells, and the following two companies know how to capitalize on this unfortunate trend.
In fact, since 2008:
Winchester's sales of ammunition have gone from $431.7 million to $572 million, an increase of 33%
Federal excise taxes collected on the sale of new firearms and ammunition has risen 48.3%
January 2012 was the 20th straight month of increases in NICS background checks compared with the same month in the previous year
December 2011 saw over 1.41 million NICS background checks run, the most ever for a single month
The few states that regularly report concealed carry permit numbers have seen increases in active permit holders ranging from 46% to 161% -- Read more here.
Sturm Ruger (NYSE:RGR) is a stock that my good friend and college roommate Larry always loved. He thought Ruger to be best of breed and extremely well run. Larry also thought shares were trading at reasonable prices. Well, I obviously should have listened to him because the stock is up some 300% since his recommendation in 2004!
Too bad I missed it, because now I feel it is probably a little too late to own RGR shares without a stop loss order in place. Ruger announced recently that gun demand was so high that it is unable to make enough supply to increase production -- sales of guns in the U.S. last year reached 10 million units and now Ruger has stopped taking new orders.
Ruger Chief Executive Officer Michael O. Fifer made the following comments:
The company's Retailer Programs that were offered from January 1, 2012 through February 29, 2012 were very successful and generated significant orders from retailers to independent wholesale distributors for Ruger firearms.
Year-to-date, the independent wholesale distributors placed orders with the company for more than one million Ruger firearms.
Despite the company's continuing successful efforts to increase production rates, the incoming order rate exceeds our capacity to rapidly fulfill these orders. Consequently, the company has temporarily suspended the acceptance of new orders.
The company expects to resume the normal acceptance of orders by the end of May 2012. Read full article here.
While this would normally be a very good problem for any growth business, I worry that some of RGR's supply chain management problems could be structural ones that can't easily be fixed. If RGR's can't ramp up production in future periods, then investors may be stuck in a stock that has gone up too far too fast, which is why I would suggest call spreads here or at the very least using hard stop loss orders to trade this name.
That said, I don't think RGR shareholders will have too many problems in the years ahead given that Ruger is trading for only 16X forward earnings with an incredible 84% earnings growth rate. It's probably a decent buy over the long run, though I expect the overall market to correct a bit here (at some point the laws of gravity could take hold) and these days all stocks seem to be 100% correlated on the way down.
Smith and Wesson (NASDAQ:SWHC) -- Smith and Wesson is a great company trading at a not-so-fantastic price right now and because of the lofty premium multiples here I would avoid buying the name with new capital. At 114X earnings, and a 5X book value multiple, SWHC shareholders have an uphill battle in front of them. Not to worry, however, as gun demand is such a strong tailwind for the company that the forward earnings multiple of 18X actually seems quite reasonable for SWHC given the sky high growth rate in the firearm market. I definitely prefer Ruger to Smith and Wesson as an investment, although for self protection I think both serve a purpose.
(Click chart to expand)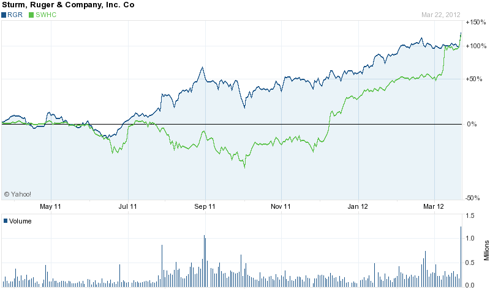 Click to enlarge
All told, I think these stocks are now decidedly growth at somewhat reasonable price issues (with Ruger being the better buy in my view) that could be owned for the long haul. That said, I would put in a stop loss order at 7% below your purchase price in both of these names because the future is uncertain, the supply chain is backed up, and you never know what might happen legislatively to curb the ferocious demand for more firepower.
Disclosure: I have no positions in any stocks mentioned, and no plans to initiate any positions within the next 72 hours.