Apple Inc. (NASDAQ:AAPL) makes great products at a premium price people are willing to pay (for now) that have made technology accessible and easy to use for the masses.
How much room is left on Apple's bandwagon?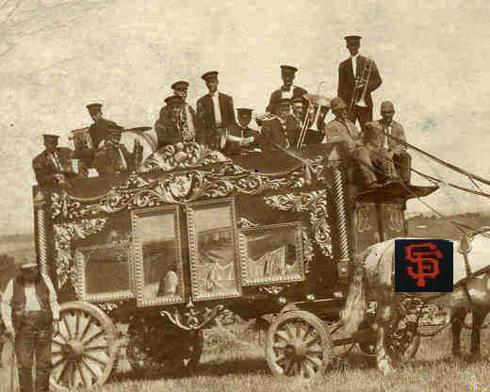 Apple is not only the most talked about stock but it also the largest holding by percentage in the two largest equity mutual funds and it is listed as a top ten holding in most of the largest funds.
I got my hair cut last week and the stylist asked me if it was too late for her to buy Apple. That alone should be a warning sign to anyone who studies market history.
On March 15, TV guru Jim Cramer said, "ignore the bearish chatter that the stock is too high." Cramer is entertaining and had a great record as a fund manager, but I see Cramer as the king of "buy what's working." Could his advice to buy Apple be as bad as his advice to buy these 10 stocks 12 years ago in keynote speach, The Winners of the New World.
Bob Brinker has been answering calls to the Cumulus Media Networks radio show "Moneytalk" for over twenty five years. On March 18, Brinker said, there will be a time to sell Apple, but he is not selling now." Brinker said in terms of the present value of Apple shares:
you take the $585 share price is being adjusted for $100 in cash per share that Apple has in the bank which is not earning a lot of money. But as long as Apple doesn't do anything silly with that cash, it is appropriate to value the company including that amount. So subtract that $100 from the $585 and you get $485 per share and you have to come up with an earnings estimate. Bob said using a very conservative 12-month forward number of $40 for earnings, that would produce a P/E multiple of 12.
That sounds good, but Brinker tracker David Korn said
"What? This is the first time I have EVER heard Bob say he owns Apple. Note that Bob has never recommended Apple in his Marketimer, so this is the first I am hearing of it. And Bob has specifically discussed Apple on many occasions, only now is when he decided to let his audience know he owns it.
Did Bob Brinker take that last seat on the bandwagon?
The two largest largest equity mutual funds, SPY and Vanguard's Total Stock Market Index Fund (MUTF:VTSMX) and VTI, have Apple as their top holding while the others have it as a top ten holding. (25 Largest Mutual Fund List)
SPY Top 5 Holdings as of Feb. 29, 2012:
| Company | Symbol | % Assets |
| --- | --- | --- |
| Apple Inc. | AAPL | 4.07 |
| Exxon Mobil Corporation | XOM | 3.34 |
| Microsoft Corporation | MSFT | 1.92 |
| International Business Machines | IBM | 1.87 |
| Chevron Corporation | CVX | 1.75 |
VTI Top 5 Holdings as of Dec. 31, 2011
(SPY is a subset of VTI so Apple today is the top holding of VTI)
| Holding | Percentage |
| --- | --- |
| Exxon Mobil Corp | 2.9% |
| Apple Inc | 2.7% |
| International Business Machines Corp | 1.6% |
| Chevron Corp | 1.5% |
| Microsoft Corp | 1.4% |
QQQ is the NASDAQ 100 index, another popular fund that has nearly a fifth of its value just in Apple:
QQQ Top 5 Holdings as of March 23, 2012:
| Company | Symbol | % Assets |
| --- | --- | --- |
| Apple Inc. | AAPL | 18.64% |
| Microsoft Corp. | MSFT | 9.00% |
| Google Inc. Cl A | GOOG | 5.56% |
| Oracle Corp. | ORCL | 4.82% |
| Intel Corp. | INTC | 4.67% |
If the bandwagon isn't full already, it is certainly very crowded.
Apple has come a long ways against tough odds. I expect they will celebrate their success soon by announcing they bought the naming rights to the new San Francisco 49er football stadium being built in Santa Clara, California. If that happens, "the stadium curse" may mark the ultimate top.
My Advice:
I only own Apple through very large positions in the S&P500 and Total Stock Market index funds. I prefer to put new "explore funds" into smaller stocks that have a larger potential to grow. Now that Apple pays a decent dividend, I MIGHT consider it on a major decline such as how I bought my first shares of Google at $310 after it crashed from over $700. When I have questions about a stocks valuation, a good bear market usually gives me good clues on what prices I am willing to pay.
Even if Apple corrects 50%, since I am a "picks and shovels" type of investor, I will probably buy more "infrastructure stocks." I considered Apple for its iPhone several years ago but I decided to buy more Finisar (NASDAQ:FNSR) as I announced here in March of 2009.
Not only has Finisar out performed Apple, it has much higher volatility thus offering more opportunity to take profits then buy back shares on declines.
Also, Apple is a leader today but it could lose market share to
HP (NYSE:HPQ) in tablets,
Google's Android in phones from many manufactures including HTC, Samsung and Google-Motorola Mobility
Microsoft-Noika with Windows-8 phones
It is very, very difficult to maintain leadership on so many fronts with such juicy profit margins for the competition to attack. It does not matter who wins in tablets and smartphones, because they all need infrastructure. If you own Apple with large profits, I'd at least consider taking some profits and buying some Finisar while keeping some cash available to buy further weakness in case Finisar isn't finished correcting since its last big surge a year ago.
Disclosure: I am long FNSR, SPY, IBM, MSFT, INTC, GOOG, HPQ. After taking profits at $22.25, I recently added to FNSR at $18.40. I have targets to buy more if it goes lower and to take profits again if it goes up. I also buy and sell the others around long-term core positions, many with targets set ahead of time announced in my newsletter.