According to The Wall Street Journal, Google (NASDAQ:GOOG) will introduce its new search algorithm called "Semantic Search" to defend its market share against rivals such as Apple (NASDAQ:AAPL) and Microsoft (NASDAQ:MSFT). While this initiative will likely allow Google to counter its competitors in North America, the company will continue to suffer market share decline in China due to Baidu's (NASDAQ:BIDU) dominance in online search with its own semantic search engine called "Box Computing."
Semantic Search is superior to traditional key word search in that it generates more relevant search results by understanding the contextual meaning of the words and the searchers' intent. Currently, semantic search is widely used by iPhone's voice-activated personal assistant, Siri, which attempts to understand the speaker's verbal command and answers with information gathered from Google and Wolfram Alpha, a search engine that uses semantic search.
Baidu first introduced box computing at Baidu Innovation Conference in summer 2009 as an attempt to strengthen its search result to counter Google.
(Click charts to enlarge)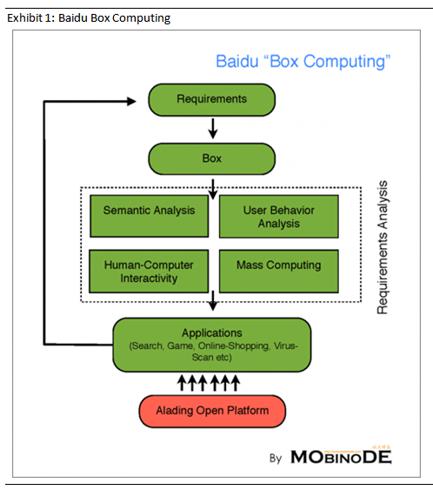 Since then, Baidu expanded Box Computing by allowing developers to create applications that generate relevant apps and results, which ultimately creates superior user experience. For example, a search of "Beijing Shanghai" returns relevant train and airline schedule from Beijing to Shanghai, followed by other search results. The train and air schedules are considered most relevant to the Chinese users because the context behind "Beijing Shanghai" usually refers to travel routes.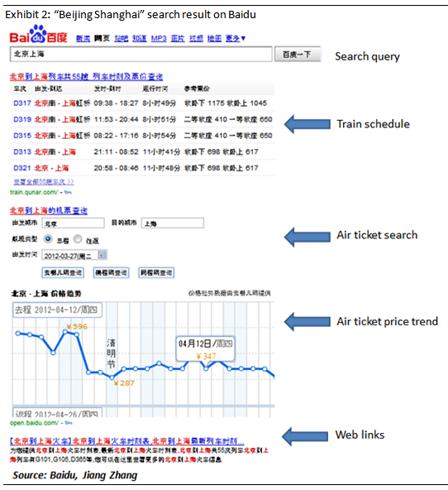 According to Baidu, 60% of search results are produced by Box Computing, which delivers interactive, relevant, and intuitive search experience that makes Baidu a clear leader in China's online search market. Unfortunately, Google has yet to catch up with Baidu on semantic search.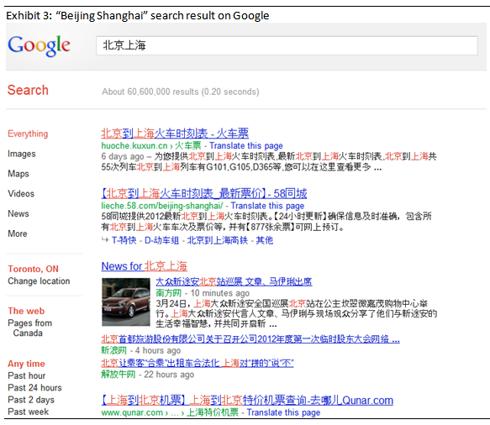 Baidu's continued focus on developing Box Computing will allow Baidu to become a:
Global search engine
Formidable force in mobile search
Baidu entered Japan in 2007 to leverage its strength in character search and capitalize on the similarity between Chinese and Japanese languages but the Japanese business has yet to achieve meaningful impact on Baidu's global growth. Recently, Baidu formed a partnership with Agency for Science, Technology and Research (A*STAR) to establish an R&D center in Singapore that focuses on developing South Asian language processing technology. The joint research lab will initially focus on Vietnamese and Thai. I believe that Baidu will capitalize this opportunity to enhance its non-Chinese search capabilities and eventually gain a meaningful foothold in other major Asian markets such as Japan and Korea.
Baidu is also gaining traction in mobile search with the launch of mobile Box Computing and mobile OS, Baidu Yi. In addition, Baidu search bar will become the default search engine in Apple's iOS according to Sina Tech, which once again validates Baidu's search superiority over Google.
Disclosure: I have no positions in any stocks mentioned, and no plans to initiate any positions within the next 72 hours.