February was a good month with 18 pricings and 15 filings, including the big Facebook (NASDAQ:FB) IPO. The month of March is starting with fewer deals in active marketing (5) than February.
The capital formation system for private companies and the IPO market continues to evolve and grow. We mentioned the large new fund by Andreessen Horotwitz last month. In February we noted the continuing success of another new model called Kickstarter that is providing "microfinance" for a broad range of projects.
The institutional end of the capital formation and private markets remains resistant to innovation but even this may one day change.
In terms of our own development we're pleased that so far we are exceeding our 2012 goals with nine companies' research notes so far compared with our target of 36 for the year. You may also notice some changes to our ecosystem reports to make them more useful.
PERFORMANCE
February built on the gains seen in January with another 6% gain on average for the ecosystem. The top 10 names were up 42% and the bottom 10 were down 24%.
The first two names are scraping bottom but finding some bargain hunters. Both are down over 80% from their IPO price. JIVE Software continues to enjoy a very high valuation thanks to the social networking craze and how it may impact the enterprise market. Finally Ellie Mae (NYSEMKT:ELLI) is a company we have liked for a long time since it helps to automate the massive mortgage processing business. Many have died trying but this company has a strong position. ELLI is the only name in the top 5 that is in the IPO Candy Folio.


Amyris announced some poor results while trying to scale up the business and managed to bring down the whole biofuel segment at the same time. If energy prices remain high and some companies can execute it may create some opportunities.
Intermolecular was downgraded by one of its underwriters and it had a major impact. This is a fairly good story that deserves a closer look.
IPO CANDY FOLIO UPDATE
The IPO Candy Folio was up 12.32% year to date at the end of February. This compares with a gain of 9.63% for the Russell 2000.
We've a few adjustments this month:
Increasing Invensense (NYSE:INVN) from 3% to 5% on a dip due to their secondary offering.

Added 2% positions in Ceres (NASDAQ:CERE) and Proto Labs (NYSE:PRLB). We'll be watching both as they approach their lockup expiration.

Increased Ellie Mae from 3% to 4% to avoid selling shares after the recent move up. The company is also a stealth way to play the improving US housing market.
Eliminated Green Dot (NYSE:GDOT) and Higher One (NYSE:ONE) from the portfolio. They are growth financial services plays but not as compelling as other names in our portfolio.

Eliminated LogMeIn (NASDAQ:LOGM) because technology trends seem to be against them and we don't like the product.
That lowers the company count from 27 to 25. For the first time we have added a position (5% RWM) as a hedge against a broad market decline. Overall our cash position declined slightly from 17% to 15%.
THE PIPELINE
We've updated the pipeline for new filings and priced deals. At the same time we've upgraded the information content to show more fundamental in - formation in the overview and sorted our pipeline by priority to better highlight the deals we are more interested in. See the IPO Candy pipeline sheet for more details.
COVERAGE AND THE CALENDAR
There are no lockups coming off in March although we've highlighted the January expirations in the overview spreadsheet since those shares may still be a factor in trading. March will see quite a few initiations of coverage including: Guidewire, Verastem, AVG, Greenway, Cempra, ChemoCentryx, EPAM, Caesars, FX Alliance, GSE, Synacor and Brightcove.
(Click to enlarge)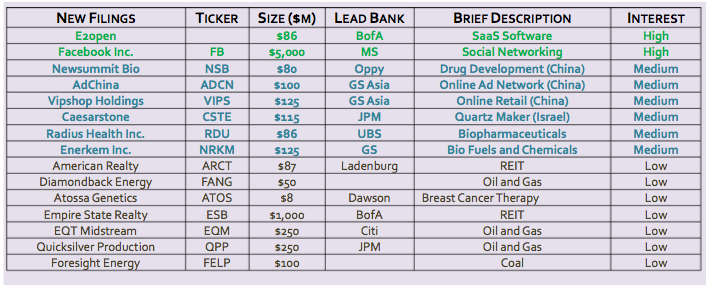 Disclosure: I have no positions in any stocks mentioned, and no plans to initiate any positions within the next 72 hours.