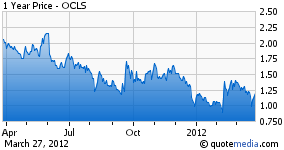 With Oculus (NASDAQ:OCLS) shares trading at just over one dollar, one would think the company is selling products that just don't work. It turns out quite the opposite is true. According to numerous physicians who are actually using the products, Oculus has developed the safest and most effective antimicrobial available.
Late last year, Rodman and Renshaw conducted a conference call with two prominent physicians: Dr. Adam Landsman, the assistant professor of surgery at Harvard Medical School, and Dr. Robert Friedman, a pediatric surgeon at Columbia University Medical Center. I recommend you read the transcript. It clarifies what I have always believed, that Microcyn, Oculus' lead product, could become the new standard of care in wound treatment.
Here's what I learned from the transcript:
Number one: For wound care, both physicians prefer Microcyn over other products, not only because of its superior antimicrobial properties, but because it does not damage healthy cells. (Products like Betadine and hydrogen peroxide are damaging to healthy cells, thus slowing down the healing process).
Number two: Microcyn stimulates blood flow and increases oxygen to the wound site, which speeds up the healing process.
Number three: Microcyn is the most cost-effective product on the market for all levels of wound treatment.
Number four: Microcyn kills MRSA and VRE, (antibiotic resistant bacteria), whereas Betadine and other commonly used antimicrobials do not.
I highly recommend you review this transcript. It clearly explains the efficacy and market opportunity for Microcyn and shows how much doctors depend on Microcyn in their daily practices. Here are some more examples:
Dr. Cheryl Bongiovanni, director of the Vascular Laboratories/Wound Clinics at Lake District Hospital, in Lakeview, Oregon, states "By adopting Microcyn technology into our wound care protocols, we were astonished to find that we have also reduced our overall operating costs by nearly 40%, with an impressive reduction in our supply costs of over 85%. I have been involved in wound care efforts for over 30 years. In all that time I have never seen anything as effective as Microcyn Technology in producing rapid healing."
(To hear about more of Dr. Bongiovanni's experiences with Microcyn, listen to this other conference call. Also featured is Dr. Matthew Regulski, the director of a wound care clinic in New Jersey. This conference call will give you a clear picture of just how much doctors need this new technology.)
Dr. David Remedios, a general surgeon and wound care director for two skilled nursing facilities in Louisiana, wrote: "When we first started using Microcyn technology several years ago, my first observations were that (1) the telltale odor of infected wounds rapidly dissipated upon contact with Microcyn technology (unbelievably, within minutes of exposure); and (2) the wound bed tissue turns a deep red and begins to show other evidence of granulation tissue development. I have not encountered another cleanser or other solution (or technology) that delivers this broad and dramatic impact. Microcyn technology turns the general proposition that anything that kills microbes will also kill granulation tissue on its head."
Dr. Landsman adds: "As a researcher and clinician, I have observed the impact of Microcyn Technology on non-healing wounds and have incorporated it into my practice to replace numerous expensive dressings and topical antibiotics. I have noted a significant reduction in both healing times and the need for systemic antibiotics."
Dr. Landsman's last point is very important: Microcyn technology has allowed him to use significantly less systemic antibiotics. Of course this reduces cost and patient suffering, but most importantly, it provides a solution to the growing problem of antibiotic resistance. The general trend in medicine is an increased use of antibiotics, which is magnifying the problem of antibiotic resistance. Because Microcyn reduces the need for antibiotics, it could revolutionize the prevention and treatment of infections.
Another example of Microcyn's efficacy involves a conversation I had with a friend of mine. He is one of the top surgeons in my area and he and his peers have been using Microcyn for many of their major surgeries. He said it works better and costs less than the current standard of care, saline laced with antibiotics.
Surgical irrigation is potentially a huge market for Oculus, because over 234 million major surgeries are performed worldwide each year. In the United States over 45 million surgeries are performed annually. If Microcyn becomes the new standard of care, in the U.S. alone, Oculus is looking at a total addressable market of $2.25 billion, (45 million surgeries at $50 per patient).
Here's another testimony to Microcyn's effectiveness: One of my neighbors has been suffering from diabetic foot ulcers for years, and no treatment, including partial amputation, has proven successful. He began using Microcyn, and for the first time, the wound began to heal. Here is a case where Microcyn is alleviating tremendous suffering and giving much-needed relief to a patient.
Microcyn is too effective and the market is too large for the big pharmaceutical companies to ignore. As I mentioned in my last article, companies like Johnson & Johnson (NYSE:JNJ), Glaxo Smith Kline (NYSE:GSK), Novartis (NYSE:NVS) or Sanofi (NYSE:SNY) could benefit greatly from Oculus' products. It's probably cheaper and faster for these companies to simply buy Oculus, rather than attempt reverse engineering or new product development. One thing is clear - all these companies could benefit by having Microcyn as one of their lead products.
One of the reasons I began consulting for Oculus, was that I found Microcyn to be more effective than anything I have tried. It eradicates difficult to treat infections, reduces inflammation, pain and itch, and often eliminates the need for topical and systemic antibiotics and steroids. Remarkably, over 3.5 million patients have been treated without a report of a single serious adverse effect.
But perhaps the greatest endorsement comes from Oculus' newest partners, Amneal Pharmaceuticals, Eloquest Healthcare and Precision Dermatology. I estimate they have spent over $1 million launching new Microcyn technology products. After months of due diligence, they would not have invested this kind of money unless they were confident in Microcyn's high level of stability, safety and efficacy, and Oculus' ability to successfully execute their business plan.
Remember, the best time to invest in a company is before a product takes off, not after. Jim Cramer recently recommended that investors include radically undervalued speculative companies in their portfolio. He suggested they consider investing in obscure small biotech companies like Vivus (NASDAQ:VVUS), which just gained 77% in one day, and is now trading at over $20 per share.
Interestingly, Vivus has yet to obtain FDA approval to sell any of its products, whereas Oculus currently has seven FDA clearances - more pending, Medicare reimbursement, and is actually selling products at a run rate of over $12 million annually.
Investors need to keep in mind that great products do not guarantee a company's success. In the case of Oculus, the risk to shareholders is whether or not management can continue to grow revenue, while keeping costs low.
One encouraging factor is that Oculus has just increased the number of salespeople from six to about 50, primarily as a result of new partnerships. A lot more physicians will be hearing about Microcyn as these new salespeople start making their sales calls. This should have a positive impact on revenue growth.
The company appears to have an effective business model in place, and if it can continue to perform as it has, I believe Oculus will succeed. But, as you know, past performance does not guarantee future results. As with all speculative investments, you will need to keep an eye on the company's progress.
It appears likely that physicians will begin using Microcyn en masse. It may take time to educate them. Physicians are famous for demanding innovation yet resisting change. Oculus is providing the innovation, and necessity will precipitate the change.
At this point I'd like to respond to the recent bearish article written by Timeless Wealth. While I appreciate the author sharing a different perspective, I disagree with a number of the assertions:
Number one: And now, one of Oculus's largest owners is selling stock (more on this, shortly). The author later reveals this owner as Bob Burlingame who owns 3.98 million shares. In this recent e-mail from Bob Burlingame, he states:
"I have no short term plans to sell my OCLS stock and see this opportunity as a long term investment. I remain bullish about the Microcyn business opportunity in the veterinarian market as I see the positive feedback from our customers every day."
Number two: Oculus is exposed to concentration risk with regard to its partner Innovacyn. For the nine months ending December 31, 2011, Innovacyn's sales represented only 26% of total sales, international sales 58%, and other US sales 16%. Also, considering that Bob Burlingame owns Innovacyn and is a major Oculus shareholder, it's in his best interest for both companies to succeed.
Number three: Oculus has been facing barrier to entry and patent problems in Mexico. Quite the opposite is true. Oculus now has over 40% of the in-pharmacy antiseptic market in Mexico, and revenue is growing at 10-20% annually with gross margins of over 75%. That level of success does not come to a company with barrier to entry or patent problems. Any pharmaceutical company with results like that would be considered to be doing very well.
Number four: Oculus is currently in financial distress. While the words "financial distress" do create a catchy and fear inducing phrase, they simply do not ring true given the fact that Oculus should reach EBIDAS profitability later this year.
Number five: Microcyn is just diluted bleach. Not true. Hypochlorous acid, the active ingredient in Microcyn, is 70 times more efficacious than the active ingredient in bleach, sodium hypochlorite. The high concentration of actives required for effectiveness with diluted bleach creates a serious toxicity problem. Microcyn has been proven to be totally non-toxic.
A final note: if you would like more information on Oculus, read: $10 billion Market Opportunity For Oculus, and Oculus Shares Should Triple From Here. Both articles will give you a more comprehensive view of the market opportunity for Microcyn.
Disclosure: John Ford is an outside contractor for Oculus Innovative Sciences and a shareholder. For disclosure, disclaimer and SEC rule 17b disclosure information, please click here.
Disclosure: I am long OCLS.