Total SA (NYSE:TOT) is taking a major hit on its stock price with shares dropping as much as 7% on fears that a major gas leak at one of its wells (Elgin) in the North Sea may escalate into a BP Deepwater Horizion situation.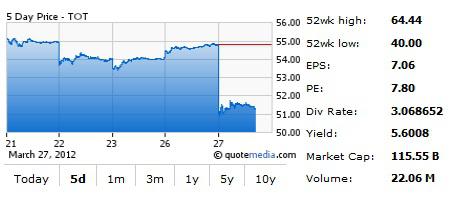 Being long TOT, of course I find the news disappointing but see no reason to panic at this stage. While Total may eventually have to resort to drilling a relief well to stop the leak, the same measure BP utilized with the Macondo well, all accounts clearly describe the situation as being far less severe than the BP explosion in the Gulf of Mexico. More importantly, there have been no reported injuries or fatalities since the blowout was first reported March 25. As the area has been evacuated, it seems likely this incident will not incur the same human toll that BP's spill did, which resulted in 11 deaths. As such, I expect the public scrutiny on Total to be less intense.
BP's spill was the largest offshore spill in American history and images of oil-soaked beachfront in the Gulf were jarring. The environmental fall-out from that spill will not be fully felt and understood for years, maybe decades. In contrast, Total's North Sea leak probably will not have the same environmental impact. According to a Bloomberg story, the Scottish government estimates that the gas condensate will probably evaporate and thus not have a "strong environmental impact on the area."
When I first highlighted Total as an investment prospect, I noted the company's deficiencies from an operational standpoint. Remember, BP had a less-than-stellar safety reputation at the time of the Macondo accident and reports after the fact indicated BP's culture had some part in facilitating that disaster. It is too early to discern whether the Elgin blowout resulted from incompetency or if it was an unpreventable accident that goes with the territory of oil/gas exploration, but this bears keeping an eye on.
Finally, this incident shows the worth of a value investing philosophy that emphasizes investing only when a sufficient margin of safety is present. While shares have fallen to around $51, my cost basis is $52, which means despite the seriousness of the situation, I have suffered only a 2% drop in my investment.
Disclosure: I am long TOT.