With crude above $106 a barrel and the average price of gasoline edging toward $4/gallon, it makes sense today to consider sectors and companies that benefit from rising energy costs.
In our view, the stocks below fit the bill. Chosen from a diversity of sectors based on their unique potential to outperform their respective industries, the stocks' common thread is an affinity for high energy prices. The charts are courtesy of Yahoo! Finance.
BP (BP) $46.23; 52wk Range: 33.62 - 48.34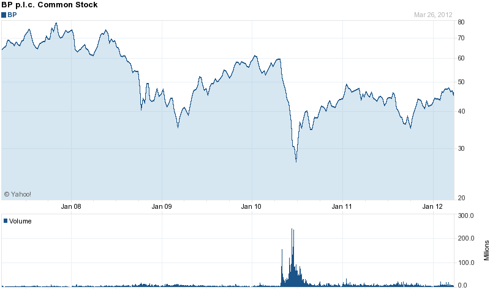 It's no surprise that high crude prices translate into big profits for big oil - at least over an intermediate-term horizon. But we especially like BP because it trades at a steep discount to its peers on account of its ongoing legal liabilities tied to the 2010 Gulf oil spill. Following some high-profile settlements, we think BP is close to putting the tragedy behind it, and we are looking for the market to send a clear signal of approval - something to the effect of a 40% positive correction - once it comes to that same conclusion.
Cameco (CCJ) $22.82; 52wk Range: 16.59 - 31.29
Cameco is North America's largest uranium miner, providing much of the world's uranium for nuclear power plants. As fossil fuels become more expensive, nuclear power becomes cheaper by comparison. We see big things for uranium and Cameco over the next ten years. Despite industry-wide setbacks from the Japanese tsunami and corresponding meltdown at Fukushima, emerging economies are developing nuclear power plants at a rapid rate, adding to the United States' ever growing production and uranium demand. On the subject of U.S. demand, a recent article in Forbes highlights what could be a significant catalyst: next year marks the end of the "Megatons to Megawatts" agreement between the U.S. and Russia, through which Russia has provided the U.S. with cheap reactor fuel from nuclear warheads since 1993. Without Russia as a supplier or excess cheap uranium flooding the system, Cameco stands to pick up market share as uranium prices drive higher.
First Solar (FSLR) $26.42; 52wk Range: 25.29 - 163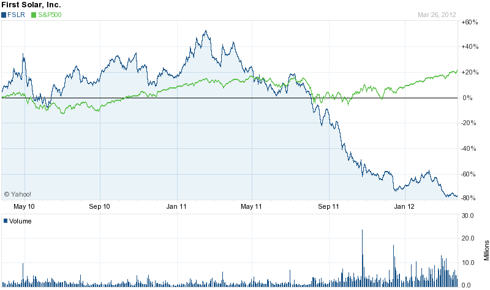 Theoretically, one of the beneficiaries of rising fossil fuel prices should be the solar industry. But don't take the bait just yet. Not that we expect you to anyway; after the kind of twelve months First Solar has had, it's hard to imagine any but the most risk-happy of investors initiating a long position here. But, really, things aren't all bad at First Solar. In fact, a few things are coming together at the moment to make a compelling case for value: high crude prices, dropping solar energy costs, a prudent restructuring that is weaning the company off subsidies, big projects in the works, and a share price that has fallen a hair-raising 90%+ from '08 highs and over 26% YTD. Also, Goldman Sachs still rates FSLR a 'Buy'. Be careful, though, as this has the makings of a classic value trap - and that is exactly what First Solar has been for a lengthy stretch now.
Chesapeake Energy (CHK) $24.21; 52wk Range: 20.41 - 35.75
With Chesapeake, it's all about the price of natural gas. Yes, CHK has made moves to diversify its portfolio amidst collapsing prices and has been quite effective in doing so, but our reason for liking Chesapeake is the potential value stored in its natural gas business, value that will be unlocked once demand catches up with supply. Rising crude prices have significantly added to the pressure already being exerted by government, industry, and in some cases, even environmental leaders, to deploy more uses for natural gas in the economy. The question is whether the shift of economics occurs before an investment in Chesapeake goes sour.
ConocoPhillips (COP) $77.36; 52wk Range: 58.65 - 81.80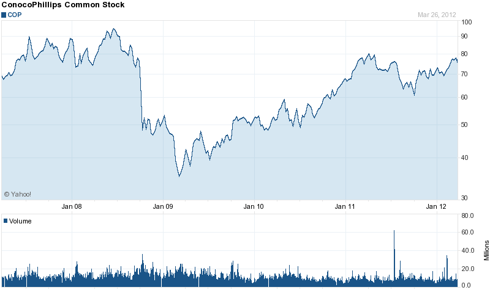 Another case of big oil and big profits. ConocoPhillips is a Buffett baby that hedge funds like right now, so an investment in COP would at the very least land you in good company. As explained in the linked article, the main reason hedge funds like COP is its planned 2Q12 spinoff of its refining and marketing business. But we can think of a few other reasons to like COP, like its 8.6 P/E, high dividend, and reasonable 1.5x price/book ratio. According to Morningstar, by the end of 2011, ConocoPhillips had proven reserves of 8.4 billion barrels of oil equivalent, with 41% of that coming from natural gas. If, like us, you see higher crude prices eventually driving natural gas prices up (forget the next six months), then COP stands to benefit.
If individual stocks aren't your ideal way to benefit from rising energy prices, you may be best served buying an ETF that mirrors the price of the commodity - in the case of crude, the United States Oil Fund (USO), and in the case of natural gas, the United States Natural Gas Fund (UNG). Another, more diversified option that affords you broad commodity exposure as protection against rising energy prices would be Powershares DB Commodity Index (DBC). Or, for a different basket of commodities, you could go with an ETF that mirrors the Rojers International Commodity Index (RJI).