Several Gasfrac (OTC:GSFVF) investors have been impatiently waiting for Chevron (NYSE:CVX) to report on its experience after applying the proprietary Gasfrac Liquefied Petroleum Gas (NYSE:LPG) fracturing process in its $7.3B Piceance basins natural gas development project. Last week Chevron released its 2011 annual report supplement, and the report seems to strongly endorse the LPG fracturing process. From page 56:
Several Piceance Basin wells were completed with multiple-staged, liquefied petroleum gas fracture treatments. This proprietary technology, recognized by the World Shale Gas Conference for its economic and environmental performance potential, significantly increases production while minimizing water usage.
While this endorsement has not translated into a contract yet, as the company continues to evaluate the process' impact on this specific formation. Chevron's unqualified assertion that LPG fracturing increases production is the strongest endorsement yet of the LPG fracturing process by a super major.
Chevron is not alone; Royal Dutch Shell could be next.
On January 30th of this year, I published an article discussing the superior performance of LPG fracturing in a number of formations. One of the companies mentioned in that article was Quicksilver Resources (NYSE:KWK) who applied the process in the Sandwash basin/Niobrara formation in Colorado.
Subsequent to that article, Quicksilver released additional details about its experience with LPG fracturing during its Q4 conference call on February 27th, 2012. The information released in that conference call confirmed without a doubt that LPG fracturing is vastly superior to established fracturing methods. In the prepared comments, Mr.Glenn Dardenh had this to say (emphasis added):
In Colorado, where we have assembled 210,000 acres in what we have now have established the oil window of the Niobrara, our initial drilling results have looked better with additional production run time. We have drilled and completed 6 wells testing the Niobrara, the last of which is a horizontal well. All of these wells are producing oil. We completed the first 3 vertical wells with oil fracs and the second 3 wells, 2 vertical and the horizontal, with a different style Gas frac.

This technique has shown significantly better results. The horizontal well, which frac-ed only about 1,500 feet of a 4,500-foot lateral, has a 45-day production average of 230 barrels of oil equivalent per day, primarily oil. The 2 vertical wells completed in this manner are steady producers, with the best well averaging 120 barrels of oil equivalent per day, again mostly oil, over the same 45-day period.
Several other positive remarks where expressed during the Q&A session.
Click to enlarge.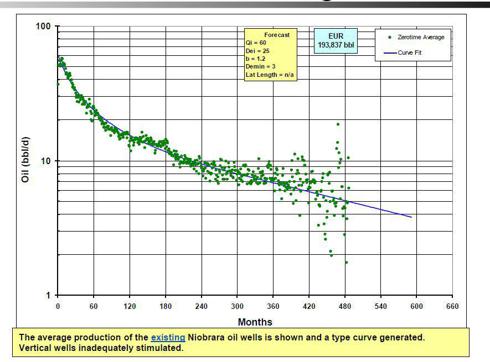 Source: Quicksilver Resources
Quicksilver is planning to drill an additional seven horizontal wells in that formation this year; it is also currently studying a full development program (applications for 70 well permits have been submitted).
What is of interest is that the adjacent operators in the Niobrara Sandwash basin have taken notice of the significant oil production unlocked by Gasfrac LPG method. This interest has already translated into additional business bookings to Gasfrac, as highlighted by Gasfrac CEO Mr. Zeke Zeringue during the company Q4 conference call on March 19th, 2012.
The identities of the interested operators have not been released. We know from Quicksilver comments and from industry sources that the largest acreage holders in the Sandwash basin are Royal Dutch Shell (NYSE:RDS.A), Questar Corporation (NYSE:STR), and to a lesser extent Continual Resources (NYSE:CLR).
Royal Dutch Shell is also the largest adjacent acreage holder in the vicinity of the Eagle Ford area where Gasfrac signed its first long term US contract with the private equity backed operator BlackBush on Februrary 28th, 2012.
It is also worth noting that Royal Dutch Shell has been considering the use of LPG fracturing in its Karoo shale gas project in South Africa. The Karoo region is environmentally sensitive and lacks access to fresh water (Karoo in the local dialogue means "thirsty land"). The government moratorium on shale gas development expired last month, and a decision to proceed with the project will be issued this year.
It is clear that Gasfrac's waterless LPG fracturing method continues to catch the industry attention; the endorsement of major operators such as Chevron and Husky Energy, and the continued flow of data confirming the superiority of LPG fracturing will only accelerate the adoption of this revolutionary process.
Disclosure: I am long OTC:GSFVF.