"Everything of importance has been said before by somebody who did not discover it." - Alfred North Whitehead
I wanted to revisit an article I wrote a month ago on February 27 titled "Japan and the Importance of the Yen" in which I argued that Japan stocks may begin to outperform specifically because of the Bank of Japan's 1% target inflation rate which in turn would cause the yen (NYSEARCA:FXY) to decline and a recovery in the Nikkei. In that writing, I used the iShares Japan ETF as my proxy. I noted that "the dilemma though with investing directly in EWJ (or any dollar denominated Japan proxy) is that Japan needs a weak yen to perform well given how export-sensitive the country is. A weakening yen actually would be a negative for dollar-denominated Japan assets - the currency impact negatively impacts returns."
EWJ has not substantially outperformed the U.S. as the rally continued, but that is largely because of the weakening yen. Take a look below at the price ratio of the Wisdom Tree Japan Total Dividend ETF (NYSEARCA:DXJ) relative to the S&P 500 (NYSEARCA:IVV). DXJ is a currency hedged ETF. As a reminder, a rising price ratio means the numerator/DXJ is outperforming (up more/down less) the denominator/IVV.
Click to enlarge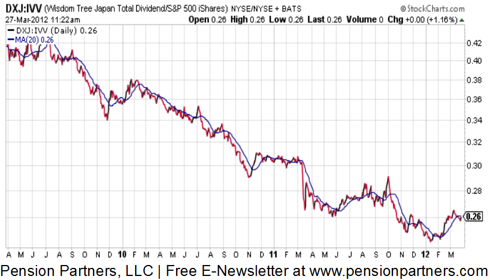 Admittedly, even the currency-hedged equivalent of Japan has not substantially outperformed, but I do still believe that a period of leadership is coming given how severely Japan has underperformed. Should this ratio's bottom hit in early January hold, there could be an interesting trading opportunity to be had. Once again though, because a rising stock market in Japan likely coincides with a falling yen, it's important to consider a hedged ETF like DXJ or go long EWJ while shorting the currency.
What does the Spring Switch have to do with any of this? I do think that the Spring Switch will result in a further increase in animal spirits, with in turn can result in money getting put back to work outside the U.S. in those areas once feared the most in terms of an economic slowdown and collapse. Japan would fit into that category.
Disclosure: I have no positions in any stocks mentioned, and no plans to initiate any positions within the next 72 hours.
Additional disclosure: This writing is for informational purposes only and does not constitute an offer to sell, a solicitation to buy, or a recommendation regarding any securities transaction, or as an offer to provide advisory or other services by Pension Partners, LLC in any jurisdiction in which such offer, solicitation, purchase or sale would be unlawful under the securities laws of such jurisdiction. The information contained in this writing should not be construed as financial or investment advice on any subject matter. Pension Partners, LLC expressly disclaims all liability in respect to actions taken based on any or all of the information on this writing.