According to Standard & Poor's some 804 public companies cut dividends in 2009 - costing investors around $58 billion. Included in that painful period, many Real Estate Investment Trusts cut common stock dividends as part of this painful but necessary cash flow strategy. This under-performance took on special significance for income-oriented investors, such as retirees, because a steady income source prevents the erosion of purchasing power.
According to SNL Financial, 35, 36, and 7 REITs cut or suspended their dividends in 2008, 2009, and 2010, respectively. Most of these actions were necessitated by sudden and substantial declines in free cash flow resulting from recession-induced contractions in property cash flows and per-share cash flow dilution caused by the issuances of additional equity.
Industry-wide, the REIT (dividend) cuts were painful. However, despite the huge and drastic decline in shares during 2007 and 2008, REITs have rebounded sharply (since 2009) and many have increased dividends while payout ratios are also at reasonable levels. Growth rates, measured by adjusted funds from operations (AFFO), are rising - an encouraging indicator of increased dividends in 2012.
What Goes Up, Must Come Down
So long as investors can bring in enough income from their investments to offset inflation, they are assured that the income generated will be enough to purchase the same amount of goods or services in the future as they can today. As we learned during the Great Recession, dividend cuts made many fixed-income investors nervous and they, in turn, gravitated to "higher ground" seeking safety in the form of less volatile stocks or bonds.
Many investors feared that Newton's Law of gravity (What goes up, must come down) would prevail and that all REITs would cut dividends in the wake of uncertain pressures. However, Darwin's Law (Survival of the Fittest) prevailed for a hand full of REITs and these risk-aligned alternatives were able to stand tall and deliver continued and increased dividends - even in the toughest of times.
Pound for Pound, These REITs Will Never Fall Down
Historically REITs have provided reliable and consistent dividends suggesting that the securities are "inflation-proof" investments. A comparison of data from NAREIT and the Bureau of Labor Statistics reveals that, since 1992, annual REIT dividend growth has exceeded inflation as measured by the Consumer Price Index (NYSEARCA:CPI) every year except 2002 and 2009. (Source: NAREIT).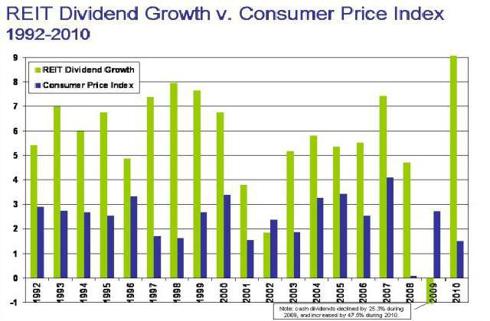 Brands are sometimes defined as promises of future reward based on past performance. Accordingly, there are several REIT brands that are deemed heavyweights and these dividend "champions" (source: fellow Seeking Alpha writer, David Fish) have provided investors with durable income in good times and bad. Distinguished by exceptional management and sound operating fundamentals, these REITs have delivered consistent and reliable income in the face of a slow-growth economy and in uncertain financial conditions.
Generating strong and sustainable current income is the mark of champion brand and these eight REITs are extraordinary platforms measured by divided consistency.
Federal Realty (NYSE:FRT) - 44 Years of Increased Dividends
Washington Real Estate (NYSE:WRE) - 39 Years of Increased Dividends
Universal Health (NYSE:UHT) - 23 Years of Increased Dividends
National Retail Properties (NYSE:NNN) - 22 Years of Increased Dividends
Realty Income Corporation (NYSE:O) - 18 Years of Increased Dividends
Essex Property Trust (NYSE:ESS) - 18 Years of Increased Dividends
Urstadt Biddle Properties (NYSE:UBA) - 18 Years of Increased Dividends
Omega Healthcare Inv (NYSE:OHI) - 10 Years of Increased Dividends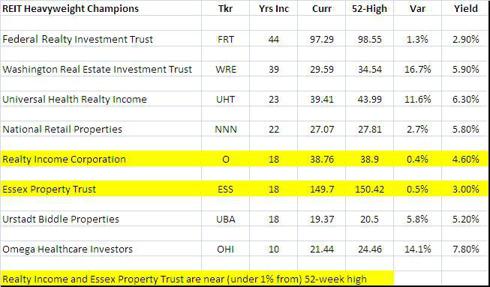 Diversify Your Portfolio
As Don Wood, NAREIT Chair and President and CEO of Federal Realty Investment Trust, recently wrote (in the March-April 2012 edition of REIT Magazine):
"In this income-hungry environment, the strong, consistent dividends delivered by REITs provide a sharp contrast and an attractive alternative to the comparatively low dividend yields of both bonds and most stocks. Investors looking for reliable income need look no further than REITs. In fact, 85 REITs on the FTSE NAREIT All REIT Index have paid consecutive dividends for the past 10 years/ Thirty-two REITs have paid consecutive dividends for 20 years, and eight have done so for 30 consecutive years."
Due to low correlations to other asset classes, predictable and stable cash flows (due to long-term leases with tenants), and higher-than-average dividend yields, REIT stocks justify a 15% to 20% portfolio weighting. Since dividends are an essential element to investing, owning shares in high-quality REITs can be of great importance to balancing your portfolio. Between 1972 and 2011, REITs provided investors with average annual income returns of 8.2 percent, representing approximately 60 percent of total returns of 13.6 percent.
Pound for pound, REITs provide meaningful income options that provide stability and safety. Due to the sustainable revenue components, these fixed-income alternatives are considered durable dividend champions with powerfully recognized consistency and performance. Muhammad Ali once said, "It's the repetition of affirmations that leads to belief. And once that belief becomes a deep conviction, things begin to happen." Accordingly, it is the repetition of a dividend payment that is the mark of a dividend champion and maybe that's why "pound for pound" REITs are the best game in town.
Disclosure: I have no positions in any stocks mentioned, and no plans to initiate any positions within the next 72 hours.