Most people who read my articles know that I walk in two very different investment lines. First and foremost I am an income investor always looking for high quality names to provide a competitive yield to supplement my future retirement. Companies like American Capital Agency Corp. (NASDAQ:AGNC) and Penn West (NYSE:PWE) are what fit the bill. On the other side of the coin, I am drawn to the exciting world of speculative biotech where there is the potential for fast money and that sense of adventure. Here, companies like Keryx (NASDAQ:KERX) are the hottest names that provide the needed volatility.
That being said, every once in awhile I stumble onto certain investment opportunities that fall outside these two realms. Recently it has become apparent that one such opportunity is in full swing, and that is in the world of firearms manufacturing. We are not talking about the military industries, but more the firearms made for the general public. Like them or hate them, one cannot argue that an investment in guns and the companies that manufacture them are making investors very happy. To validate the claim, consider the following two companies and their current stock prices.
Ruger (NYSE:RGR)
Ruger is one of the most well-known names in gun manufacturing. RGR engages in the design, manufacture, and sale of firearms in the United States. It offers single-shot, auto loading, bolt-action, and sporting rifles; shotguns; rim fire auto loading and center fire auto loading pistols; and single-action and double-action revolvers. The company also manufactures and sells accessories and replacement parts for its firearms. In addition, it provides investment castings made from steel alloys directly or through manufacturer representatives. The company sells its firearm products through independent wholesale distributors to the commercial sporting market under the Ruger name, and exports its firearms through a network of commercial distributors and directly to law enforcement agencies and foreign governments.
We really have to go no further than to look at RGR's one year chart to see the full story. Many investors could only wish for a chart like this. (Click to enlarge)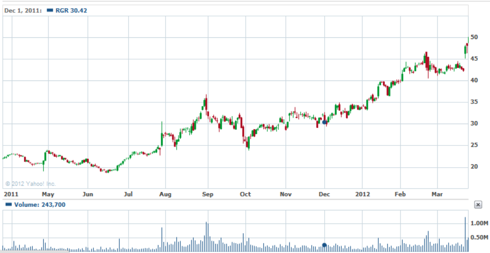 The company's stock price was further bolstered by the recent announcement that for the first quarter 2012, it had received orders for more than one million units. As a result, RGR has to temporarily suspend the acceptance of any new orders. The company went on to state that despite the company's continuing successful efforts to increase production rates, the incoming order rate exceeded Ruger's capacity to rapidly fulfill these orders. It is hoped that the normal acceptance of orders will continue by the end of May 2012.
Turning to the company's financials, Ruger announced that for 2011, the net sales were $328.8 million and fully diluted earnings of $2.09 per share. This is a dramatic increase when compared with sales of $255.2 million and fully diluted earnings of $1.46 per share in 2010. In the fourth quarter of 2011, net sales were $93.2 million, which is much higher when compared to the corresponding period in 2010 where net sales were $64.1 million. It seems to me that the run for guns is definitely making a big difference at Ruger.
Smith & Wesson Holding Corporation (SWHC)
If one is going to look at RGR, then one must also look at Smith and Wesson. SWHC provides products and services for safety, security, protection, and sports in the United States and internationally. The company offers firearms, handguns, sporting rifles, hunting rifles, black powder firearms, handcuffs, and firearm-related products and accessories. It also provides turnkey perimeter security solutions to protect and control access to key military, government, and corporate facilities.
A look at SWHC's chart shows a similar story as we have seen in the Ruger chart. (Click to enlarge)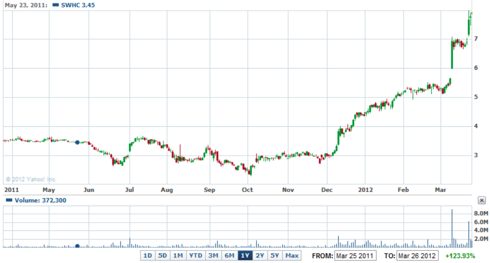 Turning to the company's latest financial statements, we once again see similar results. For the third quarter of 2011 the net sales from continuing operations was $98.1 million, which was up 23.8% from the third quarter of last year. As expected, the increase was driven by strong sales of SWHC's handguns, sporting rifles, and all Smith & Wesson personal protection and concealed carry pistols.
Operating expenses for the third quarter totaled $19.7 million, or 20.1% of net sales, compared with operating expenses of $21.3 million, or 26.9% of net sales, for the third quarter last year. Taking all of this into account, SWHC's net income from continuing operations for the third quarter was $5.4 million. This is a great turnaround when compared to the net loss from continuing operations of $2.7 million for the third quarter last year.
Looking to the future, the company raised its expectations for its net sales outlook from continuing operations. For the time period of 2012, the company estimates the figures to be between $395 million and $400 million, which would represent year-over-year growth from continuing operations of more than 15%.
Looking at only these two companies does seem to show a trend, but it would be nice to look at other names as well. Now, there are many other manufactures of firearms such as Sig Sauer and Glock, but these companies are not publicly-traded like the two names above. Therefore financial statements and stock charts are not as readily available. That being the case, the next best thing was to actually visit a local retail firearm store and see for myself. For this article, I visited Ron Peterson Guns which is one of the largest and finest firearm dealers in the Southwest. The company is located in Albuquerque, NM and has been in the business for many decades.
Upon visiting the establishment, I noted that business was brisk. Inventory was turning over at a rapid rate as there were many buyers. After speaking with several employees, it was noted that their stories seemed to back up what RGR and SWHC are stating. Employees stated that trying to acquire new firearms from their distributors is proving challenging as their supplies are low. They also stated that there has been a large increase in demand, and that sales of firearms seem to be surging to new heights. That being the case, used firearms are becoming very popular as demand seems to be growing at a rapid rate while supplies are limited.
The final issue for investors is to determine what is driving this demand and how long it will last. After analyzing the financial reports for both RGR and SWHC, speaking with retail outlets, and examining news and media publications, it seems there are four reason that are in play which are feeding people's demand. These are:
The perception that new and highly restrictive gun laws will soon be introduced by the government.

The rise in highly popular reality television shows that revolve around the manufacture, usage, and competitive sports using firearms.

A general fear of civil unrest sparked by economic uncertainly and recent events from oversees.

The rise in popular reality television shows that revolve around "Doomsday" preparations.
Each of these four reasons in itself could account for some increase in demand. Put them all together and you get the perfect storm. This could easily explain what is fueling this huge surge in demand for firearms. How long it will last is really anyone's guess at this point.
In conclusion, there definitely seems to be a run on guns. From the manufactures all the way down to the retail outlets, the story remains the same. Investors who wish to take advantage of this trend have limited choices. If the trend remains intact and demand continues to run high, which seems to be the case, an investment in either RGR or SWHC should prove to be a winning choice. Both of these companies will be highly leveraged to this demand, and their stock price should continue to rise as long as the trend continues.