"Enterprise Products Partners LP (NYSE:EPD) provides midstream energy services to producers and consumers of natural gas, natural gas liquids (NGLS), crude oil, refined products, and petrochemicals in the US, Canada, and the Gulf of Mexico" (Yahoo Finance). EPD has $3.9B gross operating margin for FY2011. Approximately 73% of that was fee based. With natural gas prices so low, one might worry that too much of EPD's business was associated with that troubled sector. That isn't the case. The distribution is as follows: 56% in NGL pipelines and services, 18% in onshore natural gas pipelines and services, 14% in petrochemical refined products and services (crude and natural gas), 6% in onshore crude oil pipelines and services, and 6% in offshore pipelines and services. In other words, only about 20% of EPD's gross operating margin is directly associated with natural gas. NGL's prices (EPD's biggest sector) are still in the range of $40-$60 per barrel. This is much better than the Nymex US natural gas prices of $2.27/mmBTU. Still a huge amount of EPD's business is associated with NGLs. This is too high a percentage to my way of thinking, and apparently the EPD management have recently had the same thought. EPD's recent expansion plans include evenly diversified projects among its profitable areas:
EPD just announced it will proceed with a 450,000 bpd expansion of the Seaway Pipeline (a crude oil pipeline) to 850,000 bpd by mid 2014. This expansion will be after the previously approved expansion from 150,000 bpd to 400,000 bpd that is planned to be done by Q1 2013. This pipeline from Cushing, Oklahoma to the US Gulf Coast near Houston, Texas is jointly owned with Enbridge (NYSE:ENB). The Seaway Pipeline had already been scheduled to reverse service in June 2012 to carry 150,000 bpd of crude from Cushing, Oklahoma to the Texas Gulf Coast instead of the other way around. In addition EPD plans to construct related storage assets and connecting pipelines in the Houston, Texas area.
EPD announced in January 2012 that it had received sufficient transportation commitments to support the building of a 1,230 mile Appalachia to Texas pipeline (the "ATEX Express"). this pipeline will transport ethane (NGL) from the Marcellus and Utica shale plays to the US Gulf Coast. This is expected to begin operations in Q1 of 2014.
EPD announced in January 2012 that it will construct a 149 mile crude gathering pipeline to serve the Lucius oil and gas field in the southern Keathley Canyon area of the deepwater central Gulf of Mexico. The SEKCO Oil Pipeline is expected to begin service by mid-2014.
Note: Most of the above information is from the EPD 2011 form 10-K.
The above are just the latest planned infrastructure expansions, but they show that EPD is quickly expanding its business to serve its customers. Plus it is committed to growing its dividend. EPD has consistently grown its gross operating margin from $1.8B in 2006 to $3.9B in 2011. During that time it has grown its declared distributions (dividend) from $1.83 in 2006 to $2.44 in 2011. It currently has $6.5B in growth projects under construction. Plus it has a history of bringing these projects in under budget. It has a CAGR of 34.8% for total assets growth, which is truly outstanding. Your money in this company does not stand idly by. EPD has a total return of 1,459% since Dec. 31, 1998. The S&P500 does not even begin to compare to EPD with a total return of only 29% during that time frame.
EPD trades at a quite reasonable PE of 21.34 (FPE of 19.46) for its growth rate. It has a five year EPS growth rate per annum of 22.63%. Its FY2012 and FY2013 average analysts' EPS estimates have been going up in the last three months, as many other companies estimates have gone down. Plus it pays a hefty $2.48/share dividend (4.88%). Even if this stock gets pushed down due to a market pullback or a world economic slowdown, it will pay you better than most bonds just to hold it. With a secular growth story in energy demand due to increasing emerging market demand, virtually everyone is sure that energy prices will continue to go up. Plus don't forget the total return of 1,459% since Dec. 31, 1998. EPD will not only pay you great dividends over time, it will pay you with growth. EPD's assets will protect you against inflation much better than bonds will. Still it is nice to do as well or better than most bonds on the dividend payments alone. EPD is a large stable company with a market cap of $44.79B and an enterprise value of $59.56B. It has investment grade bond ratings (Baa2/BBB/BBB by Moody's/Fitch/S&P). There is little not to like about EPD.
The two year chart of EPD provides some technical input for a trade.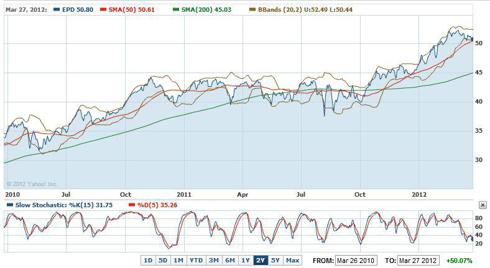 The slow stochastic sub chart shows that EPD is very near over sold levels. The main chart shows that both the 50-day SMA and the 200-day SMA are both headed strongly upward. EPD's price has journeyed back down to near its 50-day SMA. This is often a historically good time to buy EPD. On the bad side the overall market is overbought. It is due for a pullback soon. The EU is inexorably going into recession. This will negatively impact the world economies, which is another reason to suspect trouble ahead. However, EPD has been a strong stock for many years. It has been rising quickly lately, but that can be more attributed to the growth in the NGLs market than to any overbought state on EPD's part. In addition a good number of people think that the US economy is still recovering (not due for a near term down turn). They could be correct. It would be appropriate to start to average into a long term EPD position at this time. Its dividend payment of nearly 5% is much better and safer than most bonds over the long term. Plus EPD does give you a far better overall return than bonds -- 1,459% since Dec. 31, 1998. Don't forget EPD's Q4 2011 EPS result of $0.82 beat estimates by +$0.27. This was with natural gas prices falling dramatically. You shouldn't see any huge natural gas mediated negative surprise result in Q1 2012.
Disclosure: I have no positions in any stocks mentioned, but may initiate a long position in EPD over the next 72 hours.