NPR summarizes a case from Alabama before The Supreme Court of the United States involving an abused child who murdered someone after trying to kill himself many times. The main question is
whether life without the possibility of parole is itself an unconstitutionally cruel and unusual punishment when it is applied to juveniles.
But elsewhere in the case is the question of "retribution". Retribution, which is controversial, is the idea that people deserve to be punished and rewarded. Some (like Darwin and Einstein) would argue that people should be punished and rewarded to set an example, but not for an inherent justice. Other thinkers, like the Solicitor General of Alabama, and the average voter, disagree with Darwin and Einstein:
Indeed, Alabama Solicitor General Neiman notes that 38 of the 50 states authorize life without parole for a 14-year-old convicted of murder, and the federal government authorizes it for 15-year-olds. Part of the justification for that, he observes, is the notion of retribution.

"As a moral matter, it is OK for a government to say, even if there is a possibility that someone will rehabilitate themselves, if a person commits a sufficiently egregious crime, then they just deserve a very severe sentence," Neiman says.
It's not religion versus science. It's freedom versus determinism. Iterations of this debate are playing out across theaters from health care to marriage. The question is, should our brains be held responsible for their own movements? It's a battle for freedom and its brother responsibility. Consensus, especially amongst the losers, is that responsibility is losing, and America is drifting towards a more European protectionism.
It's not just a question of individuals being free from totalitarianism. It's also a question of tolerance, because to the extent one believes others have no control, one is more inclined to accept others for whom they are. Younger generations (voters and fund contributors of the future) so far are more receptive to progressive approaches to tolerance, whether it's tolerance for marijuana use, gays, or Obamacare.
Clearly, with the highest incarceration rate in the world, the United States private prison industry benefits from an abundance of prisoners, and this correlates with our social views on freedom, pride, and retribution. When Darwin and Einstein catch on, it will be bad for the industry.
Ah, but Darwin and Einstein came a long time ago, you say. Why hasn't anything changed yet? Well, the rest of the world has less prisoners than us. Here in the US, we've been too busy watching TV.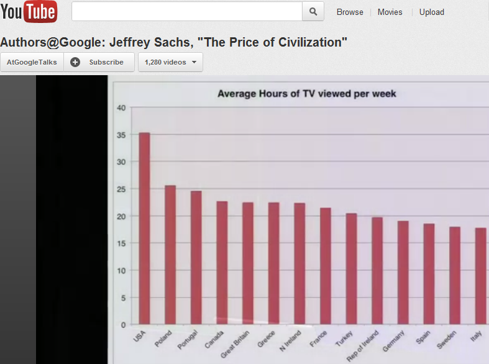 But younger (and older) Americans are engaging more with the information superhighway. The tubers who don't engage probably won't have as much power in the years ahead, because "knowledge is power". The Internet has brought you here, to these ideas--it will bring others as well. With The Hunger Games shattering box office records, how long until retribution itself is seen as a perverse ritual?
Corrections Corporation of America (NYSE:CXW) is the leader in the prison biz and has the most political capital to lose. Keep an eye on the demographic trend of attitudes towards retribution, because once it gets going, it's not going back. Also, this correlation may be noise, but last time Obama won an election, it was a bad time for CXW shares:

Disclosure: I have no positions in any stocks mentioned, and no plans to initiate any positions within the next 72 hours.