Shares of American International Group (NYSE:AIG) are down 20% over the past year. The decline in AIG stock has not been supported by weakening fundamentals. Contrastingly, AIG's fundamentals have shown major improvement over the past year.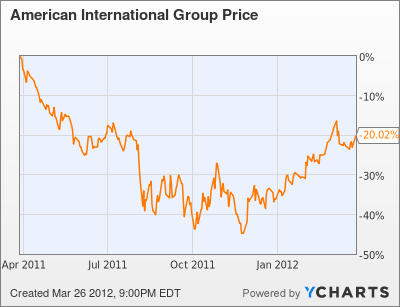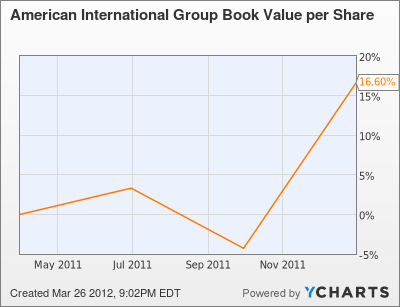 In the time AIG stock has declined by 20%, AIG's book value has increased by 16.6%. The increase in book value is indicative of the improvement in fundamentals for AIG.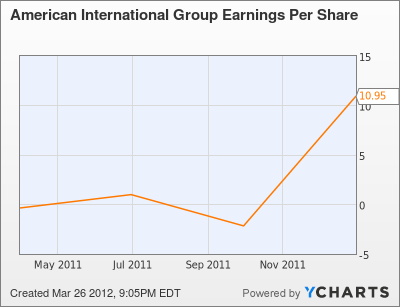 Earnings have also increased substantially during the same period AIG stock price has decreased.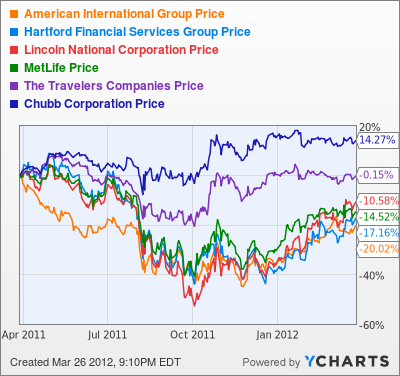 AIG has been the worst performer amongst its peers in the insurance industry.
AIG Repays Government Early
AIG reported that it has repaid the U.S. Treasury $1.5 billion preferred equity investment more than a year ahead of schedule. While the government still holds a $45 billion stake in AIG, this is much less than the $182 billion AIG owed the U.S. Government at its peek.
AIG CEO Predicts $10 Billion Profit for Taxpayers
AIG CEO Robert Benmosche told CNBC's Jim Cramer that he expects AIG will produce a $10 billion profit for taxpayers.
Conclusion
The fundamentals for AIG have improved over the past year, but the stock price does not reflect this.
Disclosure: I have no positions in any stocks mentioned, and no plans to initiate any positions within the next 72 hours.