An arbitrage opportunity, a popular trade for hedge funds, is emerging in Telus Corporation (NYSE:TU), one of Canada's major telecommunications companies.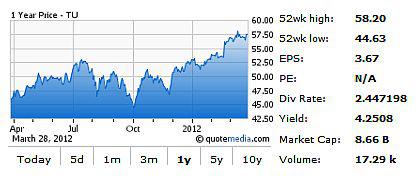 The company has long had a dual share structure, of which one carries non-voting rights and the other entails voting rights. On February 21, the company announced it wishes to consolidate the dual share structure into one, by which the non-voting shares will be converted into voting common shares, thereby increasing liquidity and fairness. This proposal seems logical since both types of shares enjoy the same dividend.
The proposal will be put to a vote at the next shareholder meeting on May 9, 2012 and requires the approval of two thirds of holders of both the common shares and non-voting shares.
The spread between the voting and non-voting shares represents an arbitrage trade opportunity. This involves buying the non-voting shares and shorting the voting shares to eliminate the company-specific risk and isolating the spread between the two classes which currently stands at $1.26, or 2.2%.
Of course, the discount can be captured by purchasing the non-voting shares if one is bullish on the company's prospects. In this case, an investor will benefit from the discount since each non-voting share will be converted to a full voting common share. However, they remain exposed to company-specific risks.
Click to enlarge: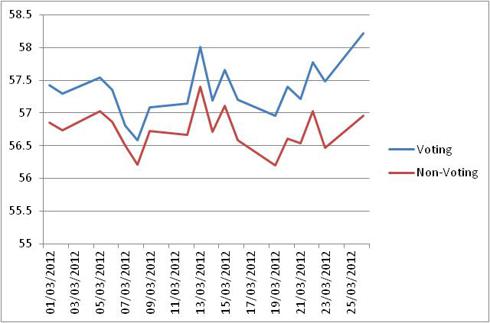 The risks encompassing the trade relate to Canadian foreign ownership restrictions and the upcoming vote. More obviously, if not enough votes are cast in favor of the proposal, the share consolidation will not come about. In addition, foreign ownership of the consolidated class of shares cannot breach the maximum level of 33.5% of shares outstanding. This is becoming an issue, as hedge funds are jumping on the arbitrage opportunity.
Disclosure: I have no positions in any stocks mentioned, and no plans to initiate any positions within the next 72 hours.