We last wrote on Coca Cola (KO) at the beginning of February. At that time, we focused upon looking for a good entry point to get into the stock. On a long term chart, it was giving us signs of a slow down because we saw weakness in the upward trend. Mind you, this was a weekly chart. When you look at a weekly chart and see the trend slowing down, it could take months to finally play out. For this reason, we felt a slow down might be coming sometime this summer. At the writing of our previous article, Coke was trading at 68.14 and presently it is at 71.90. It has grown 5.5% in the last 7 weeks.
We are still bullish long term on Coke, but believe that it will pullback as the markets do. We are looking for a very short term pullback after this last move up. When we speak of a pullback, we are looking at a short term consolidation period, not a long term bearish move. The stock can remain bullish long term and we are looking to capture a small profit on a resting period for the stock.
When the stock has climbed this quickly in the past, it has pulled back to consolidate before it continues up. We see a perfect opportunity to enhance one's portfolio with a pullback options play. We like a Bear Put Spread here.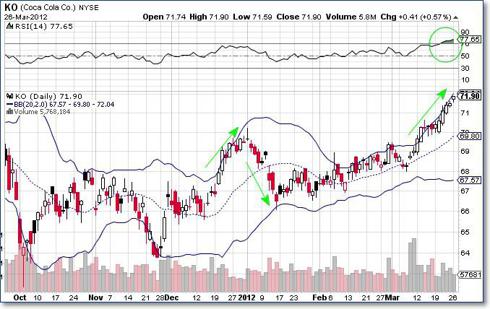 The Options Play
Coca Cola tends to push hard through the top of the Bollinger Bands on steep moves like this. As you can see by the daily chart, it also ends up having a steep pullback to consolidate before it moves up again. We are looking at capturing this resting period.
Buy the November 2012 '72.50' put option (priced at $3.80)
Sell the November 2012 '70.00' put option (priced at $2.62)
Net Debit to Start: $1.22
Maximum Profit: $1.28
Reasoning behind the Trade
The '72.50' option is presently already in (ITM). We do not think buying the '70' and selling the '67.50' is a good play.
When in this position in the past, Coke pulled back about 3 points. That is well within our trading zone.