Since the 2008 recession, the Federal Reserve and other central banks have often used the large output gaps in developed economies as a reason for monetary easing. The idea being that with so much slack in the economy, there cannot really be any inflation.
However, as you can see in the copper chart below, commodities prices have skyrocketed every time the Fed has engaged into monetary easing.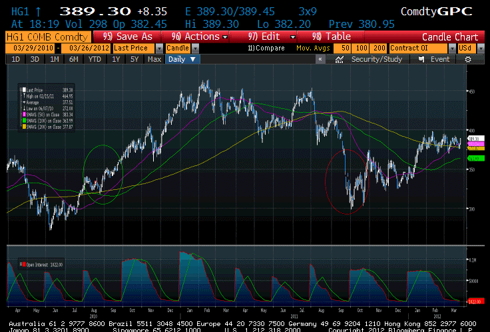 (Click to enlarge)
Mr. Bernanke says the Fed is not responsible for high commodity prices as they are a result of supply and demand. When asked about the correlation between QE and commodities, he says that prices increase in anticipation of higher economic activity. When accused of exporting inflation in emerging market economies, he replies that if a country has too much inflation it is because its exchange rates or interest rates are too low and not because of the Fed's
policy.
Mr. Bernanke's arguments make sense except that one of the aim of QE is to raise inflation expectations. Also, I find it very difficult to completely isolate U.S. monetary policy in a global economy. This is why some have argued that in a global economy, monetary policy should be set looking at the global output gap and not national ones. In fact, Mr. Bullard, last year was the first Fed official ever to question whether the Fed should look at it instead of the more narrow measures of U.S. unemployment and capacity utilisation.
And since the divide among Fed officials about inflation, unemployment and QE is back, I would like to look back at John Kemp's work on global output gaps via FTAlphaville.
Kemp uses the chart below to argue that for the world as a whole, the output gap is non-existent. According to him, rapidly rising commodity prices support that fact.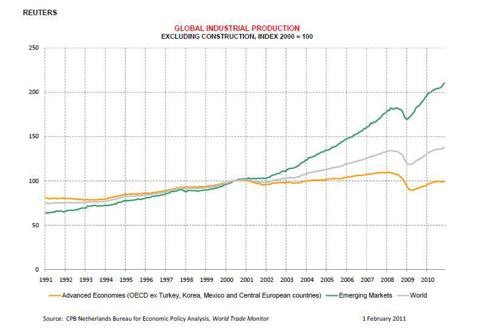 If true, the implications for monetary policy and the global economy are tremendous.
It means that the Fed or the ECB cannot ease monetary policy without creating large price increases in the prices of food, energy and raw materials. So what the Central Bank gives one side with low interest rates it takes it back on the other with increasing input costs thus greatly reducing the effect of its policy.
Rapidly increasing commodity prices are of course of greater harm to resource hungry emerging economies or the poorest of society. Hence, when the FED eases to stimulate demand in the U.S. economy it indirectly destruct demand in emerging economies once again reducing the effect of its policy.
I guess Mr. Bernanke's response to that would be that the U.S. policy is appropriate and that if there is such a thing as a global output gap, then the reason for it being negative is that developing countries are letting their economies overheat.
But more importantly, this concept implies that globalisation is generating competition for a finite amount of natural resources and employment. Kemp goes even as far as saying that the integration of emerging markets in the global economy could is reducing the living standards of those competing directly with them.
While I certainly understand Kemp's points and agree to a certain extent with the impact of the Fed's policy on commodity prices I think the imbalances or the rebalancing created by a rapidly globalising world economy are temporary and should on a longer time frame increase the living standards of all.
Disclosure: I have no positions in any stocks mentioned, and no plans to initiate any positions within the next 72 hours.