On March 9, Apple (NASDAQ:AAPL) launched the iPhone 4S in China with a second carrier, China Telecom (NYSE:CHA). The event marked the end of China Unicom's (NYSE:CHU) reign as the country's exclusive iPhone provider and opened Apple to an additional 132 million potential customers. The 4S launch saw 200,000 pre-orders, exceeding expectations.
Even without the impressive pre-order volume, Apple has reason to celebrate. The deal nearly doubles Apple's 3G exposure in China and offers a more substantial platform from which to chip away at Samsung's leading market share while combating the emerging mobile threats Google (NASDAQ:GOOG) and Microsoft (NASDAQ:MSFT) aim to pose. But does the partnership present a strategic opportunity to play Apple's growth in China from both ends via a long position in China Telecom? It is a tempting leap, but we say no to the trade.
China's Telecom Landscape
According to Market Watch, which cites data released this month, China Telecom is only the third largest carrier in China, behind China Mobile (NYSE:CHL) with 661.4 million subscribers and China Unicom with 206 million. Still, this is no small operation. To put the size of China Telecom in perspective, consider that its subscriber base (132 million) is larger than Verizon's (NYSE:VZ).
Subsidy-Driven Sales
The iPhone is likely to increase demand for its new carrier, but higher sales are unlikely to translate into higher profits this quarter or next. Compared to the U.S., there exists a lesser willingness in China to pay a high price for smartphones. As a result, many carriers heavily subsidize the cost to the consumer in exchange for a long-term contract. Carriers also subsidize phones in the U.S., but to a lesser degree.
In the case of China Telecom, as reported by the Trefis Team at Forbes, it is offering the iPhone 4S for free with a two- or three-year contract. Because these subsidies are likely to stunt profitability over a one to two year horizon, share price is unlikely to participate in iPhone sales growth during that span. The tangible benefits to China Telecom shareholders, assuming they arrive, will come after customer contracts attain profitability.
Learning From China Unicom
The Forbes article points out that China Unicom experienced a pattern of profitability following its own adoption of the iPhone in 2009 that was consistent with sacrificing short-term profitability for long-term growth. EBITDA margin for its mobile division declined sharply in 2009 and recently recovered just as sharply. To examine how the market responded through this cycle, we charted the price action of China Unicom and China Telecom since October 1, 2009, the first day China Unicom started selling iPhones: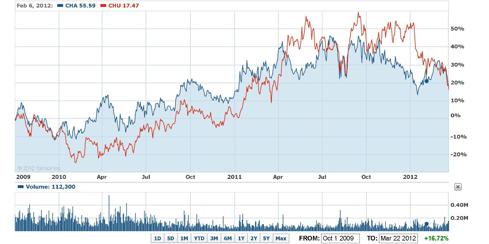 We are struck most by the absence of any obvious effect iPhone sales have had on China Unicom's share price. We do observe, however, that China Unicom's performance during the first year and a half following its Apple partnership is marked by a tendency toward underperformance relative to China Telecom--a tendency that is reversed by April 2011. We might speculate that China Unicom's share price is reacting in some measure to the profitability cycle associated with subsidizing the iPhone. Whether or not this is a faithful reading, the fact is that China Unicom underperformed its competitor in the several quarters following its iPhone launch. This is an indication that shares of China Telecom, as well, are unlikely to react in any significant correlation with iPhone sales.
The analysts seem to agree. Alen Lin of BNP Paribas Securities Asia in Hong Kong recently cut his rating on China Telecom, citing an estimated 19 percent increase in subsidy costs. Last Thursday, JP Morgan downgraded the stock to Neutral from Overweight, and in February Credit Suisse downgraded it to Underperform from Neutral.
Bottom Line
Despite the temptation to ride the iPhone's growth in China by buying Apple's telecom partners, we do not view the consumer climate in the country as yet favorable enough to smartphone carriers to warrant investment. Specifically, we are negative on China Telecom, viewing its subsidy-heavy iPhone sales strategy as perhaps necessary but nonetheless crippling to its foreseeable profitability.
Instead, the prudent course is to simply buy Apple. Considering we recently identified what we view as the mounting risk of an earnings disappointment for Apple, we recommend waiting until after the company reports in April.