The strong rally in global equities has stemmed from three developments: a significant infusion of liquidity by the European Central Bank, the stabilization of sovereign debt-related issues in Europe, and the gradual healing of the U.S. labor market. Given these developments, recent gains appear justified, particularly as equity valuations were exceptionally low when the rally began. As stocks still appear reasonably priced - particularly relative to bonds - we believe the rally can continue. However, future gains are likely to depend on an improving global economy - and will probably be accompanied by greater volatility.
Liquidity, Jobs and Money
In the end, all it took was a massive interjection of liquidity and the world not coming to an end. European structural issues remain, China is still struggling with a slowing economy, and the United States continues to ignore the fiscal issues that almost resulted in a government shutdown. Nevertheless, as of last week global equity markets were up approximately 25% since their low last October. To the extent that few of the structural issues have been addressed - notable exceptions being the early, but still real reforms enacted in Spain and Italy - what accounts for a global stock market worth $9 trillion more than six month ago?
The answer is that two major risks have been mitigated: an imminent European banking and sovereign debt crisis and a double-dip recession.
In Europe, while basic issues of European fiscal integration and peripheral reform are still largely unresolved, the European Central Bank has reminded investors that central banks still matter. Through two massive interjections of liquidity into the European banking system, the ECB has accomplished two critical objectives: providing a funding source for European banks and bringing down peripheral funding costs, i.e. bond yields.
Europe has been aided and abetted by many of the world's other central banks. The U.S. Federal Reserve contributed to the rally by providing further guidance on its zero-interest-rate-policy, which it may now extend into 2014. Adding to the party, the Bank of England and Bank of Japan have extended their own asset purchase programs and many emerging market central banks are now firmly in an easing mode.
That said, it would be unfair to characterize the rally as purely liquidity-driven. Stocks have also benefited from a modest but real improvement in the global economy, particularly in the United States. While the U.S. labor market is still far from healthy, the last six months has witnessed a marked improvement. For example, in the April through November period - when equity markets were generally under pressure - initial unemployment claims were averaging roughly 420k/week. Since then, the average has dropped to 367k, with claims down to around 350k recently.
Chart 1: Starting to Normalize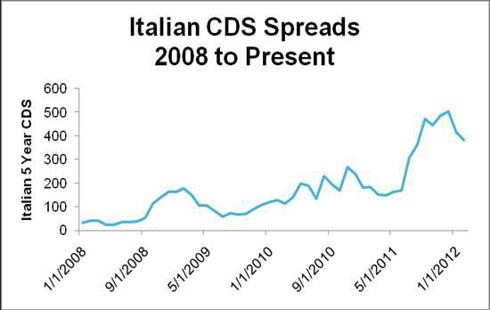 Click to enlarge
(Click to enlarge)
Source: Bloomberg, as of 3/21/12
Not only are fewer people losing their jobs, but job growth is also accelerating, albeit from a low base. Last January, non-farm payrolls were growing at around 1% year-over-year. In recent months the pace of job creation has picked up to better than 1.5%. This is still below the rates seen in previous recoveries, but 1.5% is the fastest pace since 2006.
Other countries have also surprised to the upside. Most notably, although Europe is in a recession, it appears that the Northern European countries are likely to hold up better than was feared last spring. As a result, investors now see a much lower likelihood of another recession than they did last fall.
How the Rally Can Continue
The rally may have been justified, but can it continue? Two arguments in favor are that valuations are still reasonable and interest rates are unlikely to prove the headwind that many fear. U.S. large cap stocks are now trading at 14.5x trailing earnings, consistent with other developed markets. In emerging markets, valuations remain even more subdued at less than 12x trailing earnings.
Valuations at these levels are unlikely to be a significant headwind, particularly given the low-yield environment. And we do not believe rising bond yields represent a serious threat to the market: historically, equities have been hurt by rising inflation expectations, not real yields. In addition, while there are a limited number of periods when rates have been this low, at least in the past, equity multiples have not compressed when yields are normalizing from these levels.
That said, although multiples may be stable, investors should not rely on the next leg of the rally being powered by rising valuations. Instead, further gains will be predicated on earnings growth, which will require margins to remain high and economic growth to accelerate.
As we've stated in the past, we're skeptical that even with the recent improvements in the labor market the United States can be the engine of growth. The labor market has stabilized, but real wage growth remains anemic for professionals and non-existent for hourly workers. In addition, U.S. consumer debt levels still suggest that the deleveraging will continue for the remainder of this year and into next, even though debt levels are down significantly from their pre-crisis peak. As such, we would expect that real personal consumption remains in the 2% range, which has characterized the recovery from the start.
Given that neither the United States nor Europe is likely to be the engine of growth, prospects for faster global growth and an accompanying pick up in corporate profits are likely to rest with emerging markets. To the extent that easier monetary policy can engineer a soft landing in China and other emerging market countries, then we would be cautiously optimistic that global growth will improve, probably in the second half of the year.
In short, the rally can continue, but with a few caveats. The global economy needs to improve and margins remain elevated, a scenario somewhat dependent on China engineering a soft landing. Even so, we would expect further gains to be accompanied by more volatility. The market can move higher from here, but it is unlikely to be as smooth of a ride.
Disclosure: I have no positions in any stocks mentioned, and no plans to initiate any positions within the next 72 hours. For a complete discussion of risks and other important information regarding this content, please go here.